The Shoalhaven food scene is as renowned as the region's sandy beaches and scenic mountain walks. And this May, Celebration of Food Month puts the fresh produce, internationally-acclaimed chefs and exquisite restaurants of NSW's South Coast in the spotlight once again. 
Shoalhaven Food: A Taste Of The South Coast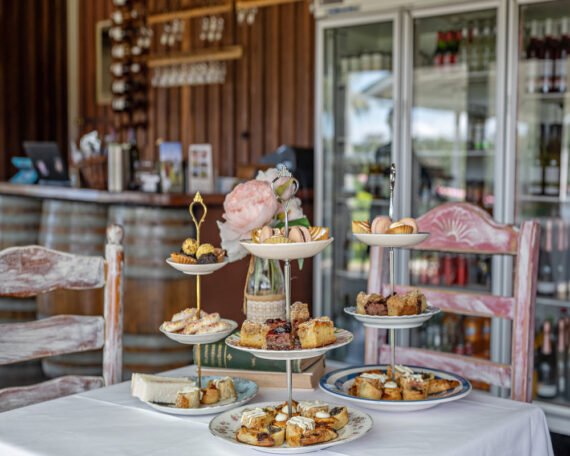 Shoalhaven could so easily be renamed FoodiesHaven. The region covers 49 iconic towns across a plethora of landscapes, so visitors are always spoilt for epicurean offerings. These include fresh seafood from the beaches of Jervis Bay, crisp wines produced in the vineyards of Kangaroo Valley and the classic old-country-town flavours of Berry.
However, those looking for a little extra incentive to make the 2.5-hour drive from Sydney will find it in Celebration of Food Month, this May. The 30-day event will unite Shoalhaven's finest foodies. Think chefs, cheesemakers, baristas, bakers, brewers, winemakers, distillers and growers showcasing their delicious creations to hungry visitors.
Around the world in Eat-y days
International travel is back on the agenda. But a weekend away at Shoalhaven Celebration of Food Month will allow you to experience the flavours of the world, without having to apply for a visa!
Enjoy the global tastes of India with a tali night at TAJ Indian Restaurant Huskisson. The eatery will be dishing up generous platters of curries, rice and naan (including vegan-friendly options) every Friday evening.
Or slip off to Shanghai with a DIY Dumpling Session at Destiny's Cooking School Nowra. If you'd prefer to leave your Asian dining experience to the experts, then head to James Kitchen. This authentic Chinese restaurant located in the heart of Huskisson will be serving an exquisite five-course Shanghai Tasting Menu. As well as a glass of bubbles on arrival, it will feature a signature seafood dish (for example, Chinese Surf & Turf) alongside taro cake and ice cream.
Feeling hungry for a taste of France? Make a booking with Jervis Bay Wild on Saturday 22 May. Here, the "Love of Mussels" event will give these classic Parisian bistro snacks a decidedly South Coast spin!
Shoalhaven food gets a little local love
In addition to highlighting the international creations of some of the biggest culinary cities of the world, Celebration of Food Month will showcase the beautiful offerings of Shoalhaven's own backyard.
One of the best experiences on the menu is the Native Fusion Diner at Paperbark Camp. At this luxury tented accommodation, guests are invited to enjoy a campfire drink under the stars. After that, they can indulge in a three-course set-menu in the treetop dining room.

Inspired by the flavours of contemporary multicultural Australian cooking, the dinner will focus on local produce. However, it will be combined with native bush ingredients for an elevated take on indigenous fare.
Other options include Bangalay Dining's Tasting Menu – a celebration of "hyper-local" produce and vineyards, at the beautiful Bangalay Villas. Similarly, Slow Food Fire and Smoke Long Lunch at Meero Spring farm, will serve paddock-to-plate fare cooked over the flames for a wonderful shared meal.
City Slick
Shoalhaven's slow food movement may be relaxed, but it is quickly luring some of the "big smoke's" hottest chefs. And Celebration of Food Month will see them collaborate with some truly exceptional local talent.
Check out "Coast to Coast" with Ormeggio and Pilu on Friday the 13 of May. The date might be considered unlucky but ticket holders will certainly be counting their stars at the opportunity to attend this exclusive event. It's a chance to catch local chefs from Terrara House team up with Giovanni Pilu and Alessandro Pavoni from iconic Sydney restaurants – Ormeggio and Pilu – for a "Coast to Coast" rivalry dinner.
Don't miss the 3 Chefs Fermentation Degustation at Old Salt Distillery. It's where you will see Michelle & Terry Robinson, alongside Nick Gardner (former Quay, Becasse, Tetsuya's) bring the magic of fermentation to life.
Or make a booking with Massimo Mele @ Ponte Bar & Dining Nowra, where former executive chef for The Hugo's Group will plate up his passion for fresh quality local food, inspired by his Italian origins.
Drink, Dine and Discover
The Shoalhaven's bars, breweries and wineries are among the best in the world. And during May, visitors will have the opportunity to enjoy them through some truly unique and intimate experiences.
Start with a premium estate walking tour and exclusive wine tasting experience at Coolangatta Estate every Tuesday, Thursday and Saturday. (Ask about their deluxe Sunday picnic options). Sink your teeth into a curated selection of gourmet burgers paired with local beers at The Hungry Monkey. Or learn a variety of recipes and impress your friends with barista standard coffee at TAFE Nowra.
Most importantly, avoid your drink and drive dilemmas by organising accommodation and a taxi to Bangalay Villas.
Set on Seven Mile Beach, these luxurious, board-walk connected villas offer a retreat that captures the nostalgia of beach holidays. With a focus on sustainable design without compromising comfort, they resonate an earthy, coastal atmosphere that remains unquestionably sophisticated
Or retreat to a luxury pod at Cuppit's Estate. With their own onsite award-winning restaurant, winery, brewery and fromagerie a stay at Cupitt's will undoubtedly win your heart over.
Shoalhaven's "Celebration of Food Month" festival, runs from May 1 to 29. It will host individual events that span five precincts of the Shoalhaven region – including the villages of Kangaroo Valley and Berry, Mollymook, and Milton, as well as Jervis Bay, Huskisson and surrounds.
For a full calendar of Shoalhaven Celebration of Food events, click here.