From zesty salads to hearty stews, Better Homes and Gardens TV chef Ed Halmagyi shares his favourite dishes from his personal recipe collection, including this gem – Sausage & Cheese Scrolls Recipe.
Great for breakfast or just about any time of day for snacking, these beefy mozzarella bites are more than worth the effort of making your own dough
PREP 20 MINS PLUS 45 MINS PROVING AND 45 MINS RISING
COOK 45 MINS
MAKES 12
Ingredients
2 cups apple juice
1/2 cup plain flour
10g (11/2 sachets) instant dried yeast
3 cups baker's flour
2 free-range eggs
2 free-range egg yolks
50g caster sugar
2 tsp fine sea-salt flakes
60g unsalted butter, softened
1 Tbsp extra virgin olive oil
4 beef sausages, meat removed from casings
1 red onion, finely diced
4 cloves garlic, minced
1/2 bunch thyme, finely chopped
1/4 cup dried or fresh breadcrumbs
1/4 cup tomato relish
1/4 bunch flat-leaf parsley, finely chopped
300g mozzarella, grated
Instructions
STEP 1 Grease an oven tray. Pour juice into a small saucepan and set over high heat. Boil rapidly until reduced to 3/4 of a cup. Set aside to cool, then mix with plain flour and yeast. Stand for 5 minutes, until bubbly.
STEP 2 Combine baker's flour, eggs, yolks, sugar, salt and yeast mixture in the bowl of an electric mixer fitted with a dough hook. Beat on medium for 2 minutes. Add butter, 1 tsp at a time, then mix to a smooth dough. Cover bowl with plastic wrap. Set aside in a warm place for 45 minutes, until doubled in size.
STEP 3 Meanwhile, heat olive oil in a large frying pan over medium heat. Cook sausage meat, onion, garlic and thyme, stirring and breaking up sausage meat as it cooks, until mixture begins to stick to the bottom of the pan. Remove from heat, then stir in breadcrumbs, relish and parsley. Set mixture aside to cool.
STEP 4 Turn dough onto a lightly floured bench and roll into a 60 x 30cm rectangle. Spread cold sausage mixture and mozzarella on top. Starting at the long edge, roll up tightly into a log. Cut into 12 even rounds. Arrange on prepared tray, cut side down. Cover with a clean tea towel and set aside for 45 minutes, until doubled in size. Preheat oven to 180°C fan-forced (200°C conventional). Bake for 25-30 minutes, until golden. Cool on a wire rack before serving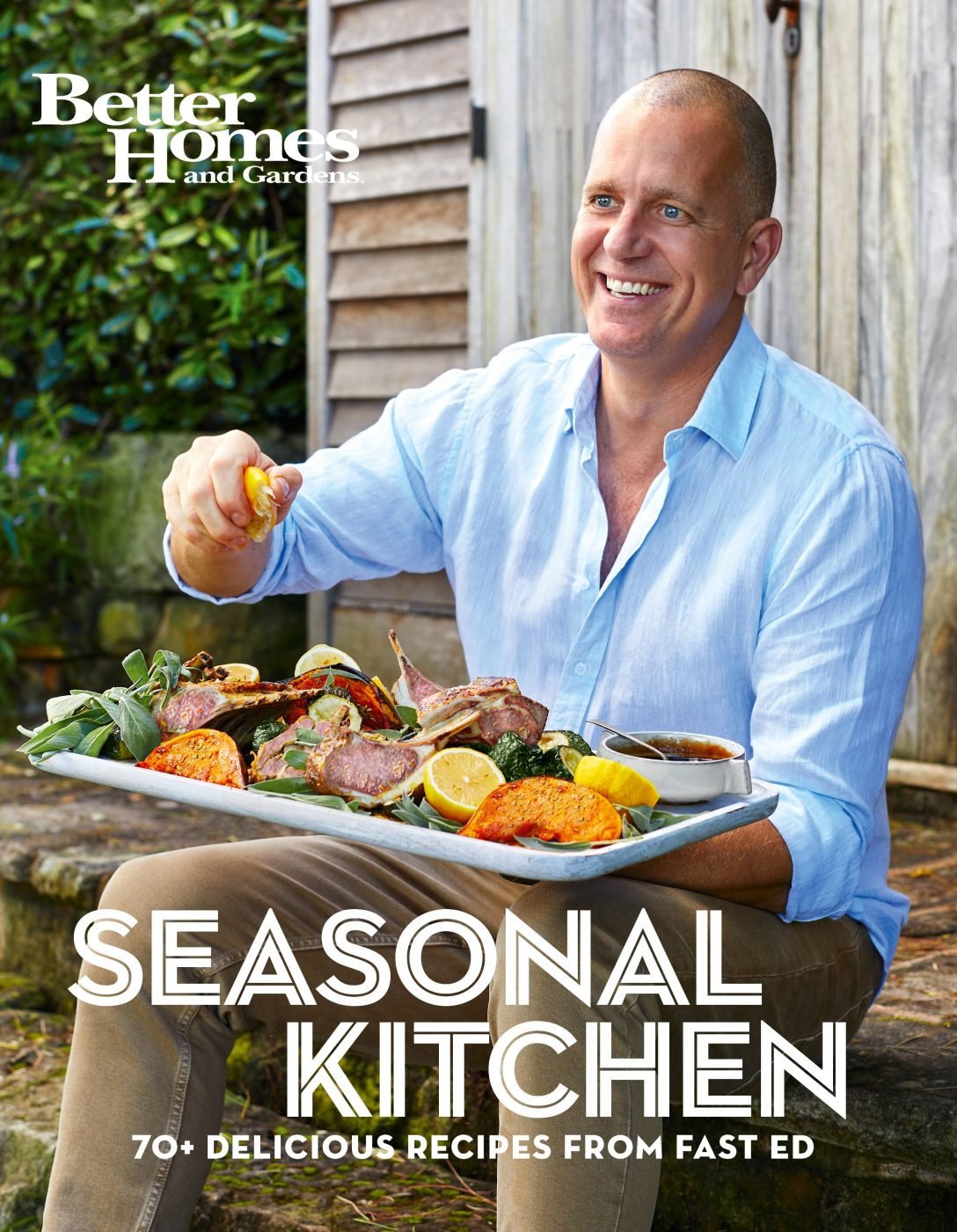 Better Homes & Garden Seasonal Kitchen with Fast Ed will be published by Are Media Books and available where all good books are sold aremedia.com.au RRP $29.99