You can smell beef wrapped in betel leaf cooking from a mile away. The mouth-watering aroma and, as you get closer, the sound of the meat sizzling, is mesmerising. This dish is complemented by salted peanuts, traditionally cooked up to the brink of their existence. The nuts, bordering on burnt, are just bitter enough to contrast with the sweetness of the beef and the floral notes in the aromatics.
Serves 2-4 (depending on if you're a normal person or me, because I eat these as they're cooking and rarely leave any behind)
Bo La Lot Recipe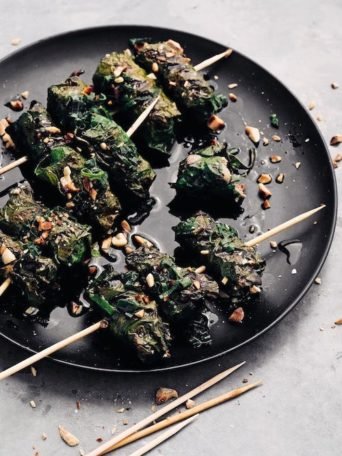 Ingredients
500 g beef mince (the fattier the better)
150 g pork mince
2 lemongrass stalks, white part only, finely chopped
6 spring onions, white part only, finely chopped
1⁄2 bunch of coriander, roots scraped clean, roots and stems finely chopped (save the leaves for another use)
2 garlic cloves, finely chopped
1 red shallot, finely chopped
1 1⁄2 teaspoons caster sugar
1 teaspoon ground white pepper 1 tablespoon fish sauce
pinch of sea salt
40 betel leaves with stems attached (see Tip)
Spring Onion Oil (page 25),
to serve
Salted Peanuts
1 tablespoon sea salt
150 g shelled and skinned whole raw peanuts
Instructions
To make the salted peanuts, combine the salt with 3 tablespoons of water and mix until dissolved. Toast the peanuts in a dry frying pan over high heat for 8–10 minutes until golden and almost charred. Add the salted water to the pan 1 tablespoon at a time, stirring with a wooden spoon and waiting for the water to evaporate before adding more. Set aside to cool, then roughly chop. You can make the salted peanuts ahead of time (or just to keep on hand as a snack). They'll keep in an airtight container for up to 2 weeks.
Soak 10 bamboo skewers in warm water for 20 minutes (or use metal skewers). Get your barbecue or charcoal grill nice and hot.
In a large mixing bowl, pop all the ingredients besides the betel leaves and spring onion oil and mix well. Leave to marinate for 15 minutes.
Trim the betel leaf stems, leaving 1 cm attached to the leaf. Place a betel leaf on a clean surface with the shiny side facing down. Place 1 heaped tablespoon of the beef mixture onto the leaf near the pointy end. Fold in the sides and roll towards the stem. Use the stem to pierce the leaf and secure the roll. Pop a skewer crossways through the middle of the roll. Repeat with the rest of the leaves and mixture, placing four rolls on each skewer.
Cook the rolls on the preheated barbecue grill for 2 minutes on each side until nice and charred.
To serve, top the skewers with lots of spring onion oil and chopped salted peanuts.
Recipe was extracted from Khanh Ong's recipe book, 'A Gay Guy's Guide to Life Love Food'.