Kendall Jenner and Gigi Hadid turn homeless man into model
John Economou 'randomly' ran into Kendall and Gigi at Venice Beach when birds swarmed their food and he helped shoo them away. One of the girls said to him "You're cute" so they struck up conversation. He told them that he moved to LA in the hope of building his modelling career but hadn't had much success and was currently living on the beach. At first, he didn't realise who they were and by the end of it they put him in touch with Two Management. Talk about right place at the right time!

Christian Louboutin's first plus-size model
French model Clementine Desseaux has just been named the face of Louboutin's new lipstick line. Natural beauty Desseaux moved from Paris to New York since her body-size limited her ability to find work. She told the Daily Mail that "Beauty is changing and brands are putting girls that are different in the spotlight. They are opening up to all the beauty that is in the world and not only the European, blond, skinny, white-woman type."


Beth Ditto x Jean Paul Gaultier
American singer-songwriter Beth Ditto, who has both walked and performed on Gaultier's runways, is releasing a new plus size clothing line, of which, one piece is a collaboration with him. The fab piece, set to retail at $165, features an image of Gaultier's iconic cone-bra corset.

Gigi by Tommy Hilfiger
After her star performance at Tommy Hilfiger's Spring 2016 runway show, Gigi Hadid's collaboration continues with the brand. She will be the new face of Tommy Hilfiger womenswear and fragrance, and the Gigi by Tommy Hilfiger collection will launch in the second half of 2016. We can't wait to see it!

TOME launches charity White Shirt Project – Round 3
Designers of TOME, Ryan Lobo and Ramon Martin founded the White Shirt Project to support the Freedom For All Foundation, which aims to combat slavery around the world. The project entails the release of three white shirts for a limited time, with all proceeds donated to Freedom For All. This is the third White Shirt Project for TOME, which debuted exclusively on Net-a-Porter this week.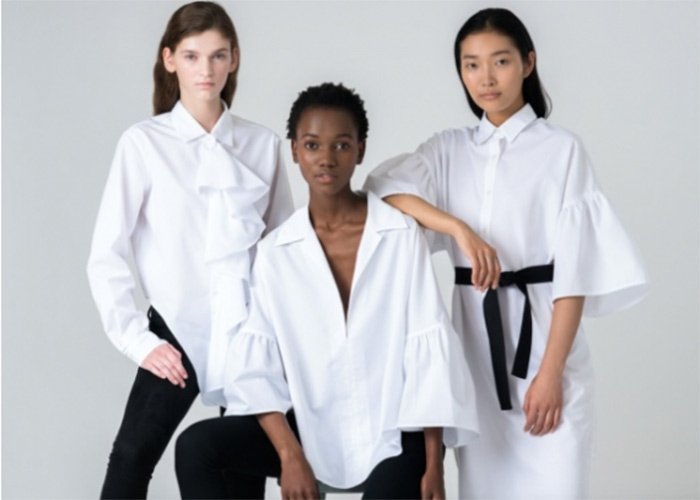 Fashion Santa is on the scene
Yorkdale mall in Toronto has the coolest Santa, and Sydney malls should really take note. Kitted out in Givenchy, Jimmy Choo, Rag & Bone and more, model Paul Mason is the face of Yorkdale's Christmas initiative in support of the SickKids Foundation. Every selfie snapped with him at the mall and hashtagged #yorkdalefashionsanta means a $1 donation to the charity.



#UglyChristmasSweater
It's that time of year when the ugly Christmas sweaters are wielded from the dark depths of the wardrobe, and there is actually a hashtag to fit this very occasion. We thought we'd show you our top pick! Inspired by Kim Kardashian's 'Break the Internet' cover for PAPERMAG, here it is…

Poppy Delevingne x Aquazzura
The eight-piece capsule collection designed by Poppy and Aquazzura's creative director Adgardo Osorio was just released at retailers including Net-a-Porter, Bergdorf Goodman and Saks Fifth Avenue. Poppy has been a long-term fan of the brand, saying, "I love wearing his shoes, they always have a sense of humour to them. Creating my own capsule of styles was a dream come true. I hope they bring as much joy to the wearer as they bring me!" The inspiration for the collection was her globetrotting lifestyle and recent Morocco wedding, and includes espadrilles, lace-up suede heels and lunar-themed lace-up flats. Prices range from US$595 to $1450.

Jude Law's daughter's debut modelling campaign
It looks like the fashion industry can't get enough of the Law family gene pool. Iris Law, 15, made her modelling debut in a new campaign for Illustrated People x Violetta Fancies You this week. She is Jude's second child to pick up modelling; 19-year-old son Rafferty began his modelling career on DKNY's runway last year in June.

New Topshop and Topman store opening in Bondi Junction
It has just been announced that a new Topshop and Topman store will open in Westfield Bondi Junction in March 2016. The 1700 square metre store will also have select ranges from their UNIQUE and BOUTIQUE collections.
Adidas 3D printed shoes
If printed shoes aren't impressive enough, the midsole is created using reclaimed ocean waste. The shoes are in the prototype phase and New Balance and Nike are also in the race to commercially produce 3D printed shoes. All three companies have been testing out 3D printing for a while as they have many cost benefits such as no longer needing moulds. It is expected to speed up the shoe-production process, in a statement from Adidas, they said "Imagine walking into an Adidas store, running briefly on a treadmill, and instantly getting a 3D-printed running shoe". Sign us up!