Kamalaya Wellness Sanctuary & Holistic Spa in Koh Samui, Thailand, is a heaven sent place where you can relax and unwind. But before you book, here's an essential guide to what you need to know and a sneak peek at what you can expect when you arrive.
Named 'Best Overseas Health & Wellness Retreat' for the fourth time earlier this year in Luxury Travel Magazine's Annual Gold List Awards, Kamalaya has rightly earned a reputation for best in class when it comes to wellness spas.
Located amid a lush, tropical landscape on the southern coast of Koh Samui, this peaceful tropical sanctuary integrates healing practices, therapies and philosophies from East and West in a serene environment.
For me, it's the spiritual wellness getaway I turn to whenever I feel the need to renew and recharge my energy levels. Over the years, I've been lucky enough to visit four times and along the way, I've picked up a few pointers for those planning to travel there … and for anyone wanting to make an investment in themselves, I definitely recommend you do.
PLANNING AHEAD:
The anticipation of going to Kamalaya and selecting your Wellness programme is honestly half the fun. Before every trip, I take great joy in researching all the different programmes and love to revisit those heavenly treatments in my mind.
This November, there is a new programme available called The Enriched Gut which aims to address issues using a 'synergy of holistic treatments, therapies and practices ranging from naturopathy, Traditional Chinese Medicine, Ayurveda, nutritional advice and other holistic sessions that deeply nurture and enrich the gut'. It is available for 7, 9 or 12 days.

My Tip: If you are on a seven-day trip to Kamalaya, you can book a five-day programme and spread the treatments over seven days. By spacing them out, you'll have more free time to read by the pool or fit in more from the daily holistic activity schedule. Similarly, you could spread out a seven day treatment over nine days.

My Tip: Guests often choose to detox during their stay and for those who do, it's worth weaning yourself off coffee two weeks prior to the trip. This way you'll avoid getting headaches from sudden caffeine withdrawal.
GETTING THERE:
If only I could bottle the thrill of being picked up from the airport or hotel and taken to Kamalaya in their plush leather-seated vehicles. Listening to the soft music on the drive there and refreshing your face with a cold lemongrass-scented towel all help you get into a relaxed state. Knowing all the pampering, healthy food and me-time awaits you is simply bliss.
My Tip: If your flight arrives late in the day, I suggest staying at a hotel nearby the airport and then being picked up early the next day. This way you can enjoy the full day at Kamalaya.
Welcome Drink And Lucky Draw
Returning visitors are invited to choose a 'special lucky draw envelope' on arrival. It's my guess that these increase in value the more you return. My envelope was a 60-minute private Yoga session.

UNEXPECTED DELIGHTS:

Pillow Menu and Mattress Toppers
It's all the little touches that makes Kamalaya special and that's why it is regularly voted the top Spa destination by Conde Naste Traveller magazine. When you arrive in your room, there's a 'Sweet Dreams Pillow Menu' for you to choose from if you want something different from the hypo-allergenic pillows. You can even get a Sample Touch of the different choices available – Luxury Duck Down, Ultra Soft Micro Fibre, Oval-Shaped, Neck Support, or Buckwheat. To enhance the quality of your sleep, an extra mattress topper is also available which is particularly good if you suffer from aching joints. And, you can also swap the bed sheet for an ultra-light 300 thread cotton duvet.
Fruit Bowl and Tea Selection
Kamalaya helped me shake off a 3-4 coffee a day habit and grow an appreciation of herbal teas. Each room has a variety of teas from Jasmine to Oolong. A selection of exotic fruits is always available in your room.
My Tip: Start each day with hot water and fresh lime to help your detox.

Chinese Tea Sharing, the Way of the Tea with San Bao
Chinese tea sharing is held in the Alchemy Lounge and hosted by San Bao, an expert in the art of High Mountain Oolong Tea preparation. This runs for two hours and you can drop in at any time.
My Tip: Not only is it good to chat to San Bao, it's an opportunity to meet other guests. San Bao is also a Qi gong expert and teaches private and holistic group 'energy work' sessions.

Switching Off
Guests are encouraged to switch off from outside pressures and distractions. You can access in-room internet or free internet access in the Library. You also get a 60-minute free voucher for Wi-Fi internet use in your room. Outside of those areas, guests are requested to refrain from using devices as part of Kamalaya's digital detox philosophy. One interesting thing is that when Kamalaya charges over the free 60 minutes, the proceeds go to charity.
The Kamalaya website explains: "Why do we charge? We do not consider ourselves to be a business resort where fast and free internet access is a necessity. Kamalaya is a place to reconnect with oneself and spend time away from your busy life. A small charge hopefully allows you to experience the benefits of avoiding or minimising internet use during your stay. All revenue from internet charges gets allocated to Kamalaya's charity fund whereby we support a select few charity organisations and local projects that are close to our heart."
Cuisine and Meal times
The food is sublime. Eating nothing but wholesome food during your stay is one of the reasons you come away feeling so good. The menu is full of vegetarian options as well as seafood, poultry and lamb dishes. It changes with the seasons but one thing that always remains is the fresh juices, signature tonics and herbal teas.

Breakfast is 0700-11:00 and Dinner 18:00-22:30 are served at the Soma restaurant which is higher on the hill while Lunch is available at Amarita Café from 12:00-18:00.

My Tip: It's worth giving the Detox menu a go. Made up of low inflammatory, low allergenic and low GI vegetarian dishes, the Detox food is bursting with goodness and medicinal benefits.

My Tip: The Soma restaurant has a communal table and it's worth joining in, especially if you are travelling alone. People are friendly and many long-lasting friendships are made there as sharing Kamalaya together is a bonding experience.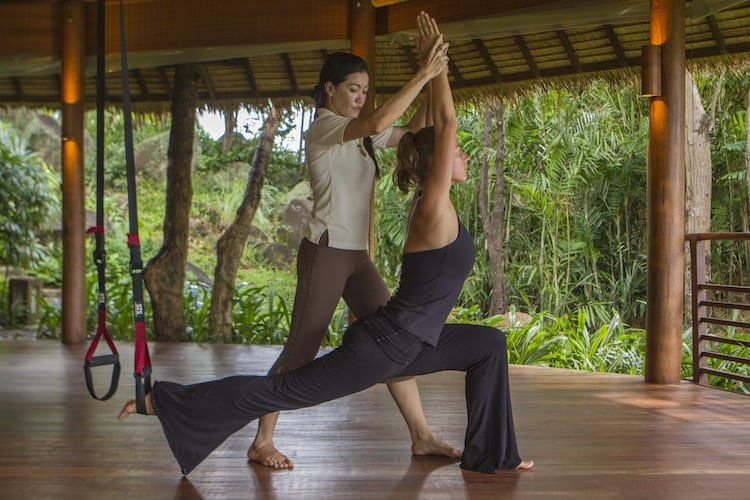 Health Consultations and Programmes
There is a wide variety of programmes to choose from including Healthy Lifestyle, Detox, Stress and Burn out, Emotional Balance, Yoga or Wellbeing Sabbaticals for long staying guests.
At part of each Wellness programme, you visit a nurse and naturopath for a general health check and discussion about the treatment and your health goals.
Here you get a Bio Impendance Analysis (BIA) which measures body composition electronically and this is used as part of the clinical assessment during your session with the naturopath. It provides useful information about your Body Fat Mass, Lean Body Mass, Body Water. At this point, you can opt to change your treatment. Your records are also kept for a few years so you can compare the results.

My Tip: It's worth arriving early to the Wellness Centre to enjoy a ginger or lemongrass tea as you take in the expansive sea view and relax before your treatment.

Holistic Activity Schedule
Each week there is an updated schedule of activities. These include walking meditations, Hatha, Yin, power or Vinyasa yoga in the Yantra Hall, aqua aerobics in the Lap Pool, and stretching, Pilates, movie nights, workshops, and introductions to treatments available by visiting experts from artists, astrologists and reiki to structural integration therapists.
My Tip: Optional trips include the Temple Tour, Thai Market, or the Sunset Cruise. The Sunset Cruise gets my vote.

Post-Stay Support
When the time comes to leave this beautiful sanctuary, it's comforting to know you can continue to get support from your health team after you return home. This may be just what you need to stay on track and maintain your health goals beyond the walls of Kamalaya. Private one-to-one sessions can be with your Life Enhancement Mentors, Nutritionists or Naturopaths. It's even possible to do a 30-minute Bach Flower Consultation or a 60-minute Pranayama (breathing) session via Skype.
Robyn Foyster was a guest of Kamalaya Wellness Sanctuary and Holistic Spa.