Yes, it's that time of the year again! The very famous light festival settles down in Sydney harbour from Botanical Gardens, Circular Quay to Barangaroo and Darling Harbour until June 15th. Then, we still have some days to enjoy and discover all the surprises and light treasures hidden all around the city.
Vivid Sydney is where history and innovation collide at The Rocks. Over 23 nights from Friday 24 May to Saturday 15 June, Vivid Sydney transforms the city into a creative canvas, playing host to the largest festival of Light, Music and Ideas in the Southern Hemisphere.
The Rocks is the heartbeat of the Harbour City, and a hotspot for the immensely popular Vivid Light Walk; a journey that stretches three kilometres, unveiling mesmerising and thought-provoking sculptures, projections and installations along the way.
Throughout the historic Rocks, iconic buildings will be transformed through colourful vision and patterns, alleyways will be lit by glowing clouds and ballerinas will dance through the night sky.
At the moment here are our favourite spots are, stay tuned for more great spots !
At Campbells Cove you'll get immerse into a fairytale with Ballerina, an eternal dance solo that shimmers along the harbour's edge as if in a dream, while Let it Snow makes it seem that giant snowflakes have landed at Hickson Road Reserve offering great views from the water.
Ballet on the Opera House
Andrew Thomas Huang has transformed the Sydney Opera House Sails with Austral Flora Ballet, a lush and visceral projected artwork of dancing digital sculptures inspired by Australia's native flora.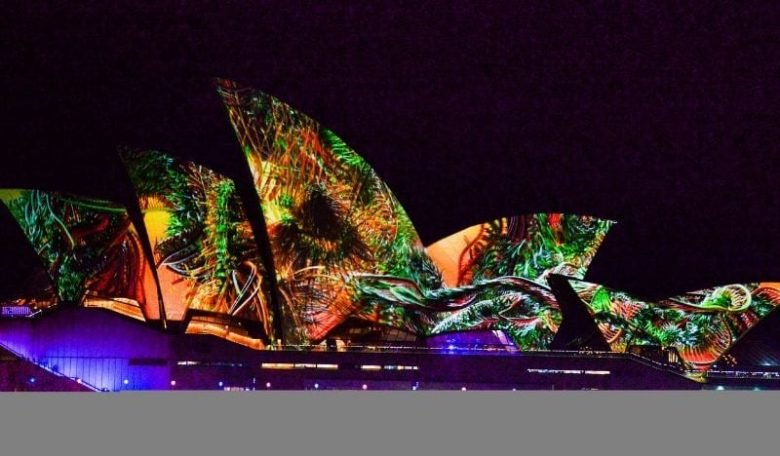 To mark the recent Samsung Galaxy S10, there is a special playground area with two spaces, one inside and one outside with a lot of content and playful activities like playing hula hoop or having a walk in the garden of lights.
Robots Show at Darling Harbour
Observe a full light and sound show in the waters of Darling Harbour. Robots and tech fans are gonna enjoy it for sure!
Have a look at what's going on in Taronga Zoo !