Michelle confirmed the happy news to her 149,000 Instagram followers with the note: "We are thrilled to welcome our little boy into the world, Axel Bridges Willis, born 19/12/15. Healthy and happy".
The couple has yet to post any pictures and are staying tight-lipped about more details to protect a magazine deal, management tells The Daily Telegraph.
The Biggest Losers' trainers announced their pregnancy on the cover of Who magazine in July, 2015.

It's the first child for Michelle and the fourth for her 39-year-old partner.
Commando has six-year-old Ella and three-year-old Jack from his long-term relationship with ex, Froso, and a 17-year-old daughter, Brianna, from a separate relationship.
Commando left Froso to be with Michelle in 2013 after meeting on the hit Network 10 show.

"We're so happy to announce our special news. The well wishes and love we have received already are overwhelming and beautiful," Michelle wrote in a social media post.
"Thank you so much. Michelle and Steve."
Michelle told Who earlier in 2015 that she'd never fixated on becoming a mother.

"It's always been more like, 'Yeah, that would be cool but it's got to be the right time'.
"It had to feel right and with the twists and turns of my life, now is the right time now is the perfect time, actually. Steve and I are in love with each other.
"Who wouldn't want to have a child with someone they love?"
While her followers wait for more baby news, it's safe to assume that Michelle is unlikely to be laid up for too long on the fitness or business front.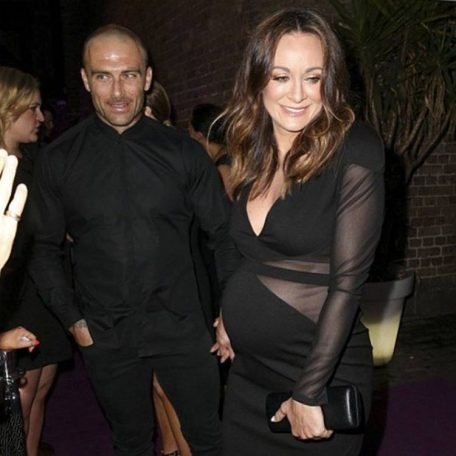 Just a few days before delivery, Michelle posted a photo of herself and Steve going for a walk at Sydney's Bondi Beach early in the morning.
"Let get this day started!" she captioned the shot.
And the next day, Michelle took to Instagram to express her gratitude after earning a nomination for Best Presenter at the 2016 Logie Awards.
"Wow! Pretty humbling to be in the best presenter category! Proud of 9 years on TBL."
She then hashtagged "making a difference" and "vote team MB" in a bid to urge her Instagram followers to vote for her.