Gone is the age of the dominance of omnivorous diets, of square-thinking and of steak dinners. We like plants now. We like our dining experiences to be more flexible and adhesive to our needs and wants. We like it organic and sustainable. It's the flower of the month, but a flower that does not change with the seasons, this one's constantly in bloom.
There's nothing more frustrating than going to a restaurant, and not being able to eat anything on the menu because they don't provide meals suited to your dietary requirements. Nicole Warne, well-known Australian instagrammer and influencer, would definitely vouch for that, especially after her disastrous trip to Ristorante Hotel Grotta Palazzese (read below).
OpenTable, the world's largest online restaurant reservations platform, released its second Sustainable Dining Report, which revealed that 46% of Aussies actually preferred dining at environmentally friendly restaurants, with eco-friendly options, organic ingredients, and plant-based menus.
Australia is "home to some of the world's best locally grown produce", says Tim Domelow, OpenTable's Senior Business Development Manager for APAC.
With this trend, many restaurants are now following greener practices and are becoming 100% environmentally friendly, with plenty of restaurants across Australia now practicing eco-friendly dining.
Interestingly, it is the younger generations who are the ones who have a keener eyes for the greens, with Millennials racking up high numbers of vegetarians and vegans compared to Baby Boomers.
And it shows, given the growing presence of plant-based foodie accounts on instagram influencing trends, food preferences and practices. Check out some of their pages below:
With over 1 billion people using Instagram globally, Instagram and other online tools present, people are sharing common passions in droves, shedding light on various social and environmental issues.
"Instagram is an amazing online platform where sustainable dining and conscious eating are positively represented, with like-minded people sharing their tips with others!"
Below, we've compiled a list of a few of the best eco-friendly restaurants in Australia:
Lake House – Daylesford, VIC
With its very own 38 acre farm, Lake House has an abundance of locally grown produce, handpicked every morning before it's served to guests for lunch or dinner. Lamb, rare-breed pork, grass-fed beef, fresh seafood and local cheeses are some of the popular items showcased on the menu, as is heirloom fruit from heritage orchards sourced from around Melbourne.
Zinc Port Douglas – Port Douglas, QLD
Located in tropical North Queensland, Zinc offers a contemporary Australian menu inspired by the variety of quality products available on the coast. From the local reef fish, to the tropical fruit and tableland-grown vegetables, the restaurant maintains their focus on delivering simple and fresh high quality dishes.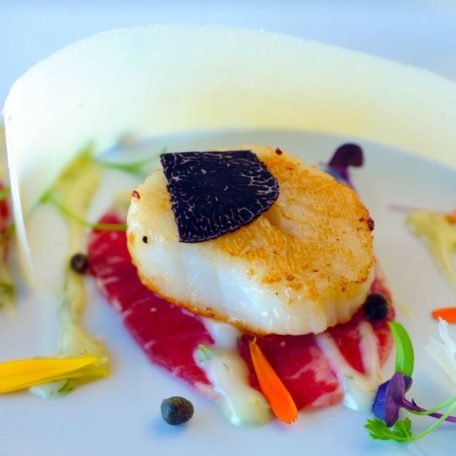 Cape Lodge Restaurant – Yallingup, WA
Located in the stunning Margaret River region in Western Australia, Cape Lodge Restaurant features seasonal, local and homegrown produce plucked from the nearby ocean, local farms and the kitchen garden to create fresh innovative French fare cuisine. Paired with beautiful lakeside views and the green landscape, Cape Lodge highlights the best of Margaret River's produce.
CHISWICK – Woollahra, NSW
CHISWICK runs its own kitchen garden, which is the source of much of its fresh, seasonal produce used in their elegant, vegetable-focused cuisine. The restaurant also maintains a hive of native Australian bees that provide honey and help pollinate the garden.
Three Blue Ducks (The W) – Brisbane, QLD
Mixing Queensland's vibrant culture with their paddock to plate ethos, Three Blue Ducks restaurant is centred on providing fresh, local and delicious food. The owners work with local farmers, producers and brewers to create an ethical based menu that captures their strong focus on real food, great service and honest cooking.
Love.Fish – Barangaroo, NSW
Since opening in 2010, Love.Fish has been offering sustainably sourced seafood in a scenic waterfront setting taking Australian seafood to the next level. Co-owners Michael and Michelle Milkovic have delighted locals and tourists with their ecological approach to food forging their reputation as 'the fish bar with a green heart.'
Press* Food & Wine – Adelaide, SA
At Press* Food & Wine in Adelaide, executive chef Andrew Davies and head chef Joshua Lansley create their elegant, contemporary dishes around the freshest seasonal bounty of South Australia- bringing the best products from their patch of the earth to the table.
Vue De Monde – Melbourne CBD, VIC
Vue de Monde, an elegant fine-dining restaurant in Melbourne, has fitted its space with recycled furniture and low-emissions fixtures. Acclaimed chef Shannon Bennett has evolved the restaurant's award-winning cuisine to feature predominantly heirloom, organic fruits and vegetables, including many grown in its own gardens, along with local and sustainable meats and seafood.
For more information, or to view the full list of sustainable restaurants, visit https://www.opentable.com.au/lists/green-restaurants/australia