Juggling a career with a busy home life is something Home And Away star Ada Nicodemou knows all about.
"Just like every other mum in the world, there never seems to be enough hours in the day to get everything done," says the popular TV star and personality. "From juggling school drop off, to hectic workdays and keeping the household running smoothly, it's pretty easy to forget to take time out for yourself and indulge in activities that make you feel happy and satisfied.
"Sometimes I love taking time for pleasurable experiences with my partner – we make sure we have a date night once a week where we get to share some fun 'together' time over dinner, and we even indulge in couples' experiences like a spa treatment when our schedules align."
Ada's clearly not alone in loving spending time with her partner. According to new Groupon research, 36% of Aussies say they prefer to have pleasurable experiences with their partner over family (25%) or solo (19%).
How do you get your pleasure fix?
I think pleasure takes form in many ways. I love a bit of me time – I love a good work out, which I always make time for. I love spending time with others, like having brunch with friends, or going out to dinner on date night with Adam. We're actually having a couple's spa treatment this weekend (which we booked through Groupon). I'm so excited!
Are you surprised by the Groupon research and why? What particularly stuck out for you?
To be honest, this is something my friends and I – particularly those who are parents – agree with and often talk about openly, that as women, we often put ourselves last to prioritise everyone else's needs in the family. The most relatable statistic for me is that one-third (34%) of Aussies say they never make time in their day for pleasure. Whilst I aim to make time in my day for a "treat yourself" moment, it can sometimes feel impossible – especially when you look at your schedule on whole "on paper" – with everything that is jam packed into my day, sometimes I am on set from 5am – 8pm!
It's amazing that as many as two-thirds of parents say their level of pleasure has reduced since having kids. Can you relate to that? Or, do you hear your friends relating to that.
Definitely. As a mum you juggle school pickups, homework, play dates etc… and that's just for Johnas. Mix that with my early call times, time to rehearse lines, filming and travelling to and from location – you can easily see how there eventually becomes a very small margin of time to prioritise pleasure for yourself. Whilst I absolutely get so much pleasure out of parenting, the truth is, it can be exhausting.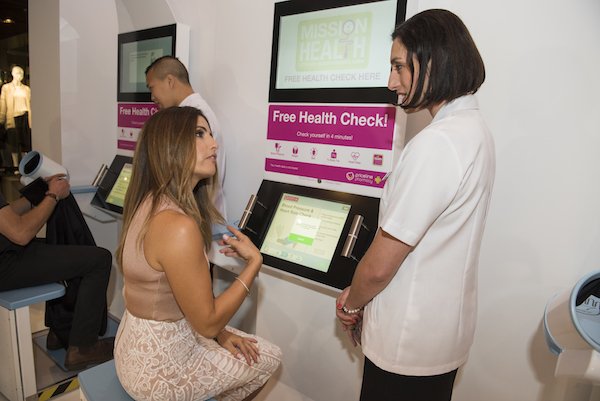 What are your personal barriers for enjoying yourself and how do you overcome them?
The biggest barrier I believe for everyone and myself is time, you always hear in my circle of friends "there's not enough time in the day". And there are 37% of Aussies out there who think the same. To combat this I have a diary that lists everything from my appointments, to set times, to catch-ups, to make sure I schedule time in my day that is for me.
I also believe an intrinsic barrier for any parent is guilt, which I certainly feel when I'm not giving all my time to my son. It's something I believe we should all work on and try to flip the statistic that a whopping 65% say they don't experience enough pleasure in their lives.
Name some of the small pleasures that make your day
I have many from working out, playing with Johnas and helping him with his homework, long lunches with friends, pampering myself with a cheeky spa treatment or facial. The ideal situation is booking out more than one day and jet setting off on a holiday or time away with Johnas and Adam. Groupon have some great holiday deals, all year-round! It's one of my all-time favourite things to do.
What are your favourite apps ?
My Groupon app (which also sends me alerts for any deals of the day)
Instagram Given my lack of time it is always good to have a morning or evening scroll on what my friends are up too! I also love connecting with H&A fans too!
Are you a big shopper? If so, what are some of your best bargains?
I love a bargain like the next person and I definitely love to shop. I hang for sales times at the departments stores, last time I was in NYC I picked up shoes for 70% off!
Adam and I went out for a great degustation dinner last week with our Groupon deals too, that was a bargain too.

What are you currently working on? Projects ahead?
Aside from my work with Groupon, I'm doing the usual on Home and Away – which is the best job in the world! It doesn't really give me a lot of time for anything else work-wise, however I am also an ambassador for Natures Way Beauty Collagen!