Brighten up your wedding day with a support team bursting in vibrant colours. Shades that pop add a fun feel to the festivities and show what the celebration is all about…. a bright future together as Mr & Mrs L.O.V.E…
Bright colours are no longer reserved for retro theme weddings. In fact, the wedding rules have been broken! Where once a traditional bride carried a bouquet in shades of one colour, now we're seeing an eclectic mix of bold multi-coloured blooms. Bridesmaids are no longer wearing versions of the same dress, instead they're shimmying down the aisle in pops of colour and completely different styles, lengths and fabrics. It's time to say adios to those wedding rules de rigueur, embrace colour and make your bridemaids POP!
SHOP THE LOOK!
Bright Bridesmaids: Dresses
For years Bridesmaids have dreaded the dress chosen for them by the bride, but not anymore. Todays 'maids are having a whole lot of fun in frocks that say wedding and fun simultaneously. Here's a few to get the party started…
Get your 'maid to wear your 'something blue' with a frock that's as fun as it is formal. The box pleats, structured bodice and cap sleeve are perfect for a fancy occasion but the palette is tu-tu fun… Add contrasting shoes to get the party started.
Lea-Anne in Mosaic, $325, available at Bridesmaid Only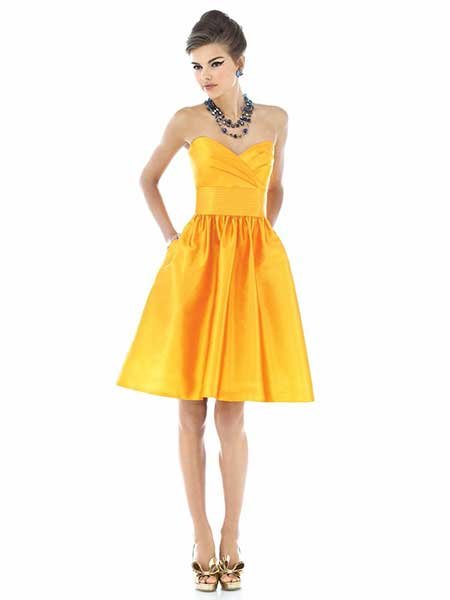 Make sunshine on a rainy day in summer's happiest colour, yellow.
Tamara in Mango, $325, available at Bridesmaids Only
Pretty in pink, for the ballerina bride looking for extra girly wow factor.
Leticia in Strawberry, $325, available at Bridesmaids Only
It's formal, it's fun, it's sexy and uber stylish.
Tina Gown in flame, $569, available at George.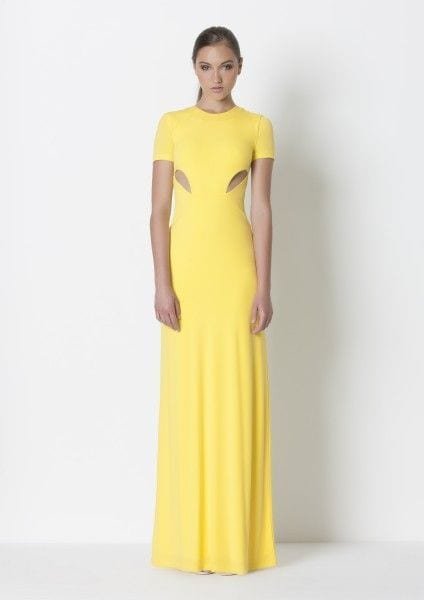 For the fashionista's super sleek wedding, try a formal length with cut-out panel waist.
Vanessa gown in lemon, $319, available at George
Anything but blue, this super structured bodice creates shape in all the right places.
Elin Dress in cobalt, $289, available at George
When money is no object, dazzle the guests in an emerald green Lanvin one-shoulder ruffled crepe gown, if you dare… $5,714.37
A cocktail wedding with super style. Roland Mouret Maniola one-shoulder stretch-jersey dress, $2,813.29
Bright Bridesmaids: Shoes, Bags, Jewellery & Accessories
If the shoes fits, and the colour goes pop, do it! These shoes were made for dancing, with bags and bling to match!
Choose a pointed style for a longer leg silhouette. Diana Ferrari Tiffanie, $139.95 available at www.dianaferrari.com.au
Take your wedding to new heights in a mid-height stiletto in popping pink.
Melissa Classic Pop Pink Gloss Heeled Shoes, $177.89, available at ASOS
Watch the 'maids fancy feet carve up a storm when Brown Eyed Girl starts playing on the decks… ASOS HIGHBURY Heeled Sandals, $83.02
Your flower girls and mini 'maids will appreciate these soles when they feel a little flat…  ASOS LILY PAD Ballet Flats, $23.72
As a bride, you can do anything but lay off those blue suede shoes… Just saying. ASOS PENSIVE Pointed High Heels, $59.30
Style things up with accessories in bright blue hues to woo… Ti Sento Chunky Resin Bangle in denim, $75
Julie Sandlau Gold & Pink Drop Earring, $685
Julie Sandlau Gold & Jade Mermaid Earring, $685
Bright clutches are a quirky way to spice up your wedding wardrobe. Diana Ferrari Chaplin Clutch, $69.95, available at www.dianaferrari.com.au
Something blue for the 'maids to sparkle in…
Elsa Peretti for Tiffany & Co Tanzanite CBY Earrings in sterling silver, $725
The ultimate getting-ready robe. Just add Champers…. Bridal Party Satin Robes, $69, available at The Doll House
Bright Bridesmaids: Makeup
Choose a feature and have a lotta fun with colour – whether the nails, lips, eyes or hair. And don't you dare add an Instagram filter on the snaps! These colours work all by their pretty little selves.
They may not be donning a sparkling ring, but that doesn't mean the 'maids hands should be neglected. Rita Ora is the perfect ambassador for 'pop' bridesmaids, having just launched her new Colour Rush Lip and Nail Collection by Rita Ora for Rimmel London.
Team Pink talons with contrasting dress shades like turquoise and blue for extra pop.
60 Seconds Colour Rush Nail Polish in Don't Be Shy #323, $7.95, available at www.rimmellondon.com.au
Lilac dresses with bold purple finishes add drama for an ultra-dramatic day.
60 Seconds Colour Rush Nail Polish in Midnight Rendevous, $7.95, available at www.rimmellondon.com.au
Share the love and let the girls do some kissing with an intense colour lip locker.
Lasting Finish Colour Rush Intense Colour Balm in Give Me a Cuddle, $12.95, available at http://au.rimmellondon.com
Let your lips do the talking in the ultimate colour of love, red-hot red.
Lasting Finish Colour Rush Intense Colour Balm in On Fire, $12.95, Available at www.rimmellondon.com.au
Super Hair Stylist and Myer Hair Director Kevin Murphy has just released his Color.Bug, $24.95 temporary hair colours that come in a range of bright colours.
Bright Bridesmaids: Headpieces
Floral accents and jewels have been a popular choice for a while now, and now headpieces are making an entrance – and not just by the bride! TIP: Headwear is great for windy locations and a few bobby pins are brilliant for keeping the 'do in place.
Veils and headpieces aren't only for the bride… Morgan & Taylor, $139.95, available at David Jones.
Little bow peep. Add quirk factor with this head turner. Morgan & Taylor red bow, $139, available at Myer.
For the maid allergic to flowers, have her wear faux petals in her hair. Just a thought?! Morgan & Taylor aqua floral headpiece, $89.95, available at David Jones.
A showstopper and the perfect disguise for windblown bad hair. Morgan & Taylor headpiece, $49.95
A contemporary spin on oriental accents. Morgan & Taylor Pink headpiece, $129.95, available at David Jones.
Guests will be green with envy…. Morgan & Taylor Emerald headpiece, $129.95
Go troppo with an island style garland. River Island Tropical Flower Garland, $19.77
Bright Bridesmaids: Wedding Decorations
Complement the Bright Pop wedding look with cute favours and decorations. Think mixed floral bouquets, paper garlands, confetti and favours. Voila!
Colourful photo props, cute favours and reflective of what the big celebration is all about, these cute little suckers will provide a sugar rush when the energy slumps. Pink Frosting Red Heart Lollipops, 20 cents each.
Be showered in love with these mini circles of love. Tissue Paper Confetti Bright, $9.99
Stand under the mistletoe, err, rainbow tassels, and seal the deal with a kiss.
Pink Frosting Tassel Garland Kit, Neon Rainbow, $24.38
What do you think of the colour pop wedding trend? Tell us in the comments below!