Vanuatu should be on the top of your travel bucket list when this potential South Pacific Travel Bubble opens up. Here's five reasons why.
Why you should travel to Vanuatu when the 'bubble' opens!
With a potential South Pacific Travel Bubble on the horizon, there's no better time to start planning your next tropical getaway to Vanuatu. As one of Australia's closest South Pacific neighbours, Vanuatu is composed of 83 spectacular islands, and offers an authentic and unique blend of breathtaking landscapes, rich culture and friendly locals – all just three hours from Sydney, four hours from Melbourne and two and a half from Brisbane. Here are some must-do activities for when we can finally enjoy an umbrella-adorned cocktail at a beachfront bar!
Get up close and personal with volcanoes
Just a short flight from Vanuatu's capital, Port Vila, lies Tanna – an island renowned for being home to one of the world's most accessible and active volcanos, Mount Yasur. After just a short trek, you'll find yourself on the edge of the crater with the bubbling lava below. While the earth rumbles beneath your feet, you'll be treated to a once-in-a-lifetime firework work display.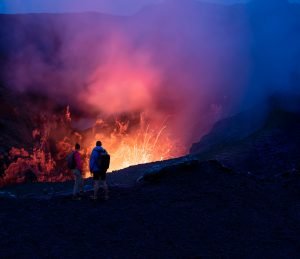 Adventure seekers can opt to visit Ambrym for one of the most challenging activities that can be done across the archipelago – the Ambrym Twin Volcano walk. This two-day hike takes travellers through the jungle, scrambling up nearly vertical trails and across ash plains, right up to the edge over the crater of Mount Marum, where the lava bubbles and spits below. After a night of rest at base camp, day two of the hike begins with a steep climb to the peak of the second volcano, Mount Benbow, where hikers have the opportunity to abseil down into the inner crater, where the bubbling lava awaits, and the heat of the earth can be felt right beneath your feet.
Explore the colourful dive sites
Vanuatu is known to divers around the world for the SS President Coolidge wreck just off the coast of Espiritu Santo, but as a diving destination, there is so much more to Vanuatu's fascinating underwater world. Filled with huge caverns and drop offs, diverse marine life, bright corals, giant sea fans and famous wrecks, Vanuatu is an incredibly diverse playground for divers, and it also happens to be one of the best places to see and dive with dugongs, the cows of the sea. Whether you want to dive caves in Tanna or beautiful fringing reef in Efate or wrecks in Santo, Vanuatu offers dive sites to suit all levels and interests.
Swim in the incredible blue holes
Vanuatu's blue holes are some of the country's most beautiful natural attractions. In fact, the east coast of Espiritu Santo boasts more blue holes than anywhere else in the world. These freshwater swimming holes formed out of the limestone landscape are filled with cool, blue water, surrounded by jungle. The pools range in accessibility and some can be accessed by kayak or canoe, with getting there half the adventure.
Experience a different culture
While only a few hours from Australia, a trip to Vanuatu can feel like a world away. For travellers looking to immerse themselves in the culture, a visit to a local village is a must. Visit Gaua Island or the Leweton Cultural Village in Espiritu Santo where the women dress in traditional attire and take to the water to create mesmerising music – evoking the sounds of thunder, boiling water and gushing waterfalls. Or visit Tanna Island's village of Yakel, where, the oscar nominated film Tanna is set, and get a glimpse into the local village life. One of the friendliest of communities, it is almost guaranteed travellers will make friends with the locals and immerse themselves in a culture vastly different from their own.
Tanna is the first feature film shot entirely in Vanuatu and was nominated for Best Foreign Language Film at the Academy awards in 2017. You can get a taste of Tanna with the trailer here.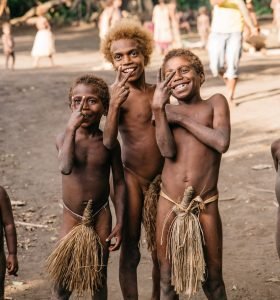 Embark on epic hikes
Throughout Vanuatu's 83 islands there are plenty of opportunities for hikes, from jungle bushwalks and intense three-day treks you need a guide for, to leisurely walks to waterfalls – there's something to suit everyone.  Nestled in the northernmost province of Vanuatu, travellers can explore the natural wonders of Gaua Island with the Mount Garet and Lake Letas Hike. This hike is a three-day and two-night trek across the island where hikers will be rewarded spectacular views, kayaks over the lake and a hike to the highest waterfall in the South Pacific.
Those that are looking for a day trip can try the Millennium Cave Santo – an all day, action-packed adventure from start to finish. This tour will have hikers scrambling over rocks; through the dense jungle; past trickling creeks and cascading waterfalls, before emerging at the mouth of the cave.
For more information visit: www.vanuatu.travel/au