If anyone knows the pitfalls and the pluses of being a solider, it's Tony Quirk. A lifelong soldier, Tony, a decorated former combat engineer in the Australian Defence Force, has experienced both exaltation and utter exhaustion on deployment for his country's service.
Once, while serving in Afghanistan – Australia's longest military engagement – Tony had the opportunity to witness something that struck him with awe. From a seat in a Chinook helicopter high above an Afghan valley, Tony saw the passing of history and a sense of both wonder and gratitude for the experience.
"We were flying high above a valley in Afghanistan," Tony once recalled, "Vast mountains were rising up on either side of us and I looked down and there was a group of nomads, perhaps the last of their kind, with their animals and tents made from camel hide. It was like looking back in time a thousand years."
That's when the unique nature of his job really sank in for Tony, reinforcing the choices that he made decades before when he left the family farm to seek a life of adventure and challenge in the army.
That experience was a result of Tony being part of a small team of Australian soldiers who went to Afghanistan in the early 1990s to clear landmines – they were known as the mine mappers following the Soviet withdrawal from that country.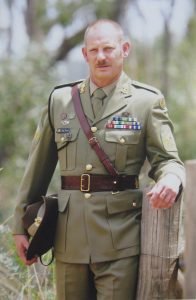 Of course, it's not all picture postcards and panoramic views either. On New Year's Eve, 2000, Tony and a mate were in a shallow rifle pit in Timor Leste as part of the Australian contingent providing security for the Timorese and a United Nations force known as INTERFET.
They'd heard rumours of an imminent attack by band of marauding Indonesian-backed militia, and Tony was part of the force "standing to" in case the attack materialised. "We were sitting in our weapons pit and had to stay there, totally silent, just waiting," he once recalled to a newspaper. "And then the heavens opened up and the rain came down in a torrent. It wasn't a fun way to ring in the new Millennium I can tell you."
These are just a few of Tony's memories. There are many others from a military career that spanned 33 years. Many are memories of comradeship and laughter. Many are the kind of memories that haunt soldiers in their quieter moments for the rest of their lives but are best left in the past.
As a combat engineer, one of Tony's specialities is bomb clearance. As such he was seconded from the ADF to the US Army after the 9/11 bombings to help train US personnel in bomb clearing operations. In that role he served with US forces, helping train soldiers on their way to serve in Afghanistan and Iraq and helping establish the US Anti-Mine, Anti-Booby Trap Centre.
He was based in Minnesota and, because of constant travel to other US bases, rarely saw his wife who was also stationed at the same base, contributing to tension in their relationship. As a result, he was one of only a select few foreign soldiers to receive the prestigious Meritorious Service Medal from the US Government.
His next deployment came just 10 days after the 2004 Boxing Day tsunami that claimed 230,000 lives. Tony and his team were sent to Banda Aceh, the Indonesian region that suffered the most deaths, to help with relief efforts, restoring fresh water supplies, and providing shelters and disease prevention measures for devastated survivors.
That, he once said, was a highlight of his career. "It was fantastic to see how people responded to that crisis," he once said. "Australian soldiers, when they knocked off, would go back out into the community and help families whenever and wherever they could."
As proud as Tony is of his service and what it means for his country, it also took a toll. Tony, Warrant Officer First Class, Regimental Sergeant Major (RSM) and recipient of an OAM, suffered recurrent bouts of PTSD and anxiety in his later years because of his service experiences. That's how he happened to meet Carol, the feisty, steadfast woman who would become his second wife.
Carol was a volunteer nurse's aide at an ADF health facility in Brisbane when she first met Tony in 2014. They struck up a conversation and then a friendship, which they then consummated with Cornetto ice cream.
"I thought Tony was such a good-looking guy," recalls Carol, who is slightly older than Tony. "Tall and well-built, Tony was younger than me, but we just had something that sparked between us. The people who ran the place discouraged relationships between the staff and in-patients, but we struck up a friendship anyway. We'd meet up outside, so they didn't know. Tony always bought me a Cornetto and we would sit on the steps and eat them as we talked."
It might be hard to find a sweeter beginning for a romance. "Because I was older than him, I never really thought I'd be with Tony for the rest of my life," says Carol. "I thought I'd get to play with him, that he might be my toy boy for a while, but the reality is that we clicked, and we've been together almost every day since."
Tony Quirk – more accurately, David Anthony Quirk – was born in Cassino, a town of about 11, 000 people in the Northern Rivers region of NSW. But soon after he was born, Tony's parents Lou and Helen, both now in their eighties, moved with their young family to Albury on the Victorian-New South Wales border where they purchased a farm.
As much as he loved being in the outdoors and as much as he revelled in the self-reliance required to be a successful farmer, Tony, one of four brothers, also knew that agriculture wasn't the life for him. By the time he was 17, another life in the Australian Army was calling and, like many other young Australians in the post-Vietnam War era Tony answered that call enthusiastically.
It was a physical and disciplined existence and one that suited a young Tony Quirk perfectly. "The army and being a soldier was Tony's life," says Carol. "He loved being in the military. He was born to be a soldier and he was so proud of what he and his comrades had done."
Of course, being a born solider doesn't make you indestructible. Carol first noticed slight changes in Tony's behaviour about five or six years ago. "It was nothing very big, just odd little moments when he wouldn't eat his food or when he stopped in front of the shower without getting in," recalls Carol. "At first I thought it had something to do with his PTSD but after a while I began to suspect that perhaps it was something else."
It was, in fact, early on-set dementia. Diagnosis proved difficult. Doctors for a time believed Tony's symptoms may be related to a vitamin deficiency. But eventually they pin pointed Alzheimer's Disease as the root cause.
As Tony's condition advanced his communication skills declined and he sometimes became frustrated and aggressively reactive if he didn't understand what was happening around him. That made finding care difficult and, in many cases, disappointing for Carol.
"That was very hard for Tony," she recalls. "I was with him most of time but every now and again I needed some respite, and we would put him into care but if he was confused, he could become argumentative in unfamiliar surroundings. I remember putting him into respite care one weekend only to be called back a few hours later to find three police officers holding Tony down on the floor."
Hearing Carol's familiar voice was and is a key aspect of Tony's equilibrium. Aged just 57, he is now a resident at NewDirection Care in Bellmere, Queensland, where he lives in a community house with others.
The care he receives there helps him though he is not communicative. Carol, who now lives only a few minutes away from the Bellmere facility not only visits every day, but also volunteers at the facility helping with regular events for the residents.
"Everything that happens here at Bellmere puts the residents at the centre of what is happening, everything is for their benefit," says Carol. "It's simply the best environment for someone like Tony, who, because of his relatively early age, doesn't really fit in at other facilities, which are more focused on aged care. We'd tried other types of care in the past, but nothing came close to the facilities and staff care at Bellmere."
There is more than a hint of melancholy in Carol's voice when she talks about Tony, undoubtedly the love of her life. "It was so strange to think that I was the one who was older than him, and yet here he is needing all the care and help – the man who might have pushed me around in a wheelchair in my old age is now in a wheelchair himself.
"I don't know whether he recognises me or knows who I am, but I sense that he does. When I visit him, I tell him the stories that he has told me. There's one that is among his favourites – he has four children, all now adults, and when he was in the US, he would take the family on canoeing holidays.
"One time, they took the children on a canoe trip down a river and when they arrived the locals thought they were all mad and would surely be drowned. When they came back safe the locals were so impressed, they erected a plaque in their honour.
"When I tell him that story. He smiles and he looks up at me and it's like my Tony is back. So, yes, I'm sure he knows somewhere in his heart who I am and how much I care for him. I only live a few minutes away from Bellmere so I can see him as much as possible. He's my soldier and we'll spend as much time together as we can."
Tony Quirk's OAM, as provided by the Office of the Australian Governor General His Excellency General David Hurley.
Warrant Officer Class One David Anthony (Tony) QUIRK, Queensland
For meritorious service as the Regimental Sergeant Major of the 1st Combat Engineer Regiment, Squadron Sergeant Major of the 21st Construction Squadron and Engineer Task Group, 2nd Reconstruction Task Force, and as Career Manager Royal Australian Engineers.
Warrant Officer Quirk has provided outstanding service to the Army in a succession of senior postings. His meticulous planning has ensured mission success on every deployment. His professionalism and dedication have consistently inspired subordinates to achieve their fullest potential and constantly encourages them to accept greater responsibilities. His focus on combat engineering techniques, training and personnel development has made a significant contribution to Army's growth and ultimately operational success. His exceptional devotion to duty is an inspiration to all members of the Australian Army and the Australian Defence Force.
About NewDirection Care
NewDirection Care Bellmere is the world's first MICROTOWN™ inclusive community that provides freedom of movement, independence, and choice for the elderly and those living with a diagnosis of dementia. NewDirection Care is a multi award-winning residential community based in Bellmere, Brisbane, for the elderly and for those living with younger onset dementia and complex care needs. It is a place where residents can enjoy fulfilling and happy lives beyond diagnosis—socialising, staying active, pursuing hobbies and continuing to play a role in the community. NewDirection Care developed a multi-skilled role that you will find nowhere else in the aged care industry called House Companion™ Support Workers.
More information available here: www.newdirectioncare.com.au