If you want to look your best on your big day and for all the latest bridal trends, the founder of bridal site White Runway, Rebecca Marsh, has got you covered.
Rebecca, who offers Ready-to-Wear and Custom Made gowns on the website White Runway, has gleaned all the trends for a Spring wedding.
Neutral colours
Nude tones are extremely popular this season with both bridesmaids and also brides, opting for nude-coloured dresses. Shades of champagne, ivory, taupe and soft dusty pink are becoming a popular colour choice for bridal parties. Bridesmaids are breaking away from tradition by selecting different styled dresses in a variety of neutral shades to create a really nice, uniform look that flows together effortlessly – it almost looks ethereal when styled together.
Form fitting bridal dresses
In line with the Hollywood trend of celebrating feminine curves, figure-hugging dresses are a popular choice for bridesmaid parties this season. Gone are the days when bridesmaid parties opted for traditional A-line dresses, bridesmaids are now embracing their curves and going for va-va-voom. Beautifully fitted dresses are always a hit with bridesmaids as they can be worn again for other occasions. It's now more about finding the right party dress that will be flattering across all shapes and sizes and make bridesmaids look and feel amazing. After all, weddings are captured across all social media these days and everyone wants to look their best.
Lace Is On Trend
Lace is still a huge trend this season and will continue to be across both bridal and bridesmaid dresses. Lace is romantic, soft and suits all styles of weddings – it can be demure and sexy at the same time. Lace also works well across all types of weddings including traditional vintage-styled weddings, bohemian and beach weddings. A touch of lace adds extra romance to any gown.
Volume and drama is de rigour for brides and bridesmaids
Volume and drama relates to the dress making a statement. Being a bridesmaid is now about getting the chance to wear an amazing dress to a special event be it a long train, a dramatic neckline or a voluminous dress. Gone are the days when bridesmaids will never wear the dress again. Brides and bridesmaids are looking for dresses that are simple, yet striking and provide them with the opportunity of being a rock star for the day. The Leah by Leah Da Gloria x White Runway dress is the perfect dress for the right amount of volume and drama. Dresses with a train and full tulle dresses also add to the drama.
Off-shoulder bridal dresses
The off-shoulder trend is the perfect example of catwalk trends filtering into bridal and bridesmaid fashion. These styled dresses are really popular and will continue to be this season. This style is very romantic, elegant and feminine. This shape is also very flattering and great for bridesmaids that want to show off their shoulders or are conscious of their arms. It is also important to ensure the hemline falls on or below the knee, for a modest and elegant look.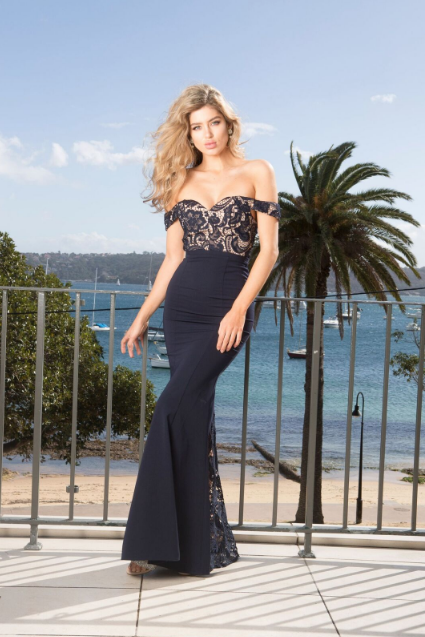 The Carousel would like to thank Rebecca Marsh from White Runway for her article.