I've always been passionate about animals and was raised next to joeys as my mum was a wildlife carer. I was around 12 when I got my first joey, and since then haven't kept count of how many. Over the years there have been – lots!
After graduating from university as an Ecologist a few years ago, I knew I wanted to be involved with animals. I love all animals but being from Far North Queensland, I could see the urgent need to protect local animals.  In 2017, I launched The Agile Project and have loved rescuing and rehabilitating local wildlife ever since.
Kangaroos are the most common animals hit by cars in Australia with thousands of baby joeys left orphaned every year. Due to remaining in their mother's pouches for eight months, babies are born without fur and without the safety of the mother they can often die or become incredibly ill due to the effects of the outside air. However, when their mothers are knocked over and killed or fatally maimed, we rescue them – and then it's a nine-month journey before they can be released back into the wild. We've currently got 52 joeys in our care, and they usually come in from the 'pinky' stage – when they don't even have fur.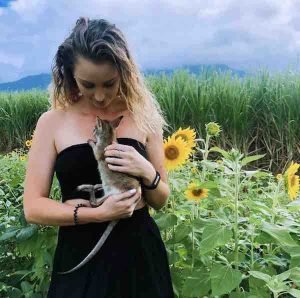 When they're pinkies, their mums naturally create a moisturiser in their pouch, which keeps their skin supple. Because pinkies aren't supposed to be out of the pouch or even come up into open air their skin dries up quickly so they need to be moisturised 24/7. So we've been looking for something to replicate that for years.
We've tried numerous moisturisers but the best one by far that we've stumbled upon is MooGoo's Natural Skin Milk Udder Cream Restore.
It's also really good for joeys that have cracked skin, noses and burnt heels from their feet sticking on the hot tarmac roads. We also use it on other animals as The Agile Project has evolved into a wildlife rehabilitation group for all species now, including all types of birds, reptiles snakes and lizards.
Melody Livingstone, CEO of MooGoo, says, "We love to hear from our clients that our products are helping them. "What a surprise to find that our Natural Skin Milk Udder Cream is working so well on the sensitive new skin of joeys.
"Funnily enough, it's not the first time we have heard wildlife carers using our products – we heard about one a few years ago, near Dubbo in Western NSW. She was using our moisturiser on the newborn pinkie joey skin. She said that other creams that she tried tended to clog the joey's pores and caused them to overheat. We love to help in any way we can!"
Shai is currently raising money via GoFundMe to relocate the wallabies from Cairns's northern beaches. For more info, visit The Agile Project.
The Carousel would like to thank Shai Ager for her story.