Did you know linen was the first natural plant fibre used by human beings? We've been making this amazing fabric for more than 10,000 years and there's a good reason for it. It's all because linen is a natural fibre which makes you feel comfortable, cool and dry at all times. Let's face it – you'll want to be wearing linen all year round!
As we get out and about , we're going to want to look our best and Sussan has released a new range of linen clothes which will certainly make you stand out from the crowd. It includes playsuits, lounge wear, sleepwear, camis, tunics, pants, shorts, tops, culottes, drawstring pants and dresses. With so many different, subtle looks in the range, it's the perfect time to stock up your wardrobe for the party season ahead.
Why is linen one of the best fibres to keep you cool on hotter days?
There's a science behind the reason linen is so comfortable and cool. Linen starts out as a small flax seed which germinates, blooms and thrives. When it's harvested, the bloom's coat is stripped off to reveal thousands of natural strands, which are then woven into thread and then into fabric. It's these thousands of natural strands which give linen its crisp permeability which lets it breathe so it stays dry.
Linen fabric is made up of 360 sets of linen fibres – all neatly arranged by thread. This gives linen its original, natural cool feeling – and at the same time it's strong and durable. Linen's dissipates heat five times better than wool and 19 times better than silk. This is why in hot weather conditions, wearing linen clothing can make your skin surface temperature lower than other fabrics by 3-4 degrees Centigrade. As well, linen helps maintain the body's electrolyte balance and studies have shown linen clothing can reduce sweat production by 1.5 times compared to cotton clothing.
Known as the 'natural air conditioning' material
All of this gives linen its reputation as the 'natural air conditioning' material. But you have to add in the fact linen is able to absorb your perspiration because the natural fibres soak up any drops of sweat and the permeability of the linen allows air to flow through and dry this out. Because linen is made from flax, it can absorb a great deal of water but it can also quickly release the absorbed water, so no matter how much you sweat, you'll remain dry.
So, even on a hot, humid day, you can wear linen and enjoy the soft and natural feel against your skin. This is why it's been a highly-sought after material for so many years in our history – and this season it is very much on trend.
Sussan's linens are all made with sustainably-grown, traceable European linen
Sussan's new range uses material which is 100% linen as well as some linen/cotton blends. Best of all, Sussan's entire linen clothing range use 'traceable European linen.' To make this type of linen, premium linen fibres are grown in Europe and they're cultivated sustainably, with no artificial irrigation and no GMO products. This makes 'traceable European linen' one of the most naturally occurring sustainable materials we have.
As well as keeping you cool, linen is anti-static and antibacterial
Along with its cooling effects, linen is anti-static as well so you won't be feeling the zing of static electricity when you're wearing it. Studies have shown you only need 10% of flax in blended fabrics to make sure you prevent static electricity.
Linen clothing is also antibacterial and wearing linen clothes slows down the growth of bacteria and can help prevent certain skin conditions, such as common rashes and chronic eczema.
That's why linen is the ideal fabric to wear over a long, hot Australian days and all year round. Linen clothes make the perfect gift as well because the items are so loose and comfortable, it's easier to estimate sizes correctly. So take a look at Sussan's new range of linen clothing and try them for yourself – the only thing you need to choose is whether you'll go for the effortlessly cool or the authentically chic look!
Here's a rundown of some of the great new effortlessly cool linen looks from Sussan:
Linen Dresses – look for those times when you want to feel comfortable and look sophisticated – all at the same time.
Linen Shirts – for those times when you need to look fresh and stunning.
Linen Lounge Tunics – authentically chic and casual, perfect for entertaining at home
Linen Lounge Tops– cool and comfortable – for relaxed days at home.
Linen Lounge Bottoms – the ultimate comfort for everyday wear.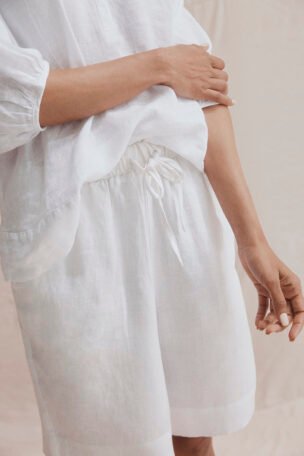 To check out the amazing new range of linen clothing from Sussan, visit here.
About Sussan: For 80 years, Sussan has been an icon in women's fashion in the Australian market – offering Australian women elegant clothing which looks and feels great. Sussan was started by an inspirational woman and it's run by over 1,563 women – and some wonderful men. From managers, to designers and to Sussan's shop staff – Australian women make this brand work, which is why the clothes they make, work so well for Australian women.
Sussan supports Australian charities and has raised over $2.7 million for Breast Cancer Network Australia so far. The company also offer its team members the chance to give to charity through their pay and any donation is matched by the company, dollar for dollar. Sussan works with The Starlight Foundation to brighten the lives of seriously ill children and their families; the RSPCA to prevent animal cruelty; and Beyond Blue to help raise awareness of mental health issues.
For more from The Carousel on fashion, visit here.