Flashback to A Hollywood Love Story: Glenn & Chris Nutley's Celebrity Celebration and that special day on November 15, 2014.
The Newlyweds: Glenn Nutley, 35, Celebrity Hair & Makeup Artist and Christopher Garcia, 28, Senior Publicist at Warner Brothers.
Big Day: 15th November, 2014.
Ceremony: The London Hotel, West Hollywood, California, USA.
"The ceremony took place at The Hampton Court at The London Hotel. It was very elegant, with Delta Goodrem performing The Prayer with a string trio and Glenn and Chris's dear friend, Vince Pizzinga as the celebrant. The ceremony was followed by a cocktail reception."
Reception: The roof top at The London Hotel, West Hollywood (see below for second wedding reception, held in Sydney, Australia)
Wedding Singer: "Delta Goodrem wrote and performed two original songs at the reception. The first, You and You Alone, features in the wedding video and was also the couples' first dance. The second original song was I will Spend My Life With You – both were played on Delta's own piano for the nuptials.
Delta Goodrem is a long time friend of Glenn and Chris and was more than happy to serenade them on their big day. "I've sung in front of tens of thousands of people throughout my career," Delta explained. "But this was by far one of the most nerve-racking performances I've ever done as it was so close to my heart. I wanted it to be perfect for the two people I love so much."
Dress code: Formal.
Guests: 120, including Rachel Hunter, Zoe Ventoura, Gillian Alexy, Renee Bargh and Josh Gibson, Cody and Alli Simpson.
Theme: According to event designer Bradley Picklesimer, who styled the wedding and flowers, the look for Glenn and Chris' wedding was strong, clean, and a wink to old Hollywood glamour. "The colour pallet was black, silver and white," explains Bradley. "The Black linen made the all-white flowers pop!"
Ceremony Decorations: Designed by Bradley Picklesimer, who has created events for Barbara Streisand, Elton John, Ellen DeGeneres, the Osbourne's and many more. "The ceremony had a black and white tent, sheer white curtains, a large black vase in every corner filled with hydrangea, and to top it all off, a crystal chandelier hung from the centre, dripping with glamour!" explains Bradley. "The key features were black glass and ceramic containers, candles, all-white pillars with matching hurricane vases. Remember, a wedding is about loved ones – never let your decor overwhelm your most important component – your guests."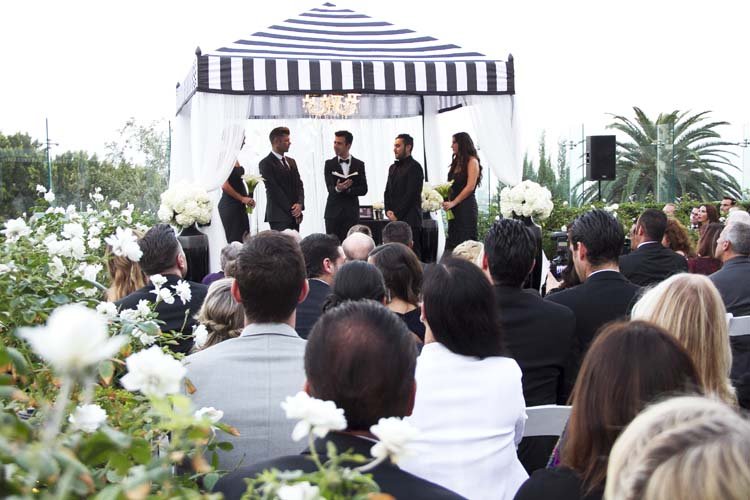 Reception decorations: The reception was lit by hundreds of fairy lights and more than 700 white pillar candles. "We used a staggering amount of white candles in three different sized glass vases," explains Bradley. "The space was a clear top tent atop the fabulous London Hotel. A clear tent is great at night for viewing the stars, but you need to be careful with floral placements in the day time – timing is everything."
Wedding attire: Glenn wore a John Varvatos tuxedo with Louis Vuitton accessories. Chris wore a mix of Sandro and Hugo Boss with Salvatore Ferragamo accessories.
Wedding bands: Black titanium wedding bands encrusted with black diamonds, designed by David Yurman.
Bridal party: There were two 'Groomsmaids' – Kym Johnson for Glenn and Chris had his sister, Michelle Garcia.
Bridal party's outfits: Kym and Michelle wore black silk taffeta Monique Lhuillier gowns with Tiffany & Co bracelets. They carried bouquets of white-collar lilies.
Groom's fragrance & aftershave: Glenn wore Tom Ford and Chris wore Burberry Touch.
Big day prep: The grooms and their families stayed at The London Hotel the night before the wedding. "We had an incredible hair and makeup suite for the bridal party and family, with three hair and make-up experts – Crystal Pray, Kip Zachary, Andrew Zepeda – and styling was by Dana Goldenberg," explains Glenn.
Flowers: Floral arrangements were white, featuring thousands of roses, lilies and hydrangeas, designed by Bradley Picklesimer. "All the flowers were white calla lilies, hydrangea and Iceberg roses," explains Bradley. "Tall black vases held large bouquets of hydrangea, while other tables had black square vases that held white roses. It's important to remember to have your flowers at their peak of blooming – always time your buying, give them fresh cuts and let them drink and bloom. If buds are too tight, warm water and the sun will help to open the buds."
Entertainment: Delta Goodrem performed two original songs at the reception. The Groomsmaids made speeches, however instead of traditional wedding speeches, they also featured a video, produced and directed by close friend BP Major. It was filmed in black and white, featuring the parents and close relatives of the grooms', and was played on large screens at the reception. The music was DJ'ed by Australian DJ Saint Clair."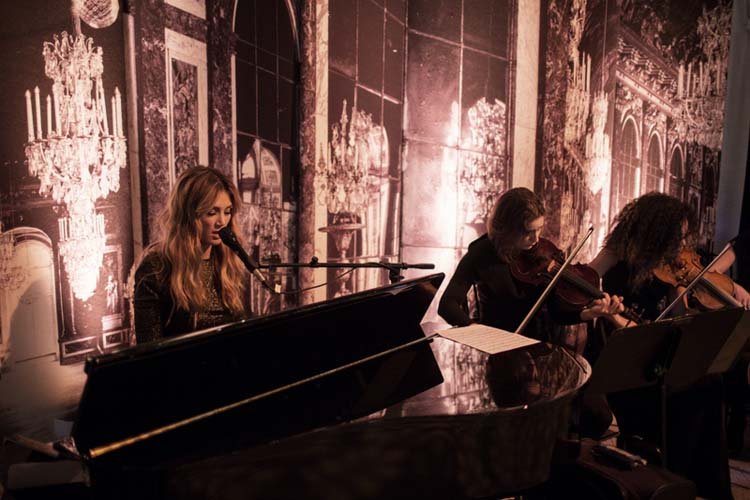 Bridal Waltz: Delta Goodrem performed an original song, You and You Alone, on the night. This was the first live performance of the song. Delta is a very dear friend and wanted to create something beautiful and personal for the couple.
MENU
Appetiser
Santa Monica Farmers Market salad
Herb vinaigrette, avocado
Main
New York Strip Steak
Red onion marmalade, potato fondant
Roasted Jidori Chicken
Pumpkin Ravioli
Brown butter and sage sauce
Roving
During the dancing, guests were also served:
Mini burgers – turkey, cheese & végétarian
Wedding cake: "Made by The Butter End, who are famous for making Kaley Cuoco's (The Big Bang Theory) chandelier wedding cake which hung from the ceiling, as well as Lance Bass's wedding cake. The cake featured four layers of chocolate almond cherry cake with cherry cream cheese buttercream and almond cake with toasted almond cream cheese buttercream."
DESSERT BAR
An ice-cream bar was set up so that guests could make Sprinkles sundaes (an ice cream scoop between a cupcake bottom and top) and ice cream cookie sandwiches. Flavours included:
Ice-cream
Vanilla ice cream
Red velvet ice cream
Coffee ice cream
Cupcakes
Dark chocolate cupcakes
Red velvet cupcakes
Vanilla cupcakes
Cookies
Snickerdoodle cookies
Chocolate chip cookies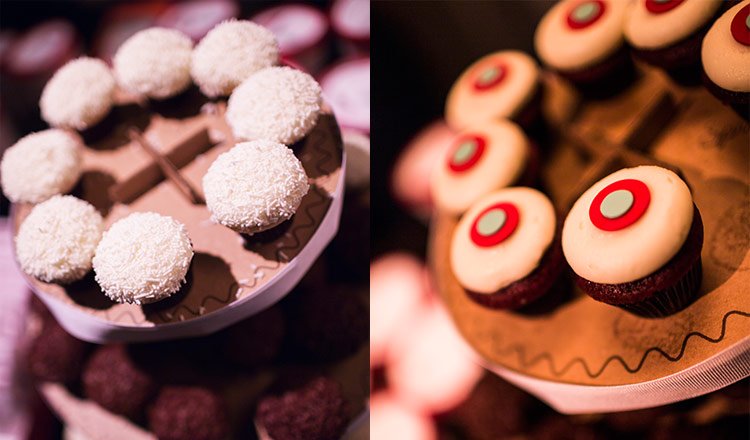 Favours: Sprinkles Cupcakes. "They were white vanilla cupcakes adorned with a black bowtie sugar decoration."
Photobooth: "A mirmir photobooth, so the guests could take home their own memories of the night."
Second Wedding Reception:
Louise Telford from Elle Events designed the second reception for fifty guests, in Sydney, Australia. Louise says it was anintimate dinner with all of Glenn's Australian family and friends. "Glenn and I have been friends for 20 years, so he trusted me to put it together," Louise explains. "I flew over to attend their main L.A wedding, and then two weeks later we had the second reception at The Waterfront Restaurant at The Rocks in Sydney. The dinner was held in the Settlers Hall, a gorgeous sandstone room overlooking Sydney Harbour.
"I knew Glenn and Chris would have wanted something very classy and elegant. Black is their favourite colour, so I kept it simple with black plate chargers, black satin tiebacks, vases filled with white calla lilies and black and white candles. We had two long tables for the guests and the whole atmosphere was just beautiful. We had a simple candy car, cupcakes and a gorgeous three-tier cake made by Helen Roth from Let's Eat Cake. We played a video of the LA wedding photos for the guests – everyone loved seeing the LA extravaganza."
Glenn's advice for other couples: "Take a moment to enjoy the day as it's over before you know it."
LITTLE BLACK BOOK
Event design: Bradley Picklesimer for Picklesimer Productions [email protected]
MC: Louise Telford
Speech Video production and editing: BP Major, EDM Artist of the year 2014
Photographers: Michelle Day, who has photographed Paris Hilton, Keith Urban, Melissa George and many more celebrities and Brandon Clark from Alex Berliner Images
Grooms' outfits: John Varvatos
Décor & Flowers: Bradley Picklesimer for Picklesimer Productions [email protected]
Rings: David Yurnam
Groomsmaids' Jewellery: Tiffany & Co (bracelets)
Dresses: Monique Lhuillier
Event Coordination: Maggie Swisher for Swisher Productions
Ceremony and reception venue: The London Hotel, West Hollywood
Celebrant: Vince Pizzinga
Ceremony music: Delta Goodrem
DJ: Saint Clair
Decorations: Bradley Picklesimer
Cake: The Butter End
Favours: Sprinkles
Photobooth: mirmir
Caterer: Gordon Ramsey
Videography: Pure Cinema
Registry: Bloomingdales
Honeymooned at: "Europe, Summer 2015."
Rehearsal dinner: Dominick's restaurant
Second wedding reception event coordination: Louise Telford from Elle Events