After more than 15 years in the corporate arena where I felt like I was sitting in a box in a tall office tower every day, I decided to resign. I walked away from a Directorship and I told my business partners that I was going on a sabbatical.
Little did I know where that sabbatical would eventually take me but I knew I somehow wanted to reinvent myself and hopefully work in the fashion industry or do something that was a bit more FUN!
So, first of all I went and did a couple of bucket list things. I did the Kokoda Track and then also Mount Everest Base Camp. After my two hikes and on the other end of the bucket list spectrum I went to university in Milan. At the European School of Economics, I studied Fashion and Luxury Goods Management.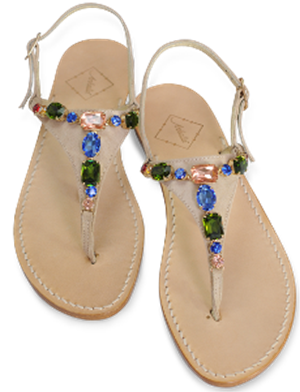 After my studies in Milan I stumbled across a traditional little sandal shop. There was an old Italian Papa sitting there handcrafting Swarovski crystal leather sandals. I had a fascination with the colours and designs and I bought multiple pairs of his sandals. I also kept going back to Papa's shop almost every day, to the point where they'd say "Oh you again."
Then one day, out of the blue Papa's oldest son said to me "You come, you work, we teach you." Wow! I was blown away that they were offering me this amazing chance to work with them and learn to be a sandal Artisan.
So, I returned home to Australia and thought well there's absolutely nothing like this here and there's definitely a gap in the market for beautiful Swarovski crystal sandals.
So, I jumped on a plane and flew back to Italy. For the next two months I sat next to Papa all day, every day and he trained me in the traditional Italian craftmanship of sandal making. I lived in a hotel and I worked for no pay.
Upon returning home to Australia again, it took me a year to do all the ground work to get Ankalia.com set-up.
Its' been a fun and challenging journey. I'm loving doing something creative and working in a whole new industry. I now work in a little studio alone all day where I beaver away making sandals and creating social media posts. I've had orders from all over the world.
This is a job and a business that I will do for the rest of my life. It seems to me that people over 50 struggle to find employment, so I'm creating my own employment which will last me for the rest of my life.
For more information about Cheryl Botha and Ankalia go to www.ankalia.com