Take your Christmas dinner to new heights with a rooftop festive dinner. Don't have a rooftop? Fear not, dear friend. This stunning Christmas setting, created by floral design studio Stems of Dallas, will work just as effectively on your outdoor terrace as it would indoors. Be inspired, and adapt the stunning ideas to suit your Christmas theme and space. Ho, Ho, Ho!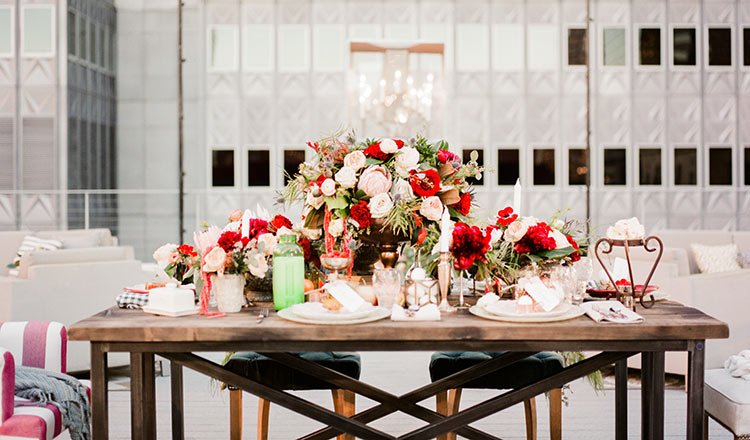 Choose your festive colour palette and theme. Traditional Christmas colours red and green are made to be seen during December. Holly is the ultimate green sprig, but choose local natives such as gum leaves, fern or even kangaroo paws for an Australiana twist.
Flower power with city views! Create your own botanical oasis with floral chair arrangements and a centrepiece that'll give the turkey a run for its money.
Add string lighting for ambience and roll out the red, or brown, carpet for guests for a homely feel set amongst the stars.
Personalise your guests' seating with name tags – and ensure arch enemies are seated on opposite ends of the room. Kraft paper tags and gold accents work beautifully with red and green theme. A simple flower setting and apple add a pop of colour across the table.
Old world nostalgia set high on the cityscape. Vintage vases, cutlery and dinnerware set with classic novels and comfort foods will make guests feel the festive cheer.
Don't forget what Christmas is all about – spending time with family and friends! Pull out the board games Santa left under the tree and roll the dice for a little festive competition and cheer.
Good wreath! Ensure Santa doesn't skip by your front door with an incredible floral and native wreath. Get creative and DIY using a foam backing and a mix of greenery with contrasting red and pink flowers.
This is an edited extract from Celebrate By Hooray!, $19.95.
Photography by  Tracy Enoch