For a holiday that's supposed to be all about fear, Halloween sure is a joyous time for everyone. 
It's the time for parents to spend some quality time with their younger ones while they take them trick or treating, time for friends and family to get together and a time where it's totally acceptable to expect people to provide you with free candy!
Contrary to what people think, there is no single way to celebrate this holiday. There are numerous different ways to get into the spirit, and here are five ways people celebrate Halloween.
1. Scare yourself with spooky activities
Every year, thousands of haunted houses and haunted carnivals are set up. If you are feeling extra adventurous, you can even visit actual places that have been known to have supernatural elements to it. If not that, there's always a haunted hayride to enjoy with your friends. The options are endless as many people get the Halloween fever and everywhere you go, you can witness numerous spooky attractions. You can even wear your costumes while you're visiting haunted houses so you can end up scaring and confusing the haunted house attendants themselves!
2. Host a scary movie screening night
If you feel that you are too old for trick or treating and too lazy for Halloween parties, then watching scary movies is your best bet! You can get dressed to the nines and host a movie screening of horror classics such as Rosemary's Baby, The Texas Chain Saw Massacre, IT and many more. You can come up with a whole theme and decorate your house or room in scary mementos. You can also choose your favourite snacks and serve them to everyone. You can even have your friends dress as their favourite character. If costumes are too much for you, then ask everyone to come wearing their very best PJs for the spookiest movie night ever!
3. Stick to a classic Halloween Party
What even is Halloween if you're not attending a crazy Halloween party? Costumes are a huge part of Halloween, but they're not the only part. If you don't feel like slathering your face in makeup or dressing up as a sexy bunny, you don't need to follow the typical Halloween persona. Whether they are slinky bodysuits that you desire or gorgeous maxi dresses, the choice is yours on what to wear. A winning combination for a perfect Halloween party differs from person to person. While some people go all out and give in to the Halloween fever with kooky decorations, spooky food and much more, others like to keep it classic and continue seeing this as a reason to get with their best buds and party.
4. Let your inner kid take over
Wasn't Halloween the best when you were little and it was all about the fun stuff? You got loads of free candy from strangers, you carved pumpkins and played fun games like bobbing for apples. Well, who says you can't still do those things? If nostalgia has hit you hard on this day, then let your inner child take over and celebrate Halloween the old school way. There are numerous events you can attend where you can compete with other people for the best costume, go bobbing for apples and carve pumpkins in fun shapes. As for the candy part, you're an adult now so nobody is asking you to limit your candy ingestion. So get one of those trick or treat candy bags and treat yourself.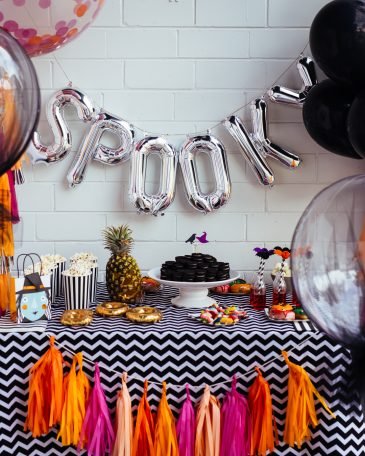 5. Treat your taste buds to a spooky cuisine and crazy sales
With so many amazing options for recreation available on this day, who says you have to choose only one? You can plan an amazing day fully involved with Halloween activities and spend it with your better half, friends and family. Restaurants often bring out spooky variations of their best items on this day. Halloween also often brings out crazy discounts from numerous brands, so it's also a good time to take advantage of all the sales while everyone else is busy in the Halloween frenzy.Everyone has a different taste and so it's not necessary that your Halloween plans should be the same as everyone else. Whether you enjoy being terrified while visiting a haunted murder site, love watching scary movies or enjoy carving pumpkins, just remember to spend this holiday doing something that brings you happiness and joy.
The Carousel would like to thank Christine Rudolph, a fashion and lifestyle blogger, for sharing this story.