Sarah Wilson's travel tips should never be overlooked. The wildly successful author and leading wellness expert is a seasoned traveller, frequently taking off with just a pair of shorts and a singlet, while hiking or cycling through some of the world's most fabulous locations.

As the author of the I Quit Sugar book series, the anti-anxiety tome, First, We Make The Beast Beautiful (2017) and This One Wild and Precious Life, Sarah knows more than a thing or tow about staying healthy, no matter where you are in the world.
While our travel is pretty much restricted to domestic adventures of late, we still need to keep in top mental and physical shape while we are traipsing around our state or country.

Sarah Wilson's travel tips will help you keep the mind, body and soul in shape when you're travelling.

Sarah Wilson's Travel Tips #1: Think Green
"I make a green smoothie (pureed greens and whole fruit), which I carry in a metal canister to drink before flights. I then use the canister as my water bottle for the rest of the trip."
Sarah Wilson's Travel Tips #2: Guzzle it Down
"For every hour you are flying, drink at least 500ml of water and drink a stack before you leave for the airport. I always carry my own 2L bottle on flights."

Sarah Wilson's Travel Tips #3: Take it Easy
"I don't overdo exercise when travelling. Your body responds best to gentle and consistent (i.e. daily) movement.
Run the stairs of your hotel or nearby. Only got time for a quick 10-minute workout? A few laps of the internal stairs is great.
Use the hotel gym. It's there on your doorstep! Catch the news on TV while you're there."
Tip #4: Pack Prepared
"I always pack my swimmers and goggles in case there's a pool in the hotel or nearby. Also handy if there's a steam room, which is a boon for frazzled adrenals and blocked lymph's!"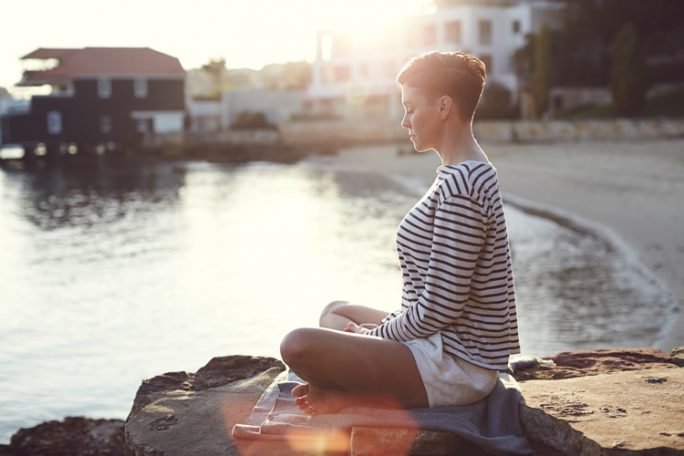 Tip #5: Disconnect
"When working while travelling, put the onus on others to email you back. Often my out of office will say: "I'm away until X date and won't be replying to emails. Please email me again after X date if your matter is still valid/important." Often, a matter is redundant by the time you're back on deck."
Tip #6: Schedule Rest Ans Work
"I also like to use the widget Pomodoro Technique. It's a timer that spaces out focus stints and rest stints for you. It's wonderful for getting focused work done."
Tip #7: Avoid Over Exposure
"I always travel with a battery-operated alarm clock instead of using my phone as the alarm to minimise EMF exposure."
Tip #8: Take a Flanerie
"This is a wonderful French word. And it's very Parisienne in nature. Flanerie: to take a wander around a city just to look and smell and absorb. No buying. Just looking, in gardens and parks and galleries."

Tip #9: Do Your Research
"Research the area on Broadsheet or Time Out before you travel, to check out best places to eat or drink."
Tip #10: Choose to Dine Solo
"This is another great way to get a feel for the local culture and vibe. Sit at the bar so you can talk to the staff if you don't want to be stuck alone in a corner."