Let's face it, right now is not the ideal time to be traveling long distances. However, there are going to be times during which you need to make an exception. Work, and caring for family members can result in unavoidable transit. Not to mention that there are still many charities and non-governmental organizations that are in need of help at this time of crisis — though there are ways to help some NGOs from home.
Whatever the circumstances, it's still important that we approach our travel plans with sustainability in mind. This must be from both an environmental perspective, and with a view to maintaining public safety. It can be something of a challenge at the moment, choices are often slimmer with many businesses being forced to either close down or reduce their staff. However, with a little extra effort, we can ensure our movements avoid a negative impact.
We're going to examine a handful of useful tactics you can employ both while planning your trip and on the road.

Location
There may be reasons, even when your travel is strictly a necessity, that you need to make location decisions. This isn't about choosing the ideal destination for your vacation — though hopefully, we can start doing that soon. However, it may be the case that you need to select the best location for a business meeting.
Maybe you're trying to find the most appropriate entry point to travel to distant relatives in need. You may even be looking for locations most in need of volunteers. In which case, there are some safety and sustainability issues you'll need to bear in mind.
Local Risk. You need to assess the local COVID-19 situation for your destination. Are they currently in a lockdown? Are there requirements for you to quarantine upon arrival? The sustainability issue here surrounds whether your presence may put additional pressure on public health services. Countries and states go into lockdown in order to slow the spread of the virus and prevent hospitals from becoming overwhelmed.
Safe Spaces. Choosing a location, particularly for business meetings, should include consideration of the venue. It may not be the most responsible option to enter into your contact's place of business — not to mention that your presence in their office space will contribute to their carbon emissions through energy expenditure for heating, electricity and other amenities. See if there are any local outdoor spaces you can utilize instead. Cafes and coffee shops may offer alfresco options. Look for somewhere within walking distance of your accommodation to avoid unnecessary fuel usage, too.

Transit
Once you've settled upon your destination, your next sustainability consideration should be how you're getting there. Even before the pandemic, traveling by plane was not the most environmentally friendly form of transport. In fact, cutting down on air travel is one of the top 3 actions we can do as individuals to reduce emissions. It's also worth noting the reduced capacity for travel during the pandemic has resulted in a marked reduction in emissions.
There are going to be destinations to which the only practical solution is flight. Yes, traveling by boat to international destinations, or by train for domestic locations, is a more environmentally sustainable option. However, they also take longer and increase your exposure to your fellow passengers — not the best option in these times. However, if you have to fly you can reduce your impact by taking less luggage. Use carry-ons when possible, and even here you should not be taking anything you don't need.
Using any of these public transportation options still belies the fact that we're still very much in the midst of a pandemic. Even though (at least in the U.S.) most lockdowns are over, we shouldn't be settling back into our regular routines, and taking part in actions that put ourselves and others at risk.
Being on shared transport means not just spending time around others, but we also don't have any control over their propensity to wear masks and take sanitation precautions. We also don't have access to the contact history of those we're climbing into enclosed spaces with. The safest method, and most sustainable from a public health perspective, is traveling on your own by car.
You can make this a more environmentally friendly trip too. Minimize the weight in your vehicle, and have your vehicle serviced to improve gas mileage. You should also pre-pack homemade snacks and meals rather than buying fast food along the way.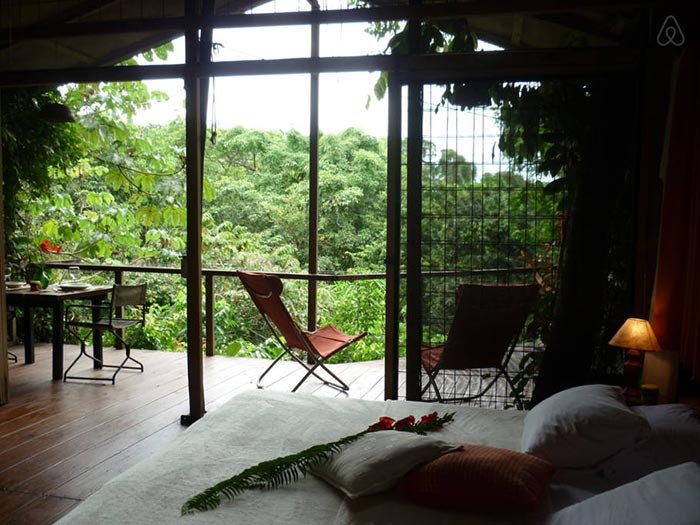 Accommodation
Accommodation while traveling is a key area of concern when it comes to sustainability. Let's face it, when you're away from home you're likely to be using additional resources in your hotel, room, or housing. In some cases, you may not have any control over heating, ventilation, and air conditioning consumption. Not to mention that hotels tend to use excessive energy through lighting and amenities.
If you can do so, avoid hotels. While many of them have intensive sanitation routines, you won't necessarily be limiting your exposure to people who could be sick. If you have no choice but to stay at a hotel, practice good hand hygiene, refrain from touching door handles, and wash your hands each time you return to your room. A more environmentally sustainable and healthy approach is to limit your time in communal areas such as restaurants, bars, and the gym — you not only cut down on exposure, but you use fewer resources.
Wherever possible, seek accommodation in short-term rental properties. This may be more expensive, but it is more advisable from both a sustainability and public health perspective. Using services such as Airbnb means that you can guarantee your isolation from others, as well as maintain your own thorough sanitation routine throughout your stay. You also have control over your resource consumption here; refrain from using unnecessary lighting and electricity, take short showers, and use blankets and layered clothing rather than central heating.
Conclusion
Let's not beat about the bush, here — travel is not advised in the midst of a pandemic. However, when this is unavoidable, you should take precautions to put less pressure on both the environment and public health services. Select locations, transit options, and accommodation that both limit your contact with others, and limit your consumption of resources.
Thank you to Beau Peters for the article.