Pack the kids and hit the ferry deck for a family adventure unlike any other. Fraser Island has it all, from whale watching and dingo spotting to 4WD adventure tours, fishing, and exploring vast sand dunes, towering rainforests and stunning lakes. I was lucky enough to take my son for a three day adventure and our only regret was that we didn't stay longer. Here's 16 family fun travel activities…
1. Watch Humpback Whales!
Grab your little Poseidon and explore the seas for some Moby Dick spotting. Without a doubt the most breathtaking experience I have ever had! For around 90 minutes, a pod of six humpback whales played around our boat, swimming beneath the boat then surfacing on the other. They did all the famous moves, pectoral fin and tail fluke slapping, breaching, lunging, rolling on their back with tummies exposed, singing and inquisitively investigating the boat – mere metres away. This up close and personal interaction was out of this world! Hervey Bay is a stopover destination for around 10,000 whales every year to and from Antarctica – they play and stay for up to 10 days in the bay. Just like in Nemo, the encounter with these friendly sea giants was spine tingling – the kids on the boat were blown away by the experience! Hervey Bay is also home to dugongs, dolphins, manta rays and turtles.
Tour with: Hervey Bay Whale Watch, who also offer snorkelling experiences with the whales. Whale watching season is late July to early November.
Did you know? Fraser Coast's whale watching tourism industry was born in 1987, when husband and wife team Jill and Brian Perry launched the first commercial whale watching tour, Hervey Bay Whale Watch. Today, Hervey Bay is the Whale Watching capital of the world.
2. Explore Fraser Island.
Little Dora Explorers will love exploring the island. The rainforests, beaches, sand dunes, coloured sands and freshwater lakes on Fraser Island are incredible. The largest sand island in the world, World Heritage listed Fraser Island is 123km long and 23km wide, so give yourself a few days to really absorb the beauty of this natural wonder – and keep the kids happy with some downtime between expeditions. We stayed at the stunning Kingfisher Bay Resort and loved it. We did a full day Beauty Spots tour on a 4WD customised bus – that looked more like a comfy tank! As the only sand island in the world, the terrain is rough getting from the bay's tranquil east coast inland to the ocean side west coast, but loads of fun navigating hilly, narrow, sandy tracks. Here's what we did, and you can do, on the Kingfisher Bay Beauty Spots tour…
3. Climb Sand Dunes
Off the beaten forest track, we pulled up at a sand dunes lookout – or 'blow hole'. It was awesome! Just like Return of The Jedi's desert landscape scene with the Great Pit of Carkoon (remember sarlacc, the alien pit that eats bounty hunters?) – only it was a lot less scary and no alien action! Huge coloured sand dunes formed by winds and storms create hilly peaks and troughs just waiting to be climbed and rolled down. Driftwood trees – reminiscent of ancient forests that once flourished beneath the sand, have been hit by sand blows and peek out from the sandy dunes creating a jaw-dropping landscape.
4. Hit The Forest Tracks
Keep your eyes peeled while bushwalking, peeps. We spotted a dingo, a gigantic Golden Orb spider, and scribbly worms, which leave scribbly trails on their host, the Scribbly Gum tree – they suck the sugar sap from the tree, making a scribbly trail downwards, then retrace their steps up the tree again to suck out the tree's replenished sugar supply.
Ssssnakey Fact: There are 79 reptile species (and around 20 snake species) on Fraser Island, including carpet snake, children's python, brown snake and death adders.
5. 4WD The Beach Highway
Fun for the kids and the grown-ups, 4WDing along the amazing 75 Mile Beach, through the shoreline's crashing waves and navigating sand drops is awesome fun – until the Ranger tells you he's seen 10 metre swells that cover the beach and reach the grass! The beach is lined with fishermen catching whiting, Jew fish, flathead, bream and Spanish mackerel – some five foot long. While 4WDs zip up and down the beach highway and light sight-seeing aircraft land on the beach strip, campers pitch tents along the ocean front's vegetation and sand dunes. Not a bad spot!
Look out! We spotted a White Belly Sea Eagle and Pied Oyster Catcher, whose secret weapon is an ability to open pipis with his beak! There are over 350 bird species to be discovered.
6. Swim At Freshwater Creeks
Fraser Island has ample stunning freshwater creeks and tables that run from the forest and water tables down to the beach, with freshwater streams spilling into the ocean everywhere. A favourite spot for families with littlies is Eli Creek, a gorgeous crystal clear temperate watered creek with a stream that pours out up to four million litres of water into the ocean every hour. Walk along the footbridge Ewok style for five or so minutes, then jump in a flotation ring and take a slide down to the bottom!
7. Take A Rainforest Walk
Home to the most magnificent rainforests with towering trees that grow out of sand! We visited Central Station Rainforest, which was once a logging forest (1920s). These days it's protected, and the only place in the world you'll find the rare and protected King Fisher Fern that vibrantly grows along the streaming creeks. Walk along the footbridges (and pretend you're Han Solo and Chewbacca visiting the Ewoks) and forest trails while spotting stag horns attached to towering Eucalyptus Pines, echidnas, flying foxes, kookaburras or the rare satinay turpentine trees – some of which are around 600-700 years old.
8. Check Out The Pinnacles
The Pinnacles are colourful sandy structures formed over millions of years that tower up from the sand and bush vegetation along the west coast of Fraser island. The sands on Fraser Island vary from white to pink, orange, red and the black vegetation sand, and the main burnt orange of the Pinnacles comes from iron oxide and minerals that accumulate over time and seep through.
9. Look For Treasure At The Maheno Shipwreck
A'hoy there, me matey! Little pirates will love one of Fraser Island's most popular landmarks, the Maheno, which was hit by a cyclone and wrecked on the beach in 1935. It has a colourful history – built in Dumbarton, Scotland in 1904, the ship served as a transport vessel between Australia and New Zealand then as hospital ship during WW1. When it wrecked, it became target practice for the WW2 RAAF training and consequently, got bombed (friendly fire!). Today, the rusty giant serves as a great historical photo opportunity and story-telling subject for young buccaneers.
10. Swim At Lake McKenzie
Ninja Turtles will love turtle spotting at Lake McKenzie! The freshwater lake is around 65,000 years old, eight-nine metres deep at its maximum depth and is breathtaking – with sparkling blue water and snow white sand, ancient trees that poke out from the beach, remnants of forests that once flourished and were blown over by sand. Home to freshwater turtles, acid frogs, crayfish and just three species of fish, the warm, calm waters make it a perfect swimming spot for families. Bonus: the sands are great for exfoliating your feet and, surprisingly, cleaning your jewellery in.
Walk With Dinosaurs! Kids seen Chased by Dinosaurs: The Giant Claw, the sequel to Walking With Dinosaurs? Lake McKenzie served as the main filming location where some of those giant crocodiles and prehistoric dinosaurs were filmed. Keep a look out for them!
Book: The Beauty Spot Tour with Kingfisher Bay Resort.
11. Get Rest & Relaxation At Kingfisher Bay Resort
We spent two nights at Kingfisher Bay Resort, stunning eco accommodation designed to blend in with the natural environment. Lodge style rooms and villas are perched on the hilly bush and forest with boardwalks and trails to access them. Some rooms overlook the bay and tea tree swamps with their own unique eco-systems. There's three main restaurants which serve tasty meals, Maheno, which serves a great range of fancy adult cuisine and kids favourites, and The Sand Bar, an open bistro deck with a relaxed dining experience, and Seabelle, which dishes up tasty delicacies including kangaroo, emu and crocodile. There's awesome pools and great family friendly activities from guided canoe tours along the beach or creeks, to junior eco ranger beach campfire experiences complete with toasted marshmallows, Segway adventures, fishing, and educational experiences with the Rangers. We couldn't fit them all in, but here's what we did during our stay…
12. Hit The Beach
Build sandcastles! World-famous sprawling white sands make the Fraser Island shoreline and rainforest backdrop a hit for good reason. Driftwood strewn sporadically along the beach just adds to the picture perfect photo opportunities. The water is crystal clear, and the east coast of Fraser Island is the bay side, so it's calm for kids. We looked for stingrays along the shallow waters, and saw evidence of them burying themselves in the sand right along the shore when the tide went out. Try to spot turtles, manta rays, jelly fish, sea horses, sea urchins and fish from the pier, or dig for soldier crabs and pipis galore. If the water's too cold, do what we did – I buried Maxwell in sand waist deep and turned him into a whale sculpture.
Turtle Power: Fraser Island is home to six of the world's seven sea turtle species, including the Loggerhead, Green sea turtles, Hawksbill, Flatback, Leatherback and Olive Ridley. During summer, the turtles lay their eggs on the northern end of the Island and nearby Lady Elliot Island. The dingoes dig up to 45% of their eggs, but thanks to a volunteer program, where people collect the eggs, incubate them and release the turtles back into the wild, the population is growing.
13. Dip In The Pool
Ok I know you don't go all the way to Fraser Island to swim in a pool, but kids love it. The feature pools and spas are definitely impressive. Take some time out when the balmy afternoon sun hits for a paddle, spa or just chill out on the sun lounges – order a bush-tucker inspired cocktail for you and a mocktail for the kids for luxe bush fun!
14. Eat Bush Tucker
We tucked into tasty bush tucker and learned all about the local produce the island's indigenous community ate for thousands of years, from sweet Rosella flowers to bush berries, crocodile, kangaroo and emu. The hit was the crocodile, with Maxwell ordering the salt and pepper crocodile and squid at dinner later that night.
15. Search For Sugar Gliders
We joined a Ranger guided night bush walk to spot the locals – bandicoots, sugar gliders, acid frogs, spiders, eels, swamp wallabies, small eared mountain possums and more. Our ranger showed us a Funnel Web Spider nest and loads of interesting animals – it was an awesome educational walk.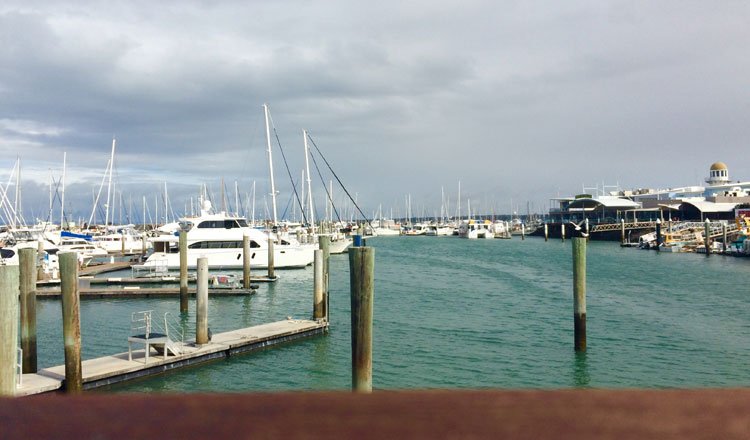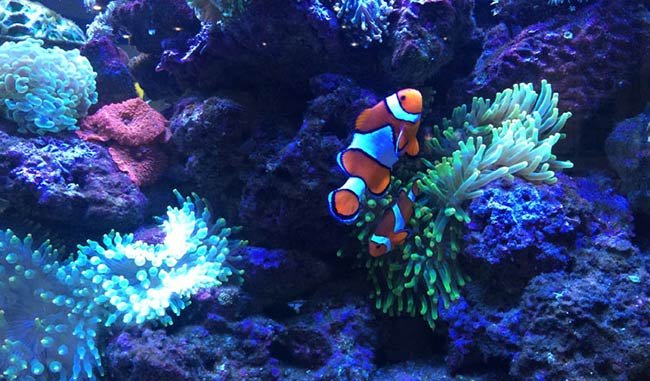 16. Hit Hervey Bay
Hervey Bay Airport is a hop, step, jump from town and is lovely and totally relaxing. We checked in to the townhouse style resort, Best Western Quarterdecks, then spent the arvo' exploring the beach, collecting shells, checking out the Marina, playing in the resort pool and spa and eating, before our 6:30am whale watching pick up and transfer to Fraser Island! The Marina may be quaint, but it offers a great selection of eateries. Café Balaena offers outstanding cuisine, from seafood chowder and rosemary lamb filo to burgers and kids' meals.
For simple but tasty fish and chips on the beach, we grabbed lunch at the Boathouse Seafood Café. There's also the RSL Club, which has a low-key relaxed vibe, awesome bay views, and an incredible tropical fish tank filled with clown fish, Seahorses, Lion Fish, and Dory and friends!
For more information, check out Whales Hervey Bay or Visit Fraser Coast