Who needs overseas travel when you can explore one of the Seven Wonders of the Natural World from the air, land, and sea?
Lady Elliot Island is the southernmost coral cay of the Great Barrier Reef. Situated 46 nautical miles north-east of Bundaberg and covers an area of approximately 45 hectares.
Home to a small eco resort and an airstrip, which is serviced daily by flights from Bundaberg, Hervey Bay, Brisbane and the Gold Coast.
Lady Elliot Island is destination of natural beauty with pristine water and incredible marine life. It is located within the 'Green Zone' of the Great Barrier Reef Marine Park, which is the highest possible classification designated by the Great Barrier Reef Marine Park Authority. Marine National Park Green Zones protect the biodiversity within the Great Barrier Reef Marine Park by protecting important breeding and nursery areas such as seagrass beds, mangrove communities, deepwater shoals and reefs.
W Brisbane has teamed up with Lady Elliot Island to offer this exclusive 'All Reefed Up' experience.
So get your sunnies, pack your bags and get ready to explore paradise…no passport needed!
What does 'All Reefed Up' include?
For the best views, and to capture every single second, take a 1 and a half hour scenic flight over the gorgeous Queensland coast and get fueled up with in-flight breakfast before tackling the day.
To start things off, you'll get to explore the crystal waters of the Great Barrier Reef where you can snorkel the shores at one of the most beautiful sites in the world. Here you'll encounter an ecosystem teeming with life, colour and adventure. Swim alongside turtles and fish and get to know Australia's natural wonder.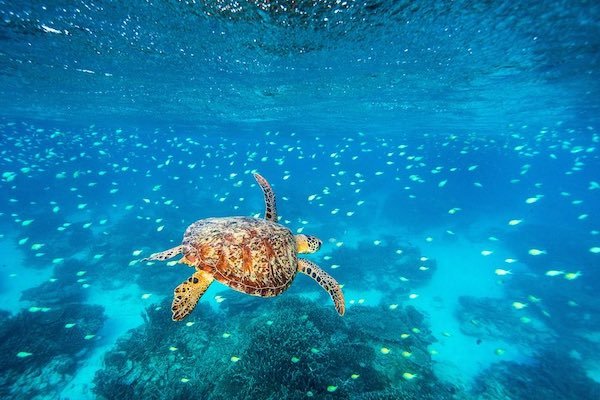 After that, enjoy a waterfront lunch with deliciously fresh seafood served with drinks while relaxing seaside. For those still raring to go, the afternoon can be spend underwater to keep the snorkelling going.
On your way back to Brisbane, you'll get your final looks of coastline before hitting the cocktails and gourmet bites.
What are the details the 'All Reefed Up' trip?
Single occupancy – From $1559 (includes two nights accommodation and day tour)
Double occupancy – From $2418 (includes two nights accommodation and day tour)
'All Reefed Up' includes:
Two nights accommodation at W Brisbane
Parking
Great Barrier Reef day tour to Lady Elliot Island (6:30AM-4:30PM)
For more information visit wbrisbane.com or get social with W Brisbane on Facebook www.facebook.com/WBrisbaneAUS and Instagram www.instagram.com/w_brisbane