As travel habits have shifted in light of the COVID pandemic, many travellers are looking to hit the open road. Renting an RV and hopping between campgrounds offer a good way to holiday while maintaining social distance, and America is the perfect place for a scenic drive, with its abundance of parks and open space. Tracy Thompson, from Cruise America (who rent RV vehicles across the country), says that going on a road trip in a motorhome is one of the best ways to travel in the USA:
"With an RV, you have the freedom and flexibility to truly explore, it's a great way to connect with nature and the outdoors and there's no unpacking or repacking. Plus, you don't need a special license (However, you must be at least 25 years old and your license must be valid for 12 months beyond the date that your rental contract starts). Being parked onsite at a national park also means that you can get up early and do some sightseeing before the rest of the tourists arrive – that is the beauty of staying on sight in a campground, you can avoid the crowds."
Thompson recommends pre-booking campgrounds in the national and state parks as early as possible (nowadays, you can easily book campsites using booking.com), and suggests investing in an America The Beautiful Parks Pass to save money. She also says to look for sites with firepits, so you can enjoy s'mores and a campfire under the stars.
"For families, it's an economical way to travel," says Thompson. "It promotes togetherness, and you can enjoy the comforts of home on the road."
5 Best Places In The USA To Explore By Motorhome
1) Joshua Tree National Park
Black Rock Canyon Campground in Joshua Tree National Park has 100 campsites set among towering Joshua Trees. Black Rock Canyon is accessed via a road on the north western end of the park only and isn't connected to the main park access roads, which means it offers more privacy than most other spots. Joshua Tree's most extensive trail network is accessible just south of the campground, making this a good choice for those who want to get a few miles of hiking in, but mostly hang around camp. The campground sits at a slightly higher elevation and offers stunning views of mature Joshua Trees, and there are a number of trails that take off from the area as well.
You can also try Indian Cove Campground, which sits off of Highway 62 between the towns of Joshua Tree and Twentynine Palms and sits among huge rock formations and clusters of smooth boulders. Adventure the day away among the steep and tall rock formations that rise up from the desert floor and take advantage of being in close proximity to several rock-climbing routes. Non-climbers will still love the vibrant spring blooms, Mojave yuccas, shrubs, and desert tortoise sightings in the spring and early fall.
Don't have your own RV? Try AutoCamp – RVs set up for you!
AutoCamp has opened a new luxury campsite in Joshua Tree, California, with stylish accommodations in sleek mid-century Airstreams and glamping tents. Set in the Southern California desert less than 10 minutes outside of Joshua Tree National Park, the 25-acre property features three types of accommodations: Airstreams, Accessible Suites, and X Suites — all of which offer a kitchenette, an outdoor dining area, and a fire pit perfect for a s'mores-filled evening. For those looking to have a classic auto-camping experience with an elevated twist, the 31-foot-long, mid-century Airstreams are the best pick. Inside, guests will find mid-century modern décor, a walk-in rain shower, and luxury linens on a queen-size bed that sits under panoramic windows looking out over the desert.
2) Utah's Mighty Five & Beyond
Utah is home to the Mighty 5, which in our opinion consists of five of the most beautiful, awe-inspiring National Parks and campsites in the USA, including Zion National Park and Arches National Park. The beauty of these parks as they come into seasonal bloom is really spectacular, plus there are fewer visitors. Zion and Arches are often head-to-head for the most popular National Park in the Southwestern Utah area. Zion offers a different view of the Southwestern Utah landscape.
The Virgin River runs through the park, creating beautiful, lush landscapes that turn into waterfalls and hanging gardens, all of which culminates into Emerald Pools. Many have experienced or at least heard of the Zion Narrows wading hike that takes hikers through century's old chasms. In all five of the Utah National Parks, you'll find little to no cell service, and most are fairly removed from civilization, so a quick run to the grocery store for milk isn't always going to be easy. That said, there's something pretty liberating about being unplugged and away from it all.
3) Route 66
Travelling the historic route between Chicago and Los Angeles is the quintessential American road trip—and a great cross-country trip to do in an RV. It's not America's longest or oldest highway. Yet, it stands out in American history as a symbol of freedom; from the time the automobile became accessible to all, and how it transformed society during the 1930s and 1940s. Unlike the other trips we list here, Route 66 is less a nature excursion and more a nostalgic cruise along a collection of museums, diners and roadside attractions.
Today, much of the original Route 66 is still navigable, with hundreds of historic landmarks, tourist attractions, old time diners, natural wonders, and campgrounds lining the route. The entire 2,400-mile route makes for an epic RV road trip, or you can tick off one segment at a time, in any of the eight states that the route passes through. Either way, a Route 66 RV trip is a nostalgic journey through America's early days of westward travel.
4) Oregon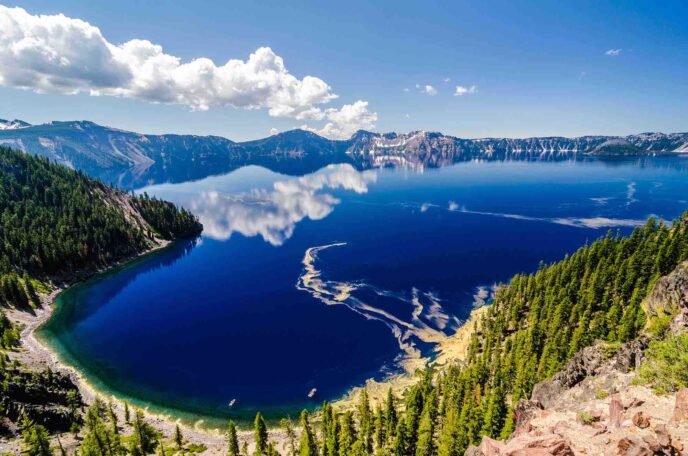 While California has beautiful spots, it's not the only western state that does. Oregon has gorgeous and unique coastlines, and several worthy inland road trips to take. Highlights include:
5) The South
This region of the USA has a uniqueness that some of the larger cities in the rest of the USA have lost long ago. It feels like a completely different country from what you would experience on the West Coast or in New England. The Southern states have plenty to offer in terms of nature, culture and relaxation. A satisfying southern RV expedition will sample forests, beaches and everything in between. Start your trip in historic Savannah, drop down into Florida and meanders along the Southern coast before launching back east into Tennessee and Virginia, which comprises a series of beaches for a proper cool down at the end of a long journey. Of course, you can begin anywhere along the route and eventually end up back where you started. Other great spots not to miss include New Orleans, Memphis, Nashville, Charlotte, Miami and Key West.
With oceanfront RV and tent sites located just a few minutes from the action of Key West, Boyd's makes a great base camp for experiencing this Florida hot spot. Boyd's boasts a pool and beach area as well as conveniences including a laundry facility, bathhouses, a boat ramp, moorage and kayak and paddleboard rentals. Play cornhole and bingo or do a little line-dancing at the pavilion. You can't beat the location, which is near busy Duval Street.
For more RV road trip itinerary routes and USA travel ideas, explore visittheusa.com.au