We know Natalie Bassingthwaighte from her time singing with the Rogue Traders and as an actress on our television screens in Neighbours, The X Factor Australia and All Saints. But now she's turned her attention to the environment and as a mother of two young children, Natalie knows all too well just how much waste, including old food, is thrown out of her household each week.
"Since becoming a mum, I have been so aware of how much waste our family makes collectively," says Natalie. "And whilst I can't change the entire world, I can change my own, and that starts in my home, with my family."
In an effort to do this, the Aussie icon has teamed up with a company called The Swag which was started by a Sydney mum called Peita Pini. The Swag makes non-toxic, sustainable, machine-washable and compostable food storage and produce bags which keep fruit and veggies fresh for over two weeks.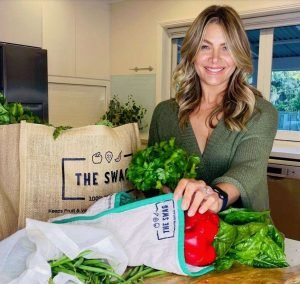 So here are Natalie's top 4 hacks for more environmentally conscious grocery shopping and a lighter footprint:
I always leave reusable carry bags near the front door of my house, and in my car passenger seat. Knowing I won't need any plastic items to help store my food is the best feeling. It's about making these new conscious habits as convenient as possible, because you are competing with a more convenient, quick and easy – but unsustainable – shopping habit!
Forgot your reusable produce bags? I've learnt that paper bags traditionally used for mushrooms are brilliant. You can use them for EVERYTHING. You can either reuse the paper bags for snacks in your kid's lunches, or compost them.
Make a list (and stick to it)! Grocery stores are strategically designed to entice you. But if you have a list, you're less likely to get distracted, and will be in-and-out a lot quicker. Making the list means you are mentally preparing yourself to go to the grocery store, and therefore more likely to remember your reusable shopping and produce bags!
When I can, I shop locally at the farmers markets. Not only is this a fantastic opportunity to talk to the kids about growing, harvesting and purchasing food (it's cost on the wallet and the environment) but you have to bring your own packaging and storage methods with you, which I love because it makes everyone accountable. I also find the produce at the markets a lot better quality and lasts significantly longer – especially in The Swag, where I often get more than two weeks of fresh, crisp fruit and veggies – meaning I don't have to shop as often as I have the confidence to buy in bulk, knowing it won't go to waste in a few days.
Environmentally conscious grocery shopping
With the average Australian throwing away approximately $1,050 worth of food per household each year, using grocery bags and lunch bags such as the ones from The Swag means we can combat both food waste and plastic pollution. As you can see from her shopping hacks, Natalie is serious about looking after the environment as much as possible and she says The Swag products have been a big help when she was looking for solutions.
"I've been looking for ways to help make micro changes that add up to powerful and positive impacts and The Swag was a no brainer," Natalie says. "From storing my produce in The Swag so that they last longer, to composting and replacing single use plastics with non-toxic reusable items, I know I'm making a difference to this planet and leaving behind a legacy I would want my children to be proud of and follow in their own way. Even just one step at a time."
Natalie adds she tries to include her whole family in the process or being more environmentally conscious – especially the kids: "The more we teach them about our planet and the issues we are facing long term, the easier it is for them to understand that they can play a part in changing the world.
"I start the conversation when and wherever I can! When I shop at the markets or the grocery store, I explain why we don't use plastic bags and why we need to be responsible for our own storage and packaging," she says.
For more information, visit www.theswag.com.au