Although overshadowed at first by the World Cup winning All Blacks on a celebratory tour of their own, the Kiwis quickly embraced the popular royals on their week-long meet-and-greet.
Highlights included a visit by Charles and the Duchess of Cornwall with the Maori King Tuheitia in the central North Island.
Although the ties with the Royals and the Turangawaewae marae date back more than a century, feathers were ruffled by his son Prince William last year.

The Maori king refused to meet William on his official visit because he'd only allotted 90 minutes for the half-day traditional greeting.
"We're not some carnival act to be rolled out at the beck and call of anyone," the king's office said at the time.
This year, however, a kiwi feather-cloaked Charles and the Duchess of York, watched enthralled from the riverbank as 30 tattooed raised their paddles in salute and sung Maori chants.
Charles then continued the formalities with an address to King Tuheitia and a 1000-strong crowd.
Perhaps the most emotional meeting of all, however, was one that no one had planned.
While making a routine walk through the small South Island town of Nelson, Charles was reunited with the woman who cared for him as a baby at Clarence House.
Jacqui Botting, 92, lives in a care home opposite a research centre the Prince was visiting and had been sitting under a nearby tree in the hope of seeing him.

New Zealand-born Jacqui had been nanny to Charles and his sister Princess Anne in the early 1950s, before she returned home to marry.
As she waited for a teary reunion, she clutched a Christmas card she'd received signed by Queen Elizabeth, Prince Philip and Charles himself.
"He remembered me, didn't he?" a beaming Jacqui later mused after an aide alerted Charles to her presence. "It was very nice."
Meanwhile, the Royals' five-day Australian tour kicks off in Adelaide on Tuesday, November 10.
They then detour to Tanunda in Barossa Valley, before stop-offs in Canberra, Sydney, Albany and Perth through to Sunday.
While thousands of royal Aussie fans are expected at each stop-off, expect a few awkward moments for the tour's Canberra host, PM Malcolm Turnbull a long-time vocal anti-royal.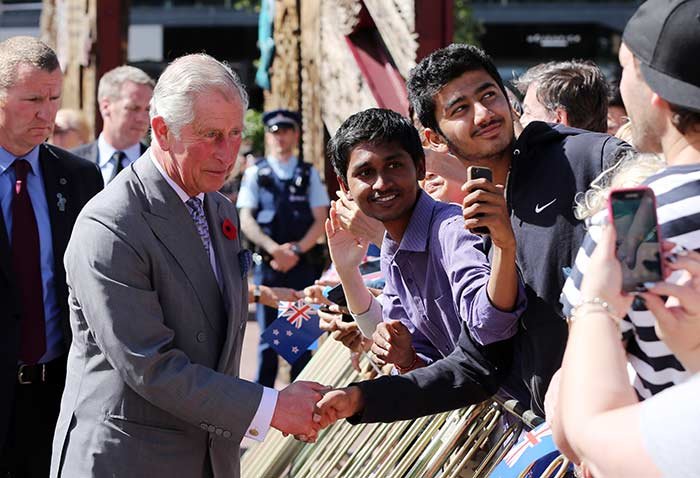 In his 1993 book The Reluctant Republic, the future Aussie leader writes that Prince Charles and Camilla – the next King and Queen consort of Australia – engaged in "unashamed adultery" and Charles may never be accepted as a monarch.
He also described the Royal's Bicentenary as a "year of shame" and Princes Diana's marriage as a "miserable pretence".
On the plus side, Charles can at least look forward to a festive finish – he celebrates his 67th birthday on Saturday with a beachside barbecue at Cottesloe beach in WA.