Sleep is one of nature's greatest gifts. Good sleep patterns physically revitalise us, emotionally rejuvenate us, bolster our immune system, help us lose weight, protect us against disease and allow us to navigate an increasingly complex world more effectively.
We spend more than a third of our lives asleep. In fact, it is a biological necessity for living our best lives which means the environments in which we sleep are vitally important.
Just as sleep is a natural process, latex is a natural product drawn from the sap of flowering plants. It is, as mattress industry leader Peacelily has discovered, the perfect natural material on which to stretch out for the vital, natural sleep we all need.
Not only did Peacelily win this year's award for Australia's "Best Natural/Organic Mattress in a Box," Peacelily's mattresses are sustainable, biodegradable, and give a scientifically verified pathway to nourishing, rejuvenating sleep that will give you the foundation for a happier, healthier life.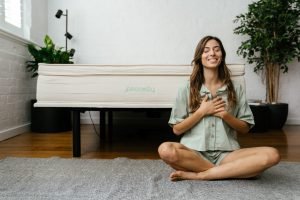 Constructed with 100 percent natural latex, award-winning Peacelily mattresses are Australia's premier platform for safe, soothing, and environmentally friendly slumber. Natural latex is anti-microbial, antibacterial, anti-fungal, and anti-viral.
More than that, Peacelily mattresses are completely free of toxic industrial chemicals. Peacelily uses a special natural adhesive developed from hand-tapped, naturally occurring rubber plant sap which means, unlike most conventional spring-coil or treated-fill mattresses, there is no "off-gassing."
Harsh synthetic chemicals often exude post-production gases that can be toxic in the long term. Hand-crafted, natural latex mattresses from Peacelily completely avoid these potentially dangerous substances, ensuring a secure, protective, and opulently comfortable sleeping environment for you and your family.
To further enhance the protective qualities of their natural latex mattresses, Peacelily only uses certified 100 percent organic cottons at a sumptuous 350gsm thread count. These cottons meet the Global Organic textile Standard (GOTS). The combination of natural latex and organic cottons gives durability, comfort, and a luxurious-to-the-touch resting experience.
As a supportive surface, natural latex is by far the best choice to eliminate pressure spots during sleep. It moulds to your body's contours providing a gentle, embrace-like comfort and support that enhances your body's natural alignment and promotes optimal spine and lower back strength and resilience.
Additionally, natural latex mattresses supply an all-round breathability that whisks away body heat while you sleep, preventing overheating and promoting all round air circulation that encourages healthier, disturbance-free sleep patterns. And you can also buy a Latex Mattress Topper.
Peacelily mattresses are Australia's best choice mattress brand, are attractively affordable and provide canny parents with a natural product that will give their children safe and environmentally friendly sleeping environments for decades to come. That's why Peacelily backs their mattresses with an industry-leading 25-year guarantee and gives customers a 100-night sleeping trial. Quite simply, Peacelily is a better natural mattress for better natural sleep.