There's been many occasions we haven't been able to celebrate during this period of COVID-19 but we can still enjoy the gift of giving. And, who doesn't enjoy receiving a greeting card, or a hamper?
It's the perfect way to cheer up a friend or loved and lift their spirits during this difficult time.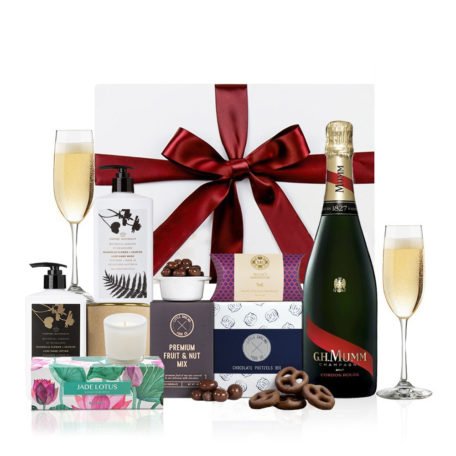 But for many, it hasn't been possible to visit people to impart your gifts so for we've had to think of alternatives.
For me, one of the easiest ways to do that is to send a hamper. When I worked for Kerry Packer's magazine group, ACP, he had a wonderful tradition of sending hampers every Christmas and it was a highlight for all of the staff, me included.
Hampers With Bite has a huge range of hampers that make gift giving easy particularly while we are social-distancing. The benefits are that they source local gourmet goodies and offer a range of packaging, and the sheer joy of receiving a box full of delicacies is unbeatable.
You can also send your gift hampers safely across Australia and New Zealand in no time at all and there's even a next day priority business delivery option from this Melbourne-based company.
What is also beneficial about a hamper is that there's always something for everyone, and with a mix of food and alcohol, it's almost impossible to get it wrong.

One tip is to plan the gift you give to help them maximise their at-home experience. Hampers With A Bite have a range of boredom busting, activity hampers to help keep your loved ones entertained at home. Or for those looking for some additional rest and relaxation, they have a selection of gifts to transform any home into a pampering spa retreat!
You can even get home wellness hampers like these ones here: https://www.hamperswithbite.com.au/home-wellness-hampers
For me, it is hard to go past the Luxury with Moet hamper (see hero image) which is beautifully packaged in a black box with a red ribbon and comes with a bottle of Moet champagne, Chivas Whiskey, nuts and chocolate and other tantalising goodies.

And when in doubt, you can't go wrong with a Chocolate Heaven Hamper, that's for sure.
For more hamper inspo, check out Hampers With Bite.