Meeting at Carriageworks, Sydney. Big suspense, we arrived in an all dark room. Warmly welcomed by Dyson Vice President of Floorcare and Robotics, John Churchill, and Home Living Expert and former Master Chef contestant, Aaron Harvie.
Aaron shared how Dyson changed his life when he became a 'house-husband'. Convinced Dyson products are real game changers, making your life easier and doing exactly what they say they do, he was extolled the virtues of the new Dyson technology.
Indeed, V11 is a perfect example of a technology made to facilitate your cleaning session thanks to its huge range of accessories and many other features…
John and Aaron explained how the new digital motor created by Dyson. Dyson V11 cord-free vacuum is the result of more than a decade of cord-free vacuum and Dyson digital motor development. 315 engineers were involved in the project, with over 32,500 parts prototyped. 
Three microprocessors on board the Dyson V11 vacuum bring a new level of intelligence to the clean. Located in the Dynamic Load Sensor inside the High Torque cleaner head; inside the Dyson digital motor V11; and inside the battery. These advances mean that suction automatically adjusts depending on floor type, and the owner can see how much runtime is remaining.
James Dyson talks about the Dyson V11:
"With the Dyson V11 cord-free vacuum, our focus was not only on improving performance, but on adding intelligence to genuinely assist people's cleaning." 
High Torque cleaner head with Dynamic Load Sensor (DLS)
The High Torque cleaner contains a DLS system, which automatically detects the floor resistance and then adapt its power. This enables carpets to be deep cleaned and runtime to be extended on hard floors.
LCD screen
The on-board screen shows current performance, including selected power mode and remaining run time, giving the user more control of their clean. As users, you may have already dealt with a floor cleaner that suddenly stops and not sure what happened. Well, the screen platform helps a lot and informs you of any blockages and how to clear it thanks to an eye signal which appears on the screen. Very user friendly!  The screen also reminds you when to clean filters for optimum performance.
Great battery
The Dyson V11 vacuum's battery and monitoring system work together to gauge how much run time is remaining. The system measures the cell capacity and uses an algorithm that 'learns' how the user's machine works over time to calculate remaining runtime. The time displayed will take the cleaning mode, tool and floor type into account.
Advanced filtration
We are all exposed to pollution and a lot of allergens especially in big cities. Home is another place where you are exposed to harmful dust and allergens which affect your general wellbeing. So, if it's not easy to fight outside pollution, we can at least protect ourselves inside our own houses. The Dyson V11 vacuum's fully sealed filtration system captures 99.97% of particles as small as 0.3 microns expelling cleaner air.  As an example, mattresses are all full of allergens and it's important to clean them at least every 2 months. Inside the V11, 14 cyclones generate forces of more than 79,000g to fling microscopic particles – such as pollen and bacteria – into the bin.
What I loved:
High Torque cleaner head with Dynamic Load Sensor system adapts suction depending on floor type: we tried and tested it on two surfaces: wood floors and carpet.
LCD screen displays run time remaining and machine performance in real time: no more surprises when the vacuum stops working, you can clean more effectively that way
powerful battery: up to 60 minutes fade-free floor cleaning
Boost mode: Aaron Harvie crushed a biscuit on a carpet and invited us to use a special mode: it was satisfying to wash it thanks to the boost mode (I'd rather like to call it "the beast mode").
mini motorised tool: very easy to use and perfect for cars (you've probably experience a situation when you drop M&M's around the back seats? Tested and approved! It was enjoyable watching the mess being absorbed with this tool! )
What I disliked:
It's certainly manageable but if I was to find a fault it's a tad too heavy
The Dyson V11 vacuum is available in 3 variants starting from AU$1,099. For more information, visit Dyson.com.au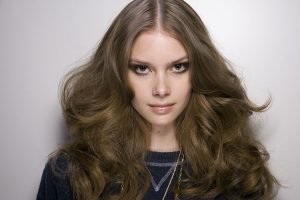 Dyson's New State Of The Art Airwrap Styler Is Simply The Bizz