In appreciation for all father figures and paternal presences of every definition, here are more than a dozen unique father's day gifts for your fave "I don't need anything" person.
Designed to impress dads with all kinds of interests (while also making it easier for gift-givers across a range of budget and organisation levels), our guide to unique father's day gifts has ideas starting at under $30, and purchases that can be made right up until the morning of Sunday, September 9th.
Unique Father's Day Gifts: For one who's a caffeine king
Why should mum have all the fun with breakfast in bed? Treat dad to a cup of his favourite brew, then give him the tools to DIY for the rest of the year with a coffee maker by Vittoria.
The latest creation from the kings of caffeine is the Piccolo Black Coffee Capsule Machine – a compact coffee pod system that makes barista-quality cups at the touch of a button.
RRP: $99 (capsules sold separately)
Stockist: https://www.vittoriacoffee.com/
For the one who's "Not a regular dad. He's a cool dad"
Forget socks and crocs, if your father is a fashion lover, spoil him with something special by Amsterdam-based lifestyle and apparel brand Scotch & Soda.
With a focus on creating unexpected effortless pieces that encourage individuality, authenticity, and expression, you'll be sure to find a unique father's day gift for dad. Our pick? The embroidered cactus and palm-print Sand Melange cardigan – certain to make a memorable addition to his Spring wardrobe.

RRP: $379.95
Stockist: https://scotch-soda.com.au/
For the one who's in need of a little TLC
Blys offers a range of on-demand beauty and wellness services, by qualified therapists in the comfort of your home – so you can spoil dad with a massage, manicure or mindfulness session.
The best bit is that bookings can be made on the same day (pending therapist availability) so if you've forgotten to buy something special, he'll never have to know …
RRP: Gift vouchers starting at $50
Stockist: https://getblys.com.au/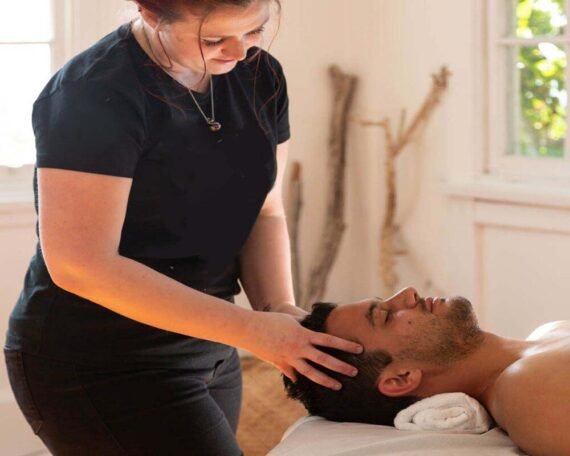 For the one who's into "It" Items
If your father is the first to jump on a trend, then he'll love the latest subscription service. Forget streaming services like Netflix, Four Somme by Rubay Wines is all about dad's favourite drink.
Billed as the world's first wine club, that "wants members to taste the wine first", it offers consumers complimentary wines in return for feedback to discover what wines they like and a regular wine delivery service tailored to their individual tastes.

The concept is super simple, just sign up and you will receive your complimentary Preview Pack with four wine to trial. Taste the wines in the preview pack with your friends and choose your favourites in the virtual tasting platform, then sit back and wait for your customised wine selection to be sent to you. You'll receive another preview pack with new wines to discover every two months so that your next delivery will be further customised according to your preferences.
Handy hack: Stop his good drops from going-to-waste by throwing in a Coravin Pivot. This handy device uses the company's award-winning patented technology to keep still wine fresh for up to four weeks.
RRP: Preview Pack complimentary, $170 (8 x 750ml bottles)
Stockist: https://foursomme.com/
For the one who loves the environment
If your dad loves the great ideas and wants to support sustainability, he's likely to also love reading an eco fiction book. A River Divided is a novel that he'll love. Set across four continents, A River Divided is the thrilling first novel by world famous neuroscientist George Paxinos who uses his vast knowledge to examine the limits of science and the brain. He poses the searing question of our time – can humans and nature co-exist in harmony?
RRP: $35
Stockist: https://www.georgepaxinos.com.au/#buy
For the one who's not a drinker
If dad doesn't do vino, may we suggest some Good For You Sparkling Water? Sure, it's a little more unconventional than bringing a slab to Father's Day lunch, but when each can of charcoal-filtered sparkling water comes packed with all-natural flavours (like yuzu, blood orange and peach and ginger and not a drop of sugar), we think he'll be happy to pop one open.
RRP: $53.90 (24 x 330ml cans)
Stockist: https://www.shop.brewsociety.com.au
For the one who's scent-sational
Channel the vibes of a smokey jazzy club (minus the smelly scent of cigarettes) with a bottle of Vilhelm Parfumerie Smoke Show Eau De Parfum. Its signature notes are a beautiful blend of leather, pepper and smokey wood complemented with rose, saffron and vetiver to create a scent that is intoxicating and statement-making.
RRP: $224
Stockist: https://www.mecca.com.au/
For the one who's sorta, secretly into skincare
Stop him from stealing your serums by providing him with a simple skincare routine of his own. This Basin Essentials set by Saya has been formulated with rich hydrating active botanicals to cleanse, hydrate, and soothe your skin. And is packaged in a sleek, chic black bottle that will look super slick on his bathroom basin.
RRP: $90
Stockist: https://www.sayaskin.com/
For the one whose hair is his crowning glory
Give dad the gift of Hollywood hair with a tub of Velvet Texture Clay by Aussie celebrity hairstylist Larry King. Designed to add body, definition and texture without feeling greasy or creating that unwanted heavy product build-up, it has a matte finish and the delicate fragrance of crisp Autumn air. Yum!
RRP: $39.95
Stockist: https://www.adorebeauty.com.au/
For the one who's an avid traveller
Globetrotting dads will be chuffed to receive a travel accessory from Deadly Ponies. The brand offers sherbet-coloured Airpod holders, sleek wallets and beautiful leather bags that double as carry-ons. But our favourite is the Poucher – perfect for stashing all his travel essentials.

Otherwise, if he's short on annual leave, tide him over with an inspiring travel book instead. We love "Try Life Plans on Dive Bar Napkins – A guide for travelling recklessly, living stupidly".
RRP: $149
Stockist: https://deadlyponies.com/au/
For the one who's got a social conscience
Invite Mother Nature to crash Father's Day by gifting dad a gift for a cause. Check out the work of Coral Gardeners – a group of ocean-loving surfers, free divers, and fishermen on the French Polynesian island of Moorea, who are actively working to restore the corals through a program of regeneration. You can adopt and name a piece of coral, which will be cultivated and then planted on a reef in the islands of Tahiti, on your pa's behalf.
RRP: From $29
Stockist: https://coralgardeners.org/
For the one who's always stealing your stuff
If we've caught dad raiding your wardrobe more than once, let him know that you approve of his mini-me attempts by gifting him with a pair of matching specs, that you'd also wear. At Oscar Wylee, you can score two pairs for $199, so feel free to keep one for yourself. Or gift them both to pa, and repay the favour by helping yourself to them at a later date …
RRP: From $199 for two pairs
Stockist: https://www.oscarwylee.com.au/
For the one who's a jack-of-all-trades
If Dad considers himself a bit of a handyman (but in reality is more a hungry man!), then spoil him with a treat-filled toolbox by TLCCatering Sydney. While you won't find screws in the The "Warning, This Is Not A Drill Hamper" you will spoil dad with a delicious selection of his favourite finger foods, sweets and treats, that will really "drill in" just how much you love him.
RRP: From $260
Stockist: https://www.tlccatering.com.au
For the one whose child blew their budget elsewhere …
If you zoned out when dad was passing on budgeting advice and don't have much to spend, then check out the range of skincare by NuSkin. Hero products include the Dividends Shave Cream and Aftershave Balm – with both items under $50.
RRP: From $29
Stockist: https://www.nuskin.com/