It's that one day of the year you have a great excuse to spoil your sweetheart. Of course, there's the argument that, when you're in love, everyday should be Valentine's Day….But there are ways to spoil your true love during Valentine's celebrations that can say 'I love you' in the the most delicious ways.
Ashley Hughes, Group Executive Chef at Trippas White Group has outlined five fabulous ways to create your own romantic dinner-for-two.
"Life is so busy for everyone these days, most of the time people aren't able to make time for a special dinner with each other. Valentine's Day happens on the same date every year (like an anniversary or birthday) so people make the extra effort to do something special for their significant other," Hughes said.
1. Start with Champagne. Select a vibrant and delicious menu using interesting ingredients to use as conversation starters with your date, such as strawberries from a local farmer's market or tomatoes, which are known as the fruit of love. Always end with chocolate for dessert!
2. Introduce a 'no phone policy' at dinner. Working in some of Sydney's most iconic venues, I always see couples on their phones. Enjoy the quality time together.
3. Have your partner's favourite music playing in the background.
4. One thing to consider when making or ordering food for a romantic evening, is to make sure your menu is easy and elegant to eat. Nobody wants to slop food over themselves, get food stuck in their teeth or look uncomfortable when eating. Make sure the dishes are vibrant for the 'wow factor' and check ahead of time for dietary requirements to make sure your date doesn't go home hungry!
5. If you're not confident in the kitchen, leave it to the experts so you can both enjoy the evening! I suggest our Pomme d'Amour – Lovers' Dinner. Dine under the stars at a candle-lit table for two, enjoying live music and a menu prepared by the Botanic Garden Restaurant.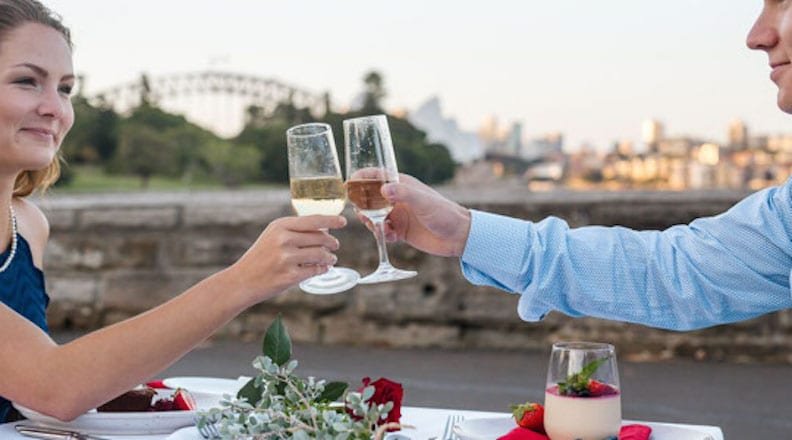 "Try something new or do something different to create a new memory. You can always whisk your Valentine away to Sydney's first-ever harbour-side Lovers' Dinner being staged in the heart of the Royal Botanic Garden Sydney!" Hughes said.