Serves: 4-6
Prep: 35 min
Brine: 6 – 24 hours
BBQ: 45 – 60 min
Turkeys don't like to be rushed, this recipe included. For the piquant spices
of this dry brine to penetrate a boneless turkey breast properly, allow it to sit for at least 6 hours. For the salsa, select a pineapple with a sweet scent at the base and golden hue on the skin, indicators of peak ripeness.
Special equipment: large disposable foil pan; 4 large hickory wood chunks (if using charcoal); 2 handfuls hickory wood chips, soaked in water 30 min and smoker box (if using gas)
Ingredients
Dry Brine
2 teaspoons sea salt
2 teaspoons chipotle chilli powder
1 teaspoon ground cumin
1 teaspoon packed light brown sugar
1 boneless, skin-on turkey breast half, 680 to 900 g
2 teaspoons unsalted butter, melted
Tropical Salsa
1/2 pineapple, peeled and cut crosswise into 1 cm thick slices
1/2 cup diced red capsicum, in 5 mm dice
1 tablespoon finely chopped jalapeño chilli (with or without seeds)
2 tablespoons chopped fresh coriander leaves and tender stems
1 tablespoon fresh lime juice
1/4 teaspoon sea salt
Instructions

In a bowl stir together all the brine ingredients, breaking up any clumps. Pat the turkey breast dry with paper towels. Set the turkey on a wire rack on a baking tray. Rub the turkey on all sides with the brine mixture, then refrigerate, uncovered, for at least 6 hours and up to 24 hours.
Let the turkey stand at room temperature for 1 hour. Brush the top and sides of the turkey with the melted butter. Prepare the barbecue for direct and indirect cooking over medium heat (180° to 200°C). Brush the cooking grills clean. For gas barbecuing, have a smoker box ready.
For charcoal barbecuing, add hot coals to two charcoal baskets, placing a foil pan between the baskets (see page 17). Position the cooking grill with the hinged openings directly over the charcoal for adding wood chunks later.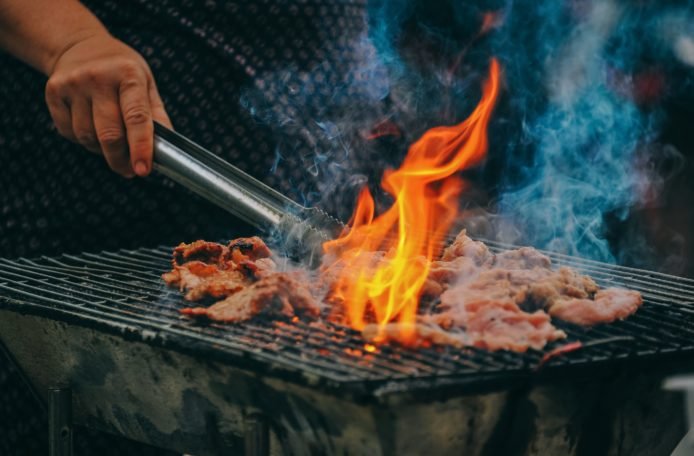 Grill the pineapple slices over direct medium heat, with the lid closed as much as possible, until lightly charred and tender, 10 to 12 minutes, turning every 2 minutes and swapping places to ensure even cooking. Transfer the pineapple to a cutting board and let rest.
If using a gas barbecue, add the soaked wood chips to the smoker box. When smoke appears, reduce the heat of the barbecue for indirect cooking over medium–low heat (160°C). If using a charcoal barbecue, adjust the vents to reduce the heat for indirect cooking over medium–low (160°C). Add one wood chunk to each charcoal basket.
Place the turkey breast, skin side up, on the grill(s) over indirect heat. Roast the turkey breast over indirect medium–low heat, with the lid closed as much as possible. For the charcoal barbecue, add the two remaining wood chunks when the temperature starts to drop below 160˚C.
Cook until the skin is dark brown and an instant-read thermometer inserted into the thickest part of the breast registers 65° to 68˚C, 45 to 60 minutes. Start checking the internal temperature after the first 30 minutes of cooking, rotating the turkey breast if one side is cooking faster than the other.
Transfer the turkey to a cutting board and let rest for 10 minutes. Meanwhile, cut away the core from each pineapple slice, then cut the pineapple into 1-cm dice and transfer to a medium bowl. Add all the remaining salsa ingredients and toss to combine.
Cut the turkey crosswise into 5 mm to 1 cm thick slices. Transfer the slices to a platter and drizzle with any juices from the cutting board. Serve warm or at room temperature with the salsa.
Variation — Peach Barbecue Sauce
Omit the tropical salsa.
In a large saucepan combine 2 cups tinned crushed tomatoes, with their juices; 1 cup peach jam; ¹/³ cup white wine vinegar; 2 tablespoons unsulphured molasses (not blackstrap); 1 teaspoon mustard powder; ½ teaspoon each onion powder, ground allspice and sea salt; and ¼ teaspoon each crushed red chilli flakes, garlic powder and ground mace. Bring to a low boil over medium–high heat, stirring often. Reduce the heat to low and simmer, uncovered, until reduced to about 2 cups, about 1 hour, stirring often.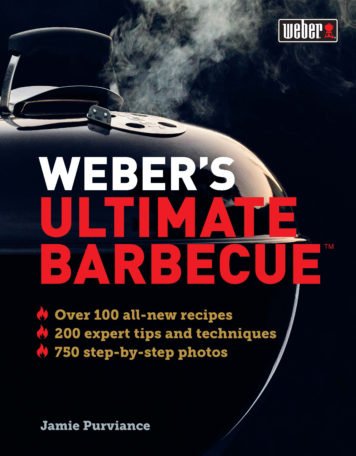 Jamie Purviance is an accomplished chef, teacher and James Beard award nominee who has helped millions of people to barbecue like professionals.
Text from Weber's Ultimate Barbecue by Jamie Purviance. Photography by Ray Kachatorian. Murdoch Books RRP $39.99