Kitchari is a classic Auyrvedic dish that is used to restore digestive health and wellbeing. Teresa Cutter from The Healthy Chef shares her recipe below.
BENEFITS
Wellbeing
Detox
Healthy Digestion
Serves 4 – 6
Kitchari Ingredients
2 tablespoons extra virgin olive oil or ghee
1 onion, finely diced
1 carrot, finely diced
1 stick celery, finely diced
2 tablespoons fresh grated turmeric (½ teaspoon dry)
1 tablespoon fresh grated ginger
2 cloves garlic, smashed
2 teaspoons cumin
125 g (½ cup/4 oz) moong dhal, soaked overnight, drained
125 g (½ cup/4 oz) wholemeal basmati rice
2 L (8 cups/67½ fl oz) freshly boiled water
sea salt to taste
2 generous tablespoons nutritional yeast flakes (optional but delicious)
60 ml (¼ cup/2 fl oz) coconut milk
2 spoonfulls green sauce (see inspiration section)
Method
SAUTE onion, carrot, celery, turmeric ginger and garlic with the olive oil for 1 minute over a medium heat. Add the cumin, dhal, rice and water and stir through. Add a pinch of salt.
SIMMER for 1 hour over a low heat, partially covered, stirring occasionally to prevent sticking. Add more water if required, the consistency should be a thin porridge.
STIR THROUGH coconut milk and nutritional yeast and more salt if needed. Divide between serving bowls and enjoy.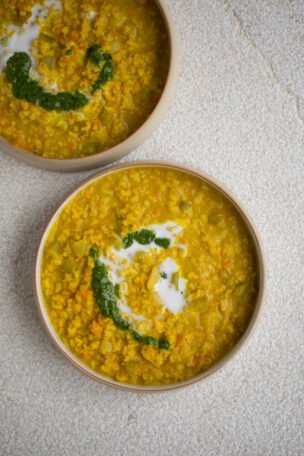 INSPIRATION
To make green sauce, blend 1 bunch parsley, 1 bunch coriander, the juice from ½ lime, 2 teaspoons Dijon mustard, 1 clove garlic and 125 ml (½ cup/4 fl oz) olive oil. Serve a spoonful over kitchari with a dollop of coconut yoghurt or milk.
BENEFITS
Gluten Free
Dairy Free
Plant Based
If you liked this Kitchari recipe, find more delicious creations here.