We chatted with Erika Geraerts from Fluff Casual Cosmetics about her company Fluff Casual Cosmetics.
Tell us about your vision for Fluff Casual Cosmetics?
Our products are all about keeping it simple: good for your skin, your thoughts, and the planet. We believe that it's ok to feel more with makeup, so long as you don't feel less without it.
Fluff is for anyone who thinks that the world doesn't need more products, just better products. Anyone who's sick of bunny testing. Anyone who can't understand why makeup isn't vegan. Or why there's palm oil in everything. Anyone who is over 'empowertising' from faceless brands who don't care. Anyone who thinks that the future can be better than what we have right now. Anyone who thinks that beauty can be more than makeup.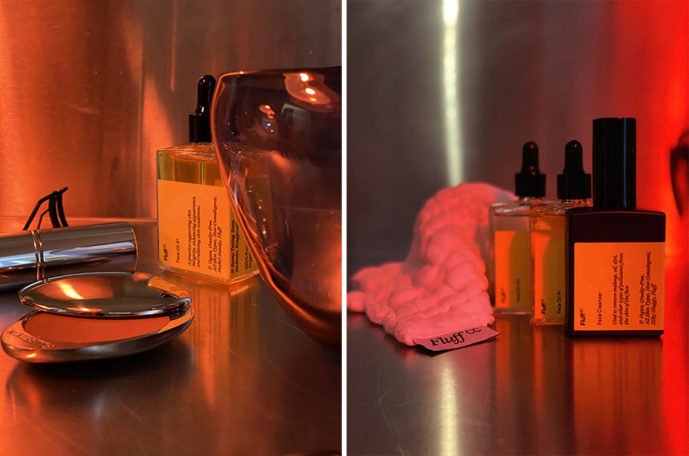 How was the compact design created?
The shape was inspired by clouds – with our heads forever in the sky. The weight was inspired by art deco vanity cases, and Secondly, from Grounding Stones – when you hold the compact in your hand, for even a minute, you are likely to feel a connection to the earth, yourself, or maybe something greater.
Fluff's compact is a mirror. We want people to see themselves in Fluff. It is slightly warped, but so is reality. It's fun. The compact is designed with a divot to allow refills, and promote less waste. The refills, contained in a stainless-steel pan are held in the compact with a magnet. It means the next time you purchase you'll save money. You're being nicer to your wallet, and the planet.
What are the advantages of using a facial oil?
Everyone needs a balance of moisture (oil) and hydration (water). This balance is the key to healthy skin and applies to all skin types, regardless of whether you're 18 or 80. We suggest a skincare routine that does a better job at balancing out the moisture levels in your skin.
A face oil is perfect for this, on its own or mixed with your moisturiser, as it can mimic the skin's natural oil production, meaning you won't produce excess sebum in response to dehydration (our skin's primary concern) which is one of the main causes of breakouts.

How is your bronzing duet different from a traditional foundation product?
Fluff's Bronzing Powder is available in four shades which were designed with our community, providing a subtle but buildable, healthy glow. It is different to a foundation in that its coverage is light and breathable – you'll still be able to see your freckles and natural complexion, we don't want to cover up or hide who you are. We believe beauty is expressed through individuality, not conformity, as we see so often, with so many foundation products.
The formula is sparkle-free, talc-free, and palm-oil free, providing a natural, matte finish that only builds on your natural beauty, rather than masking it. It's a great transition product for anyone looking to wear less makeup, however it can still be incorporated into an extensive makeup collection/routine.
Are you releasing any new products in the next couple of months?
We have just released a third Face Oil, a natural retinol alternative – as well as a Gua Sha tool, a moisturizing Face Mask, 3 new Bronzing Powder Shades, and refills for our Face Oils, Cleanser, and Floral Water – as well as updating all of our packaging, and increasing our liquid sizes from 30ml to 50ml.
What are some ways that your company is sustainable?
We don't use the word sustainable however we do use the word responsible. Any company trying to scale is going to be working against the idea of sustainability, and this is the harsh reality that brands need to be more honest about. We are always talking to our audience about our shortcomings, endeavors, and developments across our products, technology, and company, in our effort to be better and set a higher standard for the industry – this is a long journey, to which we are only at the beginning. Our refill model (Stage 1) is our first step in reducing the amount of plastic that the industry is producing, as well as looking at our secondary packaging and detailed supply chain.

Where can we find the Fluff Studio?
Fluff's Fitzroy Studio was temporarily closed due to COVID's lockdown in Melbourne. Keep an eye out on social for when we reopen in a new space and new location.
Do you have any plans for the future?
Yes. New products, a refreshed Issues editorial platform. And hopefully a lot more community-based projects, here and overseas (if we'll ever be able to fly again).
About Fluff
Fluff is a Casual Cosmetics brand that makes and sells makeup, not beauty or self-esteem. We believe in made up, not made up: because makeup doesn't define who you are, it lets you build on yourself. And we don't think there's anything wrong with that, so long as it never hides who you are. Refillable, Vegan, Cruelty-free, Palm Oil-free.
Fluff Casual Cosmetics are selling exclusively via their website: www.itsallfluff.com
Follow them on Instagram @itsall.fluff