Maybelline's makeup maestro Nigel Stanislaus, and master of the mane Renya Xydis, tended to the face and hair of the model throng, with their take on "beauty with distortion".
Amongst mouthfuls of hairspray and lashings of mascara, we managed to wrangle some precious backstage minutes with the inimitable duo to chat about the makeup and hair looks they created for the Maticevski show.
Less Is More
"The first thing we did is customise each girl's face", says Nigel. "We're not running it with a full coverage of foundation, we just use our fingers with the Dream Velvet just on the areas that they need it. So we are claiming that they have no foundation but actually do have just a little bit of foundation! There's no powder on the face, but it gives this immaculate skin."

Pink Wash
"Last year Maybelline launched its Nude Palettes Shadow – it sold out worldwide, according to me!" notes Nigel. "This year we upped the anti; it's all about the Blushed Nudes. I love these even more, because the colours are great for eyes. We swipe it over the eyes, not to create definition, but a wash. So, on stage it looks a bit more three dimensional. The pink really brings out the green, hazel and blue eyes. It makes them look extra passionate, almost like they're about to cry – but not! Just on the edge, a bit hangry!

Drunken Lashes
"Just like Toni's dresses, we tried to bring the aesthetic of the dresses into the faces, it's really beautiful silhouettes but with a twist," says Nigel. "It's always juxtaposed with something, this time we did that with the lashes, Falsies Push Up Lashes – which is inspired by the bra! It's so sexy, it almost looks naughty, like 21 and above! We are doing a chaotic lash; so we created this new trick for the models. You hold the brush vertical, close the eyes and swipe it left to right, to coat the top and bottom lashes at the same time. So what happens when you open, you have this disarray of lashes, drunken lashes, totally off the charts, adults-only, shut the front door kind of lashes! It gives it a kooky kind of lash, but you get the beautiful juxtaposition of that amazing skin and have these 'rah' lashes."

Glossy Posse
"Baby Lips is one of my favourite children from Maybelline, I have so many, I have about 400!," laughs Nigel. "But this is one of my favourites and what I like to do, instead of over-contouring, I like to highlight, but instead of using a pigment, we're going to use texture. So you warm it up with your fingers, and then apply on your cheekbones, down the middle of your nose, the middle of your eyes and lips, so you get this beautiful finish. Only one inch of the nose, you don't want to carry it all the way to the bottom because it makes your nose look oily. It's very easy, non-fussy and you could actually wear it – you could even do it in the dark!"

Texture Time
"She's cool, she's effortless but she's strong," notes Renya. "The first look is all about a ponytail, twisting it, putting a beautiful clip in it. It's all about the texture, but the toughness is in the back of the hair, so we used a wide comb to make it look more separated."

Rock 'n' Roll
"The second look is like an odd French roll, wet with the Wella Sculpt Gel," says Renya. "Then with the fringe, I tie in a knot, and you put in the Perfect Need Cream – I used a lot of product, I put Salt Spray in there, Sugar Lift – I put everything in there! Then I massage it, and knot again. It's quite gritty and raw, but not too fuzzy and not ballerina, it's edgier. It's all about the knotting of the hair; like wind at the top, this look is big, you need the drama in the hair. Then there's the long slicked back hair, with a beautiful gown."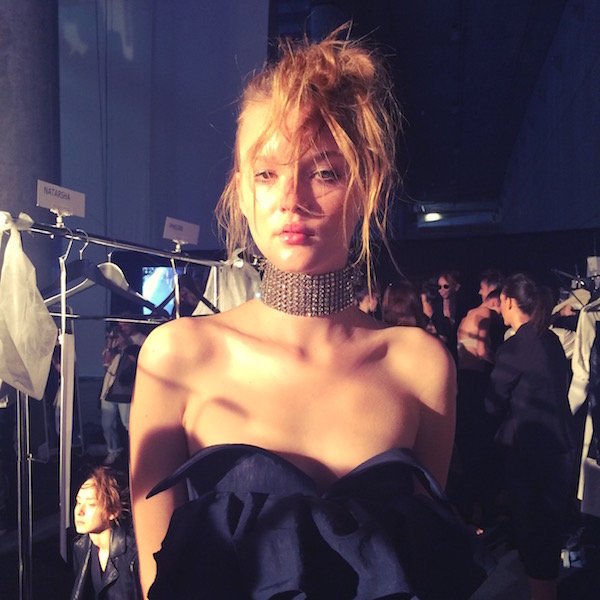 Layer Up
"Firstly, with all the different layers of fabric Toni uses, we thought wouldn't it be great to make it individual, that's one thing we're all working on now, individuality. We're layering a lot of the hair products with the fashion as well. The gel is my go-to product, but it's all about the Comb Fibre as well, and then we're setting it in the hair – it's more wet. It's bringing the wet texture with the dry texture and how you make that work with such beautiful clothes like Toni Maticevski's – we're raw-ing up what he does."