Mary Chigwidden at the Contour Clinic in Sydney's Newtown has 14 years experience as a qualified aesthetic nurse. Here, she shares the most recent trends for non-surgical cosmetic procedures. Among the most popular trends are Russian lips defining the cupid's bow and the more natural look called the mini botox.
Speaking at the luxurious clinic which features eight premium treatment rooms, Mary says that mature clients prefer the anti-wrinkle treatments at the clinic which tailors to individualised treatment plans, latest technologies, and expertise to those looking to augment or rejuvenate their natural appearance.
Overall, she says most people are aiming to achieve the natural look. "People want to look naturally blessed, not overdone," she says.
What are the most recent trends for cosmetic procedures?
We're seeing a huge rise in Russian lips, which is a particular style or look for your lip fillers. It concentrates on defining the cupid's bow and adding height to the centre of the lips, rather than width to the entire mouth, resulting in a doll-like pout.
Sculptra is a type of filler that we're seeing used more and more. It differs to the dermal fillers that we use for, say, lips or cheeks, which is designed to 'fill' an area for instant effect. Instead, Sculptra is what we call a biostimulator, which means it actually works to aid your skin in producing its own collagen. The results are not immediate but instead the patient sees a natural, gradual, long-lasting result that continues to improve with time.
Another one we're seeing on the rise is 'baby tox'. Don't be alarmed, it's not anti-wrinkle for infants. This is simply a technique – also called mini botox – that uses a smaller quantity of anti-wrinkle product for a more subtle result that patients find to be more natural-looking and less dramatic, if that's what they desire.
Overall, the major trend we've seen is a massive move towards natural-looking results. People want to look naturally blessed, not overdone.
If your face is starting to tire, what are some of the treatments you recommend and why?
When we assess a patient, we are working with structurally (internally) to superficially (externally).
Let's say we're looking at a concern such as loss of volume in the face or facial hollowing. This would be corrected with the use of fillers to physically plump up the skin and therefore change the structure.
Whereas a skin-surface issue such as pigmentation would be treated with laser therapy to change the appearance of the outer layer of the skin.
We look at the balance, symmetry and structure of our patient's face in order to create an individualised treatment plan that addresses their concerns.
How do anti-wrinkle injections turn that frown upside down?
Essentially, we're creating a controlled relaxation of the muscles that cause our face to crease when making facial expressions, such as frowning or squinting.
For example, there's a vertically running muscle in the forehead that causes forehead lines, and there's a muscle to the side of the eye that causes crow's feet.
Normally those muscles contracting is what makes the skin bunch together, and over time, form deep-set lines.
By getting those overactive muscles to chill out, we're pressing pause on any further wear being caused to the outer layer of the skin.
Not only does anti-wrinkle halt wrinkles by stopping the muscle causing them, it also smooths out the skin in that area, so existing lines look less intense.
What are the most popular treatments among younger women and mature women, and why?
For our younger patients it's definitely all about prevention – think anti-wrinkle as a pre-emptive measure. Of course, lip fillers are at the top also – our patients are concerned with shape, volume and also balance and symmetry, and they're conscious of trends.
Our more mature patients want to revive what they once already had, and rejuvenate their overall aesthetic. For these patients, the aim is to appear totally refreshed, without people being able to put their finger on how. For these goals, treatments that address structure and youthful volume, such as threads and dermal fillers, are extremely popular. Again, anti-wrinkle is our most popular treatment here too.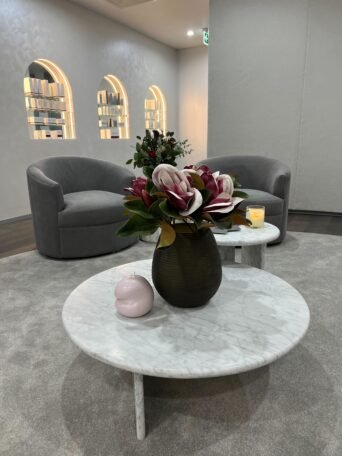 What sets Contour Clinics apart from other clinics?
As a doctor-led clinic, we pride ourselves on a premium offering. We have talented clinicians who are at the pinnacle of industry standards, utilising high levels of education and expertise. Our treatment plans are unique to each and every patient, with a focus on patient outcomes looking natural and refreshed, not artificial.
Cosmetic injectables and laser treatments for skin receive quite a bit of stigma, with the industry in general having received a bad rap in the past, mostly due to ill practises and cost-cutting options. At Contour Clinics we negate that stigma by ensuring a safe practice that's patient-focused and led by doctors. We offer complete peace of mind.
You can contact Contour Clinics here https://contourclinics.com.au/