Whilst the vegan diet has become a massive trend, so has using vegan beauty products! Vegan beauty products are made of natural elements with no hidden nasties so you can look and feel good when using them. Here's a bundle of Vegan goodies for you to try this summer.
Inika Organic Skincare
Inika Organic is a 100 % natural, cruelty-free vegan beauty product range. This organic range has options which hydrate, protect and cleanse the skin. Powered by Phytofuse Renew – an extract from the Rose of Jericho. This is particularly known for its healing and protective properties for the skin.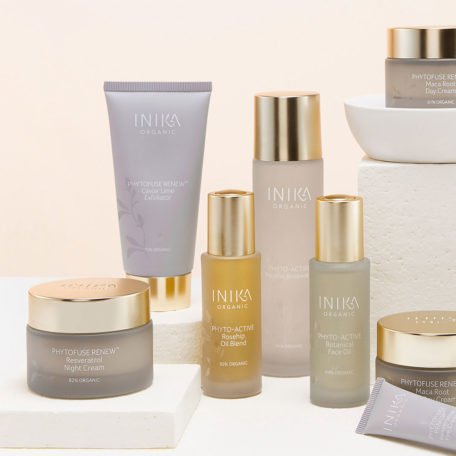 Phytofuse Renew Resveratrol Serum
The miracle solution! Unlike many other serums, Inika's miracle serum is completely vegan and has 14 precious oils to enhance your skin-care regime. By using it before face oils and moisturisers, the serum intensively nourishes and protects the skin.
We also tried out the Inika Pytofuse Review Macca Root Day Cream and loved its fresh natural fragrance. The cream is soft and non-greasy and feels luxurious on your skin.
Revolution
Revolution has targeted solutions depending on your skins needs. Many of its products are both cruelty-free and vegan. Personal favourites include their sprays which are easy to use and not too dense on the skin. Available in Priceline stores.
The Glycolic essence and Aloe spray.
The spray is both soothing and illuminating as it is infused with aloe vera. Carefully blended with Glycolic acid, this spray gently exfoliates to
remove impurities, revealing fresh, clean and bright skin.
Niacinamide Essence Spray
This serum is enriched with Niacinamide, which is a vitamin that controls oil production and combines calming camomile. This miracle formula is designed to rescue complexions in crisis, with its ability to clear congestion, diminish blemishes and reduce the appearance of pores.
Two Faced Vegan Friendly Range
Sweet Peach Lip Gloss
Infused with peach oil, coconut oil and vitamin E, this natural and vegan lip gloss is not only silky and gentle on the lips, but tastes and smells like real peaches.
In Essence Essential Oils
These vegan friendly aromatherapy oils have powerful agents that many Australian women are using to transform their health and wellbeing. These pure essential oils are naturally occurring extracts from aromatic plants and 100 per cent vegan. Whether the oils are vaporised, massaged in skin, bathed in, or enriched in hair, their properties are healing and beneficial for health. Personal favourites include Lemon Myrtle and Lavender Tasmanian from the Australian Native Collection.
Lemon Myrtle
This invigorating oil is known for its antiseptic properties and has a fresh and lemony scent. It is ideal to use to boost energy levels or in the cold and flu season to clear the air of unwanted germs and can promote wellbeing.
Lavender Tasmanian
This healing oil sourced from Lavender is known for its calming effect and ability to sooth stress levels. It is one of the most versatile of Mother Natures Oils and can even calm small children and the elderly. Whether placing a few sweet drops on a pillow before sleep or delicately scenting the air. This oil will promote a general feeling of wellbeing.
Bella Vida Santa Barbara
This radiant sunflower serum helps your skin to truly glow! It uses hyaluronic acid, and retinol to fight wrinkles, renew skin cells, and heal sun damage leaving your skin looking young and smooth.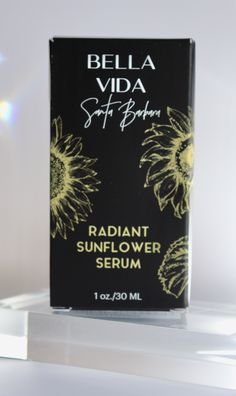 Lush Body Spray
This delightful spray uses essential oils and has the scent of beautiful roses from Pakistan and sweet geraniums. It can be spritzed over clothes or the body and is jam packed with Sicilian lemon oil which blossoms on your skin.
For more vegan beauty products, check out the UK site Immaculate Vegan – you can choose from a range of beauty and fashion products for both men and women.