Few others stars have as much experimental fun with their faces (Scarlett Johansson, who recently starred in our Top 10 Beauty Risk-Takers list, comes to mind, too), and serve as such perfect pin-worthy beauty inspiration.
Take the press tour for her movies Cruella, La LaLand and The Amazing Spider-Man 2: Rise Of Electro, Emma always rolls out a roster of genius makeup looks that have us rethinking how we want to look this very minute. Here are six of the best – and the lesson to take away.
Match your Makeup to your Dress
Okay, you wouldn't do this if your frock featured a print in a colour combination of green, red and yellow, but this dreamy mix of washed-out corals and blues is ideal inspiration for a complementary makeup look – see how lovely a wash of cornflower over the lids looks when paired with pale peachy lips. True, you could easily go ultra-minimal with your makeup when your dress already steals the style spotlight, but subtly echoing its colour scheme with your makeup can also take your overall look to the next level. Nice work, Ems.
Smoky Eyes Can Totally Work for Day
Sure, smouldering charcoal eyes tend to be something you pull out for evening, but they can definitely suit daytime if applied in the right way – and that would be ever-so-softly-does-it. Take a single-shade eyeshadow and a full fluffy brush to whisk the colour over lids. Next, grab a clean blending brush and work it back and forth to create a blurry effect. You could also do what Emma has niftily done here, and dust on some pale shimmer (with ever-so-fine – read: subtle – particles) from the crease to brow. This lightens up the look and makes it more day-friendly. As does a luminous base, some peachy blush, and a perky shade of pale lip gloss.
Don't be Scared of Clashing Colours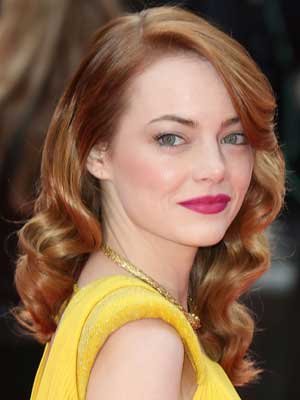 Remember when Michelle Williams wore that mustard gown with a brick-red lip to the Oscars in 2006? In theory, it shouldn't have worked at all. In reality? The two power colours joined forces to become all the more strong and vibrant. The same thing is happening here with Emma's lemon-bright dress and fuchsia-pink lipstick. It all goes to show how experimentation can pay off. When asked recently what makeup guys like on girls, Emma answered: "I could care less. I think women should wear whatever makeup they want for themselves. Makeup should be fun." What she said.
Bronze Isn't For Everyone
Gisele has a lot to answer for. The standing spray-tan appointments. The OCD-like addiction to our bronzing powders. When the supermodel sashayed onto the scene in the early '90s, modern beauty was remoulded into a honey-limbed glowing goddess. But thankfully some celebrities are flying the flag for naturally pale-skinned women. Here the porcelain-complexioned Emma shows that you don't need a tan to look glowingly gorgeous – a pearly illuminating lotion (worn alone or mixed into foundation), a peachy blush and an apricot lipstick or gloss will do the job just as nicely, thank you very much.
Redheads Can Most Definitely Wear Red Lipstick
The naturally blonde Emma has stated that she prefers to wear less makeup when a redhead, as her hair is "already a little too much." True, red hair infuses skin with such gorgeous warmth that little extra colour is usually needed. One exception: red lipstick.Look at how it beautifully brings out the depths in her copper hair. The key to avoiding a matchy-matchy effect is to work with different contrasts. Case in point: Emma's super-shiny hair worn with saturated matte lips (which are further contrasted by the sheeny slick of Vaseline-ish gloss over her lids).
If You Like Shimmer & Shine, Go All Out
So maybe the usual, aforementioned beauty advice is to work with differing contrasts … But what if you can't shake the matte makeup aversion you developed in the '90s and you can't help loving glitzy, glossy makeup (really, you should have grown up in the '70s)? Remember what Emma said about makeup being, above all, fun. Throw out the rule book and illuminate your skin, dab shimmery creamy shadow on your lids (heck, even up to your brows) and layer up lips with a shimmering lacquer. Oh, and why not play up the theme with a metallic-detailed dress? Emma shows it can most certainly work … especially if knocked back a tad with a casual, carefree kind of updo, and zero jewellery.
Tell us, which is your favourite look? And what's your ultimate makeup lesson?