Meet Garry Holloway, the master gemologist and inventor, and discover more about the leading trends in jewellery from the expert himself
I guess I am first an inventor. As an entrepreneur I was not extraordinary. Founding a business with long hard hours, living above the shop with a growing family and adding one additional staff person a year for the first 15 years. But learning the weaknesses of this new to me industry is where I excelled. There were no standards for diamond cut quality.
My first invention in 1986 was the ideal-scope, a hand-held magnifier with hot pink around the lens. Using the ideal-scope, I picked out the most sparkly diamonds from dealers stones and my customers benefited. That differentiated me and the diamonds I have sold over 42 years are my best advertisements. Today www.ideal-scope.com is a global business.
Other inventions and international patents include the Holloway Cut Adviser, or HCA that has been used +1 million times a year on diamond info websites. Other patents include those used by high end diamond cutters. A new patent in process is Looks Like, which tells consumers and retailers how big any diamond looks compared to its weight.
As a founder, gemologist, inventor, geologist and leader, I learned that staying out my team's hair is very effective. I may not be the best manager out there, but as a specialist in my field, I do make a great teacher. That said, anyone who wants to call or ask any of my crew and ask what kind of boss I am would get a pretty positive review. Most have been with me for more than a decade.
I use three core values to lead: Trust, service and specialisation. You can't sell diamonds if people don't trust you, and you have to demonstrate your worthiness of that trust, you can't ask for it. Real service is rare, and our expectations keep rising, but delivering great service makes deliverer and deliveree happy. The constraint to top service is getting the formality and bureaucracy out of the way. I was one of the first jewellers in Australia to put all the trade specialties of craftspeople, designers and gemologists under one roof. An example of specialisation in action: our designers decide which jeweller is best to make Mrs Jones' new ring.

So upon meeting Robert Procop at the huge Las Vegas jewel trade fair last year, a guy with a great love for rare coloured gemstones, we realised we had complimentary businesses. We clicked. Robert accepted my invitation to come to Australia and exhibit his amazing jewels in my two stores for a week. Robert is an amazing guy who has served our Queen, several US Presidents and Hollywood stars, including Angelina Jolie and Brooke Shields. The last two collaborations with him on collections with proceeds funding schools in third world countries and half way houses for battered women.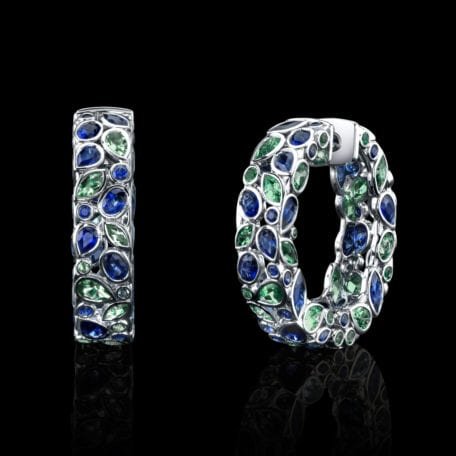 When I saw and held Roberts pieces, and examined them with my loupe, I almost cried. I thought I had a talented team of designers and jewellers, but this was in a field above and beyond anything I had ever seen or experienced. Earrings with dozens of gems set in platinum, a very heavy precious metal, that seemed to weigh less than the gems. The crafts people had set the gems and then removed most of the platinum so these very large earrings weighed less than a feather! And so it was. Bracelets with two matching flawless rubies all cut to an identical shape and size, and when Robert shines his high power UV light on them, each ruby fluoresces an identical vibrant colour.
This amazing collection will be on display at our two stores this April – May.
1/54 Church Street Brighton 26th April 12pm – 5pm, 27th April 9:30am – 4pm
110-114 Canterbury Road Canterbury 29th April to 2nd May 9:30am – 5pm
Trends in jewellery
Over the past decade jewellery brands have grown in Australia. Brands from Tiffany and Bulgari to Pandora have really taken hold. The underlying concept is conformity. People all want 'something different' but also want to be part of a 'clan'. Trends come and go, and some trends are cyclical; they may last a decade or more, but the trend today is fast changing. Pandora, for example, realise their silver charm business is shrinking, so they are moving into mainstream jewels for fingers, necks and earrings.
Diamond engagement rings are still almost all diamonds, but man made. Lab grown or synthetic diamonds are trending well. Last year they cost about half the price of natural diamonds, but De Beers (the biggest diamond miner) have just launched Light Box synthetic diamonds selling for a tiny fraction of other lab grown diamond suppliers. It is a bit like the falling prices of technology. So it seems proposing with anything other than a natural diamond will soon be akin to giving a CZ ring.
Tips on buying diamond jewels
Any larger expensive diamonds these days should come with a GIA (Gemological Institute of America) grading report or certification. That way you will know the diamond is natural and your sellers can't misrepresent the 4C's: Carat, Colour and Clarity. The Cut though is another matter. GIA has a very lenient cut grade, and they only issue cut grades for round diamonds. So the tools that I invented over the past decades are as useful today as they have ever been.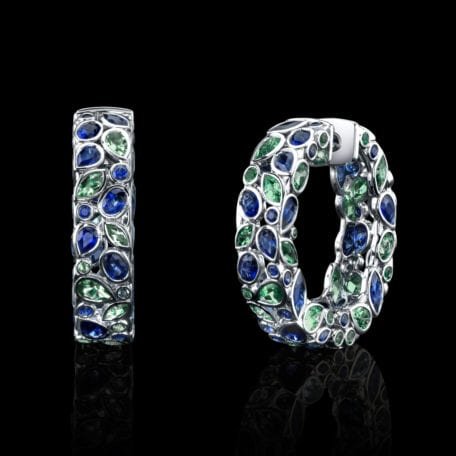 The Carousel would like to thank Garry Holloway for his article.
Garry is happy to share with The Carousel an exclusive coupon code for HollowayCutAdviser.com . The code is Cypress HCA LL . Enter this code when registering and get free access to HCA Looks Like until 1st June,2019. Once logged in to HCA, click on the "HCA LL tab" to enter your diamond information.