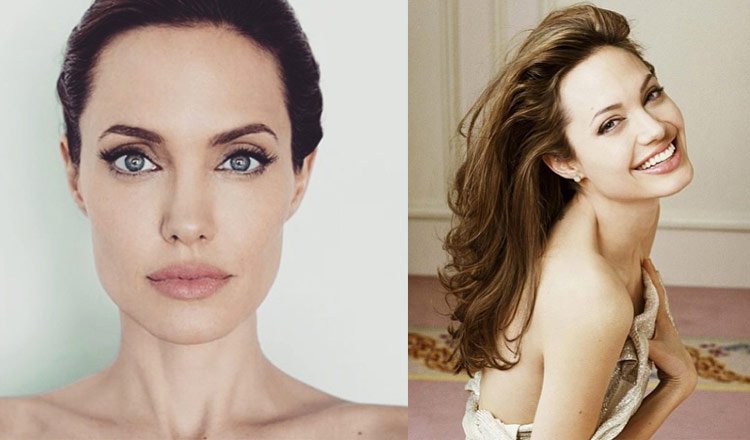 If you can possibly tear yourself away from staring at Angelina Jolie's envy-inducing voluminous lips, you might notice that she also has gorgeously large, round eyes.
Not that this might be obvious at first, as the actress is impressively skilled at using makeup to elongate her eyes – and create her signature feline-eyed look.
Makeup can be a powerful tool in altering the look of your facial features, as El showed recently in her video on how to make small eyes look bigger.
And if you have round eyes? Here's how to cosmetically correct them … oh, and look smokin' hot at the same time.
Step One: Forget foundation – for now. When planning a heavy eye makeup look, it's best to leave base until later, so as to avoid any makeup fall-out ruining your flawlessly applied foundation. But do reach for your concealer – and dab it all around your eyes. This will create a perfect makeup base, as well as cover up any discolouration. If you're prone to extremely dark circles, you could also layer on a light-reflecting concealer, to add some lovely brightness to the shadowy under-eye area.
Step Two: I like to do my brows before getting to work on a statement eye. It frames the area and, depending on how strong you go with your arches, gives you something to balance your eye makeup with, so you don't go too overpowering either way. My top brow buy right now is Benefit Gimme Brows.
Step Three: Take a beige shadow – a shimmery one if you're after an evening spin on the look – and apply it all over your upper lids using a fluffy eyeshadow brush. Using a different shadow brush, next blend a slightly darker neutral tone through the crease, to contour in some definition.
Step Four: Now it's time to create the feline flick that anchors this look. The easiest option by far is to work with a gel or cream liner, and an angled liner brush, like Bobbi Brown Long-Wear Gel Eyeliner in Black Ink, and M.A.C 263 Small Angle Brush.
Draw the flick first, from the outer corner, and then pointing up towards the tip of your brows – how far you take it entirely depends on how dramatic you want to go. Now, etch along the base of the upper lashes – to about two-thirds of the way in. Ensure this line is slim and sleek in order to keep everything looking narrow and elongated.
Step Five: Curl lashes and apply mascara to upper lashes. I'd try Bourjois Queen Attitude Mascara – the angled brush and stretchy formulation help you to create a winged-out effect.
Now, pop a half-strip of false lashes on the outer half of the upper lash line – try M.A.C 20 Lash,.
Step Six: Time to turn attention to the lower lashline. Angelina often wears a golden tone of liner on her inner rim – Rimmel London Scandal'Eyes Waterpoof Eyeliner in Bronze would be a good dupe here.
Next, apply mascara – but only a little. Remember, the general idea is to lengthen things out, so we don't want lashes that look heavy and droopy.
Step Seven: To get the slightly smoky effect seen in the image above, take a small fluffy brush, dip it into a dark grey or black shadow, and lightly whisk it over the upper eyeliner, and then along the lower lashline.
Step Eight: Voilà! All you need to do now is get your foundation on, contour your cheekbones a little for some Angelina-like sharpness, and dab on a nude lip gloss. That's it – as you want to keep the focus on the fabulously sleek new eyes of yours!