Beauty Editor Ruby Feneley spoke to top dermatologist Cara McDonald about all things adult acne. In conversation Dr. McDonald spilled the beans on the ingredients she favours for topical acne treatment. Here, we break them down for you and recommend our top product picks for beating acne at home.
Salicylic Acid is also referred to as Beta-Hydroxy-Acid or, BHA. One of the primary benefits of Salicylic Acid is that it is the only oil-soluble skincare acid. Rather than exfoliating the surface of the skin salicylic acid gets straight to the point – cleaning deep inside the pore. This makes it a great ingredient to include if you want to beat acne before it starts.
You will often find salicylic acid in medicated acne cleansers and spot treatments. However, it also makes a fantastic ingredient in serums as it increases collagen production and can reduce dark spots as well. I favor using exfoliating wipes that contain salicylic acid, as this ensures my pores are getting regular deep-cleanse. If you have more persistent problems with acne using a high percentage serum like The Ordinary's Salicylic Solution is a great way to keep your skin in check.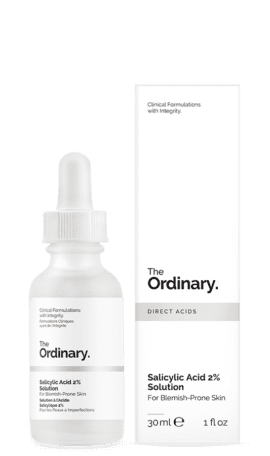 There are many different types of alpha-hydroxy acids and while they all vary slightly something they all have in common is exfoliating the surface of your skin. Keeping the top layer of your skin clear of dead cells is important in acne treatment as Dr. McDonald tells us that the root cause of acne is the blockage of dead skin cells within the pore. Many AHA serums contain a host of different AHAs. However, if you are new to AHAs or have particularly sensitized skin it can be helpful to use only one AHA while you figure out what works for you. Of AHA's Lactic acid is often considered the more gentle, as it has the highest molecular weight and penetrates less deeply. Glycolic acid will give you the fastest results – just make sure you use a gentle solution like Ampernas glycolic serum, specifically formulated for sensitive skin types the 10% Pro Resurfacing Lotion combines powerful glycolic acid with a softening probiotic complex.
When thinking about beating acne it's easy to assume it's all about stripping the skin, but you need to support it too. Zinc is an anti-inflammatory and regulates sebum and oil production. Many people find that using zinc-rich skincare decreases skin redness and the inflammation of active break out. If you are sensitive skinned as well as acneic using zinc during the day will support your skin in its recovery.
Otherwise called Vitamin B3 niacinamide is a potent anti-inflammatory and antioxidant. Niacinamide provides a high dose of hydrations while soothing the skin, it also inhibits the formation of melanin, extremely important for Aussies who spend much of their lives under the hot sun.
Niacinamide also protects your skin as a powerful antioxidant. You have probably heard about antioxidants in skincare but may not know why they are important. Antioxidants shield the skin from environmental aggressors like pollution. As city dwellers including antioxidants like niacinamide and Vitamin C in your skincare is essential. Some acneic skin types find that Vitamin C is too irritating for their skin – as niacinamide is a potent anti-inflammatory it soothes rather than stresses active breakouts while protecting the skin from pollution and increasing skin hydration and barrier function. This is why you will often find it partnered with Vitamin A or Retinol treatments. If you're looking to include Niacinamide in your regimen, Synergie Skin's Vitamin B which contains 13% niacinamide – one of the highest percentages I have come across and a great option and comes with their outstanding Vitamin A treatment. Which leads us to our final acne busting ingredient…
There is a common misconception that retinols increases cell turnover. In actual fact, they regulate it. If your cells are turning over at a healthy rate this means you will be less prone to blockages in the skin. As a bonus, retinol DOES increase collagen production which helps with skin repair and anti-aging. It is considered the gold standard anti-wrinkle treatment and increasingly is seen as a fantastic treatment for acne. Because retinol can be irritating it is important to find balanced formulations and to pair it with products that support its function. My two top pics are Synergie Skins potent Accelerate A, containing 6% Retinext which is available in a set with their aforementioned Niacinamide serum. To start with, layer the Accelerate A over the Niacinamide serum – layering retinol does not decrease its efficacy, but it does buffer some of it's more irritating effects. Once your skin has adjusted to the super potent product you can use it daily.
Have you beat acne before? If you have we'd love to hear your story.
For Ruby's in-depth interview with dermatologist Dr. Cara McDonald click here!