The holiday season is slowly approaching, and the pressure of finding that perfect outfit is starting to rise. But even though most Christmas parties don't have a black-tie dress code, there's no denying you'll still want to wear something that looks and feels a bit more special than your everyday attire. So, if you want something dazzling and fun, while still being chic and fashionable, here are some not-so-basic outfit ideas that are perfect for every type of Christmas party:
A lacy button-down shirt
If you're going to a more casual Christmas party with your friends or that one person you've had your eye on, stick to one of the biggest trends this season and opt for a lace blouse in a neutral colour, with a matching bralette underneath. Sexy and sultry, but in an understated way, this top pairs perfectly with high-waisted trousers, especially in leather and faux leather styles. Combined with dainty jewellery pieces, classic nude pumps and a small handbag in the same shade, this outfit combination makes for a highly festive yet incredibly alluring look.
Sparkles all around
Although sequins and sparkles might not be the ideal choice for every woman, there's no better time to try out this shimmery look than during the holiday season. Whether you opt for a shiny maxi skirt paired with a black camisole and black pumps, a sequin top with puffy sleeves combined with a silk slip skirt and a pair of strappy sandals, or you even decide to go all out with a head-to-toe shimmery sequined look, it can't hurt to allow yourself to shine during a Christmas celebration.
The perfect white dress
Even though the little black dress is a classic and timeless piece you can never go wrong with, it might be a bit too safe of an option for the festive holiday season. Instead, opt for a simple yet effective white cocktail dress that can be worn to almost any occasion, and combine it with a pair of nude high heels and a matching clutch. Being a staple winter colour, white dresses are ideal for achieving that chic and elegant Christmas party look, especially when they're paired with gorgeous Moon Magic jewellery. Made with silver and rose gold metals, along with beautiful bright, pastel moon stones, these jewellery pieces are ideal for complementing a sleek white ensemble.
A feminine midi dress
Another big trend for the upcoming season that's ideal for fancier Christmas events, tulle midi dresses in darker colours are equal parts comfortable and confidence-boosting. From pointed-toe ballet flats to high-heeled sandals and platform pumps, this dress silhouette can be paired with any footwear style, depending on the occasion you're attending. However, the dark shades of this chic outfit require some shimmer if you want to achieve a more holiday-inspired look, so don't be afraid to complete the outfit with a metallic clutch or handbag, as well as some shiny crystal or diamond jewellery pieces.
A brightly coloured suit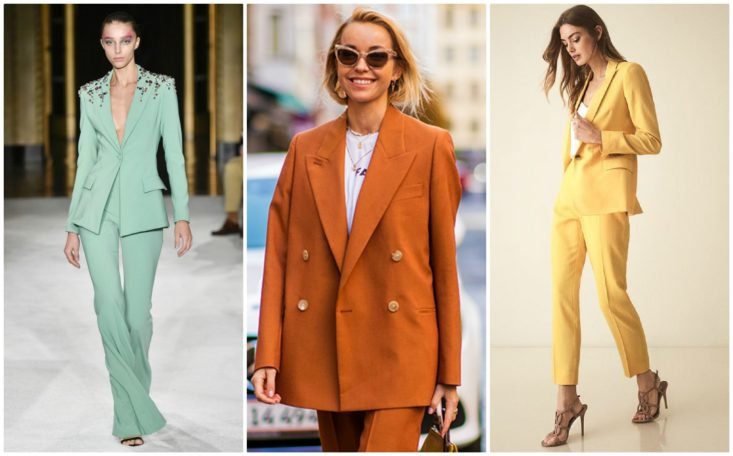 If you've been invited to an office Christmas party, you might want to go with a more conventional outfit choice instead. A two-piece suit in a bold, bright colour might be the perfect option for such a celebration, as it's a striking and statement-making look that still carries a certain corporate vibe. While you can always pair an eye-catching suit like this with a neutral silk camisole for any office setting, you also have the option of going for a more daring look with a lacy bralette or even bare skin, if you work in a more casual and relaxed environment. Whatever you opt for, just don't forget to top the look off with a pair of heels and some statement jewellery pieces.
An elegant jumpsuit
Being the perfect alternative to a cocktail dress, a jumpsuit can be worn to almost any occasion, from casual get-togethers to more formal and corporate events. To achieve an elegant holiday look, you can opt for timeless, classic styles that are structured at the waist and feature straight or flared legs. While neutral colours, such as black and navy, are always great options, don't be afraid to go bolder with a bright red jumpsuit that perfectly embodies the Christmas spirit. No matter which style you opt for, a strappy heel and a neutral clutch are the perfect addition to this festive outfit.
From feminine dresses to elegant suits and jumpsuits, these beautiful outfit ideas that are far from your go-to basics are bound to impress everyone at the holiday party, so don't be afraid to give them a try this Christmas.