We chatted with Australian model, fashion designer, entrepreneur and mother of two Megan Gale about lessons she has learned from motherhood and modelling and her new career as a businesswoman and founder of Mindful Life, a range of conscious skincare products for children.
Skincare is such a booming category, but we usually think about it in terms of anti-ageing and adults. What inspired you to create a skincare range for children?
When I first became a mum, I struggled to find enough variety with ranges of products that I felt confident using on my children. I was looking for something that was going to be gentle on their skin, free from nasties and made with natural and safe ingredients. Although there were products like this on the market that made these claims, I found they wouldn't always deliver on that promise. I wanted to create a range of products that gave parents the total peace of mind and reassurance that I, myself, wanted to find in a skincare brand for my kids.
How has mindfulness informed the brand? Is it a practice you use in your own life?
From a young age, my mother has always tried to instill mindfulness in me and reiterate the importance of being present. It was only when I became a mum myself that I truly realised how quickly time flies and how fast our children grow up. I then realised the value and importance of taking in all of these moments with my children while I can. I felt inspired to create a purpose-driven brand that assists with bringing mindfulness into the lives of other parents and people in general. More than just skincare, I wanted Mindful Life to encourage parents to slow down and enjoy the good, the bad and everything in between that comes with parenting. Mindfulness is something I like to practice as much as I can, and I definitely am still practicing. It's not something I conquer at all times, but I know when my children are all grown up, I'll confidently be able to say that I tried my hardest to be present throughout that journey.
How have your own experiences of motherhood informed the brand and products you decided to incorporate into Mindful Life?
The idea for each product came from my own experiences as a mum – they're all products I find are incredibly useful and are a must-have for any parent.
As a mum, you just want what's best for your little ones, which is why ensuring that MindfulLife Child used naturally derived ingredients that were free from any nasties, was so important to me. I know first-hand how confusing being a new parent is and I wanted to help minimise that stress on others.

You have an enviable career as a top model and now an entrepreneur and mother – both careers notorious for the frantic pace they set! Have you always incorporated mindfulness into your day to day and if not, what changes have you noticed since you started practicing mindfulness?
I have to admit, I haven't always incorporated mindfulness into my daily practice. During the peak of my modeling career, I was always go-go-go, with the mentality that the show must go on no matter what. For me, the change really occurred when I had River. I knew I needed to slow down and be present for every moment.
It still took me a while to get the hang of that and I almost had to re-train myself to not feel like I had to be "on" all the time. Even now, I still have the tendency to fall into old habits – feeling like I have to say "yes" to everything and everyone, feeling bad or guilty if I don't, then feeling like I really do need to be doing it all.
Luckily, through the development of this business, ironically enough, while it has challenged me and made me busier than ever before, it has also the importance of saying no to others and yes to myself and my family more. With the messaging of mindfulness constantly around me, it is a daily reminder to check in with myself.

We would be remiss if we didn't ask – what are the top skincare and beauty products you use on yourself?
Coconut oil has always been a skincare staple for me. It's perfect for nourishing the skin and hair and I find rubbing a small amount into my skin before bed always leaves me moisturised and smelling great too. The Mindful Life Child Restorative Balm has become my new daily lip balm (yes, mums can
use it too) and my go-to for when I have really dry skin! You can also use it as a heel ointment and as a nipple cream when breastfeeding.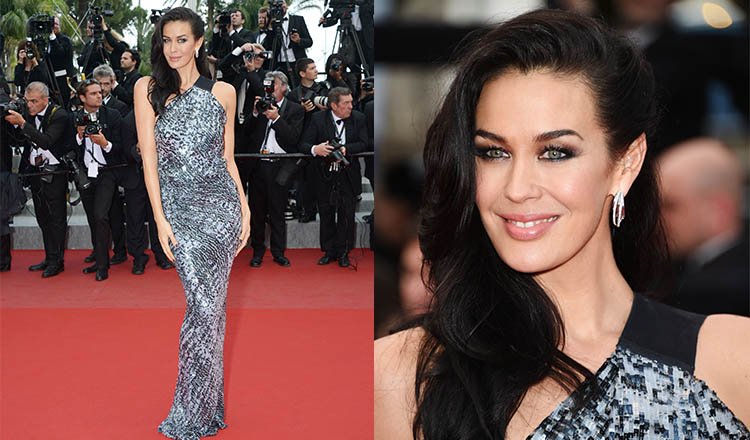 How would you describe your beauty philosophy, has it changed over the years?
It some ways it's the same and in some ways, it's changed. I have always (and still do) cleanse my face twice daily, I moisturise and use a serum, twice daily as well. I exfoliate (face and body) three to four times a week and never, ever go to sleep without cleansing my face thoroughly and moisturising before bed.
My makeup routine and philosophy has changed. I wear less makeup than I used to and a lighter application. For me, as my skin ages, it looks much worse if I use a full coverage foundation – it just highlights pores and fine lines even more and makes my skin look dry -not a good look! So, I wear tinted moisturiser most days in place of a foundation and for work, use lightweight foundations. I find excessively using highlighting and bronzing powders can make skin appear more aged as well. I tend to steer away from those.
What are River and Rosie's favorite products from Mindful Life?
They both absolutely love the Massage Oil. Rosie is constantly asking for a massage and it'snow become part of our nightly routine and River loves a foot massage every now and then too. They both love the Gentle Hair + Body Wash (one of two shampoos that they have never cried with when rinsing!) as well and the Restorative Balm – they can both get little dry patches here and there especially in the colder months and it really helps to nourish and restore their skin.