You know him as the flamboyant French host of My Kitchen Rules, and in his breakout roles on My France with Manu and even, Around the World with Manu.

But surprisingly, at a young age Manu Feildel, never thought he would be a chef. Despite the fact that cooking was in his blood, Manu admits he initially tried to follow a different career path before realising his true love.
I had the pleasure of sitting down with Manu to delve more into his past and learn a tip or two from the food god himself. 
I hit off with a personal question about what his mum taught him in the kitchen, " I think she taught me to enjoy food first!" confesses Manu, who released More Please! My family recipes you'll love to cook and share.
"Mum was a single mother with two kids, working a full time job but there was always a tasty dish – not necessarily expensive – but always tasty. When I got to the age of 15 I got kicked out of school and I had to find out what I was going to do for a living.
"My Dad, Grandad and Great Grandad were chefs and I didn't think twice about being a chef, but then when I got pushed to do so I just realised… it clicked. Being brought up with great food made me realise what I wanted to do."

So after all that time spent in France and being brought up with French food I wanted to know what French food was number one in Manu's eyes (or mouth?).
His eyes lit up a little as he exclaimed "Bouillabaisse!" A beautiful seafood stew from the south of France that cooks for hours with really cheap fish. It's intense in flavour and "just moreish". But French food is not his only culinary love as he portrays in his beautifully shot new tv show Around The World With Manu.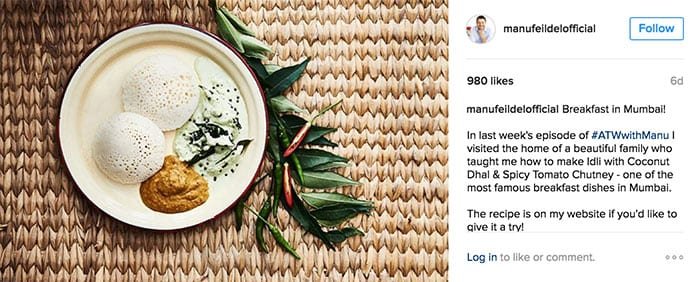 After reliving some of the episodes and experiences he revealed that India was possibly one of the best food and travel memories of his life!
"Not only food wise, but India was so colourful.. the people, it really was an amazing experience and as much as people have said to me be careful about the food you eat there – I ate street food every single day and never got sick once." 
I tried to get out of him the best dish he ate there, so when I travel to India – which I plan on doing ASAP – I could hunt down this gem but he couldn't remember the exact place… I guess I'll have to watch the show to find out!
"It was a beautiful fish curry that I got from a really disgusting street stall in Kolkata [formerly Calcutta]."
Of course it was! They do say that the best food comes from the most unexpected places. I think I need to put this curry on my bucket list.
Now I couldn't leave the interview without asking the wise Manu a question that would benefit me a little… And as summer is coming up I wanted to know what his must haves for hosting a summer food party were.
His response – lots of dips, good seafood, fresh salads, a block of butter… and "darling it goes without saying – a lot of champagne!"