Barbara De Laere, Global Brand President, Aveda, is a woman on a mission. She is also passionate about the environment and believes ardently that, apart from being the right thing to do, it's simply good business to support ethical and sustainable practices.
Aveda is a global beauty brand that leads by example, and importantly always has ever since it was founded by Horst Rechelbacher in 1978 after he was introduced to the power of Ayurvedic beauty during a trip to India. The company is today part of Estée Lauder Companies Inc. but is still true to its original mission 'to care for the world we live in, from the products we make to the ways in which we give back to society.'
It also aims to set an example for 'environmental leadership and responsibility, not just in the world of beauty, but around the world' and for Barbara these are not just words on a page, but rather something she lives and breathes.
Speaking on ethical and sustainable practices being the way of the future, Barbara encourages businesses to take just one step forward to start making a difference. "It seems like a huge ask to do. What we're always saying is be imperfectly vegan, be imperfectly sustainable, be imperfectly zero-waste, just take one step. Because every move contributes."
In January this year, Aveda celebrated its first year of being 100 per cent vegan, and as Barbara says, it was a pivotal moment in the brand's journey.
"For us it was a very logical next step for this beautiful brand that was born cruelty-free, never tested on animals and was in fact already vegetarian," she told The Carousel in an exclusive interview filmed from Aveda's headquarters in Minneapolis, Minnesota. "To go vegan was three years in the making but that moment in January 2021, was a magical moment."
But going vegan doesn't mean reduced quality or performance, according to Barbara, it is the opposite. "Once we touch a formula, we need to make it better, otherwise we won't touch it," explains Barbara. "The golden standard is that we have to provide the highest performance possible with our products. So for us the benchmark is synthetics and then to go a step above with plant-derived and natural ingredients."
Aveda has been one of the first beauty companies that built its entire mission around clean beauty and sustainability. The vision of Aveda's founder Horst Rechelbacher to provide naturally derived products was decades ahead of its time and as Barbara says: "The world is catching up to what he believed then, today."
The Aveda mission runs through every element of their business, as Barbara calls it, their "mission in a bottle".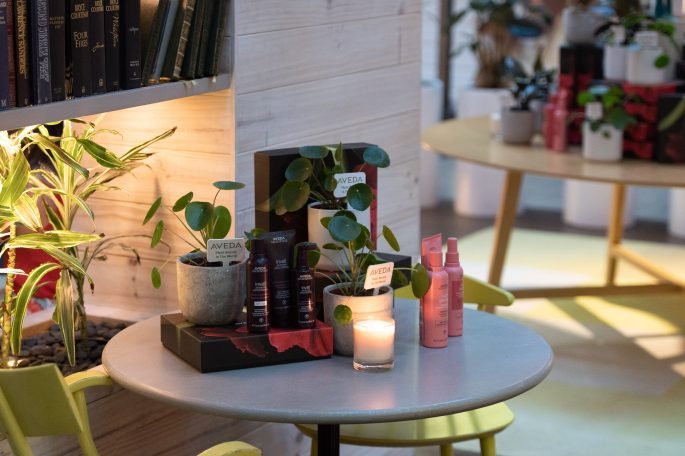 "We call our products our mission in a bottle, from the packaging that we use to the formula inside to the impact that we have on our sourcing communities where we get our ingredients from," she adds.
What is comforting to know is that the world is in good hands with leaders like Barbara at the forefront of the clean beauty movement and at the helm of a global brand that cares deeply about our planet and inspires you to care too.

I entreat you to watch my interview with Barbara. It was a special moment for me because I first met Barbara at a health retreat in Koh Samui prior to her taking on her role at Aveda. Back then, Barbara was excited about her future role at Aveda because the company was totally aligned with her own values, and it's wonderful to see her talk with passion and youthful enthusiasm about the difference she and her team are making.