Colorado's 58 mountains towering above 14,000 feet, 4 national parks, 41 State Parks, 26 Scenic and Historic Byways, 30 hot springs, 960 wildlife species and 6,000 miles of rivers are just some of the state's jewels. Switch up your computer backgrounds to one of these 10 incredible Colorado landscapes and fix up your photography skills to capture the state's magical landscapes yourself once the borders open.
Aspen's Maroon Bells: Known as the most photographed mountains in North America, Aspen's two Maroon Bells' peaks and crystal-clear lake form a magnificent scene.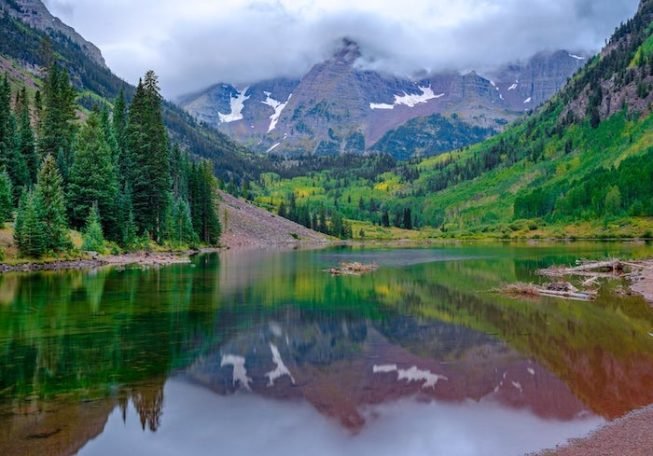 Black Canyon of the Gunnison National Park: Towering 830 metres above the Gunnison River, Black Canyon of the Gunnison National Park in western Colorado impresses visitors with its dramatic landscape featuring some of the steepest cliffs and rockiest peaks in North America.
Colorado National Monument at sunset: Colorado National Monument's gravity-defying boulders and red-rock canyons at sunset.
Conservation Bison Herds at Zapata Ranch: Renowned for its wide-open spaces, Colorado is a photographer's dream with dramatic landscapes and beautiful wildlife roaming free around every corner. Located in Alamosa, South Colorado, Zapata Ranch's conservation herd of grazing bison can be spotted if you're lucky.
Derelict cabin near Telluride: A breathtaking glimpse into Colorado's soaring mountain peaks from this derelict cabin near Telluride. The ghost towns of this former mining region are worth checking out.
Durango Silverton Train: The historic Durango Silverton Narrow Gauge Railroad winds through spectacular canyons and alpine peaks in San Juan National Forest, built originally to transport miners into the San Juan Mountains, visitors can still ride the steam train today.
Garden of the Gods: Incredible sandstone formations at Garden of the Gods Park in a magical setting of snow-capped peaks and bright blue skies, Colorado Springs.
Pagosa Springs: The quaint town of Pagosa Springs is the perfect spot for a scenichot air balloon ride or to bathe in a natural hot spring.
Yoga on the Rocks: Take in the beauty of Colorado as you get your exercise, with Yoga On The Rocks at Denver's world-famous Red Rocks Amphitheatre on select dates each summer.
Great Sand Dunes National Park & Preserve: Home to the tallest dunes in North America despite its landlocked location, the mystical dunes are surrounded by towering, snow-capped mountain peaks at Great Sand Dunes National Park. At the foot is Zapata Ranch, a working cattle ranch where you can learn about ranch life first-hand and head out on peaceful horseback rides while taking in this extraordinary scenery.
For further information on all of these spectacular places and experiences ( and many more) visit: www.Colorado.com.