The rollercoaster ride of hormone fluctuations and imbalances comes hand in hand with motherhood, causing a cascade of unsettling symptoms that experts believe could be minimised with a humble cup of loose-leaf tea.
Nutritionist and mum of three, Kathleen Alleaume says "habitual tea drinkers or regular consumption of tea has been shown to support optimal health according to scientific studies".
Globally, tea has been a traditional beverage consumed for its medicinal properties supporting a range of ailments from cardiovascular and immune health to even menstrual cramps and sleep issues.
A recent study published in the journal of Plant Physiology and Biochemistry adds to the growing body of evidence of the hormone-balancing properties of some compounds that may be naturally occurring in tea.
"The phytonutrients found in an array of herbal ingredients used in quality tea blends when combined with a healthy eating pattern and lifestyle including adequate sleep, may positively impact the body, both physically and mentally, supporting balance, calm and resilience for optimal wellbeing during what can be a stressful time in a woman's life," explains Alleaume.
With a desire to support women throughout their life stages, T2 Tea have added two loose leaf blends to their growing range of Wellness Teas. Her Balance and Milk Magic have been expertly formulated to naturally regulate hormones, support your body under life's demands and aid wellness throughout motherhood.
T2 Her Balance combines hero ingredients traditionally recognised for their hormone-balancing properties that may prove beneficial wherever you are in your life stage. Whether you're experiencing pre-menstrual symptoms, suffering from post-natal depletion, or transitioning through the layers of menopause, Her Balance has been naturopathically crafted to draw upon the Ayurvedic Phyto ingredients to support your wellbeing.
One key herb used in Her Balance is Shatavri. Referred to as the "Queen of Herbs", Shatavri is utilised in Ayurvedic medicine for its powerful hormone regulating effects and positive impacts on symptoms such as hot flashes.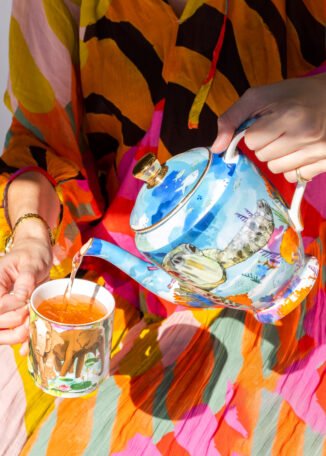 In the blend you'll find the antioxidant-rich herb honeybush that offers naturally occurring phytoestrogens along with a sweet, honey flavour. Containing compounds found to enhance skin, hair and nail health is gotu kola. Known as the "Herb of Longevity", gotu kola may also help support your body to cope with life's daily stressors whether that's working to a tight deadline or chasing after energetic toddlers.
Beyond the therapeutical benefits, Her Balance delivers a refreshingly earthy flavour with subtle hints of sweetness provided by the addition of ripened raspberries.
For mothers, T2 Milk Magic combines the healing powers of marshmallow root, fenugreek, fennel, and nettle to naturally support lactation and a healthy milk supply. The loose-leaf herbal blend also aids digestion for both mum and bub bringing symptom relief and helping to support optimal nutrient absorption.
Milk Magic is a caffeine-free blend that has been subtly infused with nutmeg and vanilla. Brew a cup of Milk Magic and you'll enjoy the nourishing nutritional benefits with a delicate sweet, nutty flavour.
T2 Tea believes the humble cup of tea has the power to naturally help us live and connect with others on a deeper level. A cup for Me. A Cup for You. You can find their Wellness Tea range in stores nationally or online at https://www.t2tea.com/en/au/.