So here's a checklist on how to sell a car privately that gives you the tools for a quicker, easier sale… at the maximum price. 
1. Know what it's worth with a REVS Check
A REVS check helps compare your car with similar cars on the market and recent sales. It will show you where your car sits on a price scale as well as information on any current finance on the vehicle, whether it has ever been stolen and any insurance claims. A buyer is likely to request a REVS check or conduct their own anyway. If your car presents well, it's worth using it as a sales tool when potential buyers first call.                                               
2. Determine your asking price
You can go one step further than your REVS check and find comparable cars currently for sale in your area. The less common your car and the more remote your location, the more likely you'll have to drop your asking price to get a sale. Check out comparable cars for both the asking price and how long they've been on the market. If they've been on the market for more than a few weeks, you know there is not enough interest at that price, so you will need to ensure your car is either cheaper, or stands out in terms of features, condition or kilometres.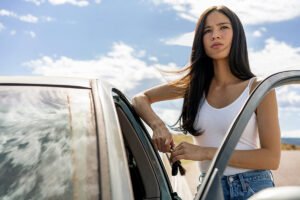 3. Maximise your car's value
Replace worn tyres
Fix any scratches or dings
Do a maintenance onceover
Clean out and detail your car
Ensure your services are up to date
Perform any known repairs
The exception: Sometimes if the costs to fix aspects of your car outweigh what your car is actually worth, you're better off dropping your asking price and taking whatever you can.
4. Roadworthy certificate
Also called a "vehicle inspection report", these days, most buyers request one and it's a great selling tool.
                                                           
5. List your car online
carsales.com.au may be the most expensive site but it's also the largest in Australia, which means you get maximum exposure.
As you make your listing, don't forget that this is where you get to show your car off. It will be competing with loads of others so you need great photos and to highlight the selling points.    
6. Put a sign on your car

Despite the popularity of online sales, the good old "FOR SALE" sign still works a treat. Sites such as carsales.com.au even provide window stickers for this.
Hint: add your phone number and asking price.
7. Get your paperwork ready
When you have a buyer ready to go you'll need the following items at the ready:
Registration papers
The logbook
Owner's manual
All keys: ignition, glove box, boot and alarm
Radio security number (if applicable – found in owner's manual)
Instructions for working and deactivating any alarm (if applicable – found in owner's manual)
8. Be ready for the questions
Once you've placed your ad you'll hopefully get some calls and they're going to be asking you all kinds of questions. Be prepared for questions like…
How many kilometres?
How many owners?
How many accidents and what was the extent of the damage?
What added extras does it have?
When does the registration expire?
Are there any dents or scratches?
Is the price negotiable? (Try not to pull out your final price until the buyer has seen the car)
What is your reason for selling?
9. The inspection and test drive
When someone shows up to inspect and test drive the car, it's the moment of truth. Whatever happens in that 30 minutes or so could mean the difference between a sale or no sale, or negotiating the price you want. Therefore:
Ensure the car is clean
Have a wingman – many buyers will bring a second person with them, try make sure you're not outnumbered
Know your selling points
Obtain a copy of the viewers driver's license or write the details down before they take your car for a road test
Ensure someone you trust accompanies the buyer on the road test
Check that test drives are covered by your insurance
Have your paperwork ready for them to view
10. Negotiating the final price
It's not uncommon for many people to 'test' an offer and start with something much lower than you would expect. Be prepared to again highlight the key selling points of the car and stick to your lowest final price.
11. Finalise the sale – paperwork
Once all payments are made it's time to hand over your precious car along with its paperwork. The buyer will then need to transfer the car into their name within 14 days at their local motor registry.
For more tips and tricks on anything auto related, check out the Blue Toro Blog.