Well, this is embarrassing. I'm behind the wheel of an Audi S5 – and I'm calling for a tractor tow-out.
I'm in Sweden taking part in the Audi Ice Pro driving experience and have just wedged the S5 Sportback on a pile of snow. It's buried up to its belly and there is no chance of gaining any traction on the slippery surface.
Ice is unpredictable and unforgiving; every touch of the brakes, throttle and steering has to be precise and delicate or you wind up where I was – inelegantly perched on the edge of a race track on a giant lake in Arvidsjaur, Sweden.
The fleet of Audi S5s were fitted with handmade studded winter tyres, each with 140 metal studs that measure 2mm long. Other than that, the cars were stock-standard but even the grippy tyres weren't enough to save me.
It all happens in slow motion; you know you've lost control but you can't stop it. Once you've messed it up, it's near impossible to recover quickly and you simply have to wait until the car slows enough to regain some traction.
This is one of the most exciting ways imaginable to drive this car. Drifting and ice driving – it doesn't get much cooler than this! Literally.
Audi Ice Pro is an educational experience that allows participants to literally 'cut sick' on a giant frozen lake covered in snow. It's Audi's advanced level ice driving experience and though there are prerequisite courses, you don't have to be an Audi owner to attend.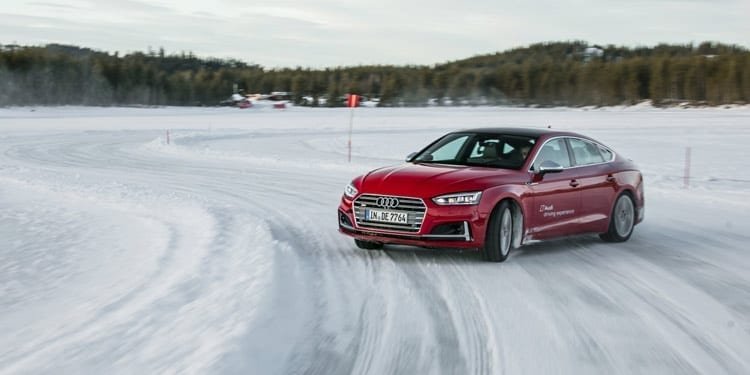 Arvidsjaur is in the north of Sweden and has a sub-arctic climate. Temperatures in winter get as low as -45 degrees celsius and as high as 35 degrees celsius in Summer. It's a land of extremes and we lucked out with the weather during our three day adventure with the daytime temperature ranging between a balmy -4 and -8.
There's more than just ice driving to this experience, it begins with an afternoon exploring Stockholm. It's the capital of Sweden and it's simply stunning, a gorgeous city made up of 14 islands, 50 bridges and home to many museums including the Nobel Museum and the ABBA Musuem, and the Kungliga Slottet Royal Palace.
The following day our small group was up early to board a flight to Arvidsjaur. Many other manufacturers also conduct winter driving experiences around the small Swedish town, so the plane was full of excited punters ready to master power-sliding on the ice and execute the perfect Scandinavian flick.
When we arrived, we were able to jump straight into the cars and get out on the ice. Rather than sitting in a training room for hours, with vital information going in one ear and out the other because you're itching to get behind the wheel, Audi gives you the opportunity to get that edgy anticipation out of your system straight away.
As a result, we were all a little crazy and it wasn't long until we'd destroyed the edges of the carefully crafted ploughed out track and covered the cars in snow.
You wouldn't get to do that at a normal track driving experience. But out in the middle of a lake, there are no obstacles and the worst that can go wrong is that you'll spin out and beach the car on a snow bank. That's why the tractor is on hand the whole time.
The point of letting us loose is to allow expert instructors Jerry Ahlin and Australia's own Steve Pizzati to watch and gauge the skill level of each driver so they can then provide personalised feedback and advice. Both instructors are fabulous and know their stuff.
Steve Pizzati is Audi's head driving instructor and is a well known race driver and personality in Australia, while Jerry Ahlin is a former Swedish rally champion.
Ahlin's entire world revolves around rally driving, his wife is Susan Kottulinsky is the daughter of former European Rally champion Freddy Kottulinsky and is a great driver herself, while both of their children are involved in motorsport.
Needless to say, the following day was spent trying to break the bad habits that were painfully obvious the previous day – there's nowhere to hide on the ice – and learn to fight our instincts to deal with oversteer and understeer issues around challenging corners.
As you would expect, the surface was incredibly slippery and we all had multiple spin outs and out-of-control slides. Testing the limits of the car and yourself as a driver in this manner was exhilarating.
The new S5 was powerful yet graceful on the ice, with a 3.0-litre twin turbo V6 that produces 260kW and 500Nm. Audi's quattro all-wheel-drive system offered a brilliant sense of control while the sleek body remained well balanced no matter how severe the change in direction.
During the early session on the second day, it was painfully clear that I was struggling to get it all coordinated. Driving aggressively and flicking the tail around into a big slide is easy, but being gentle and smooth is not.
Listening to the instructions from Steve and Jerry, it all makes perfect sense – brake before the corner or trail brake where necessary to shift the weight over the front wheels, gently apply the right amount of steering lock, let the rear wheels slide enough to put you on the right line to then apply the throttle smoothly. That's the fastest way around the track.
However, too much steering locks the car into a slide with no grip and therefore no control and the way to correct that is to loosen up the steering.
That goes against your instincts and when you're in a fast, out-of-control slide it is a battle to force your hands to do the right thing.
Too much throttle through the corners will kick the rear out too much, and although overshooting the corner and sending clouds of snow up into the air may look awesome, it's not the fastest way around the track.
What we were trying to do was master the skill of smooth and graceful ice driving with well-controlled drifts and slides to keep the car moving at pace around the circuit.
We worked through four sections of a 7.3-kilometre track one at a time, then two sections at a time were linked, building up to full track laps.
We were able to hit around 125km on the straight which felt ridiculously fast given the lack of control and grip.
Every one of us improved our skills rapidly over the few days. Mentally it was exhausting but that was quickly forgotten at the end of a long day on the ice.
Lunch was served daily in a Tipi – a rounded hut covered in snow with a long chimney coming out of the top – around a warm fire.
We ventured out to local restaurants, dined on reindeer, elk, moose and fish, enjoyed a drink in a glass made of ice in an igloo, but the highlight was the night time snowmobile tour.
Hurtling across the ice at 100km an hour in the dark was frightening but awesome.
At one point, right about the time our fingers and noses were burning from the cold, the guides stopped us in the middle of an open field in the forest and instructed us to turn the lights off – Aurora Borealis! This natural phenomenon was breathtaking and we were incredibly lucky to experience it.
At the end of the third day, it was crunch time. The skills we'd been working hard on developing and honing were to be put to the test in a race.
There was of course a catch, after getting familiar with the dozens of corners around the track, we were now going to drive it in the opposite direction.
We were allowed two practice laps to make pace notes with our co-drivers before the main event. Every car had a VBOX and we were sent off one at a time with a safe gap in between and our times recorded when we crossed the finish line.
Competition was fierce, and I'm proud to say I managed to nab the silver medal and am now completely addicted to the thrill and adrenaline rush of drifting and ice driving.
As mentioned, this course is open to anyone and for car lovers these types of experiences are perfect holiday options.
Why walk for hours listening to the droning voice of a tour guide when you can learn new driving skills, drive amazing cars and still get a taste of local culture.