Follow our reporter Karen Lawson through the best luxurious villas Koh Samui counts…
Within an hour of any major Asian airport you can find yourself sinking your toes into the soft sands of Koh Samui. So when your holiday means reuniting people from all over the globe, location matters. We did the hard work, my 78 year old mum joins me from the UK as we test out the best family size villas to bring you closer to the ones you love – when you don't have to share a room!

Best for Service – Four Seasons Koh Samui Private Retreats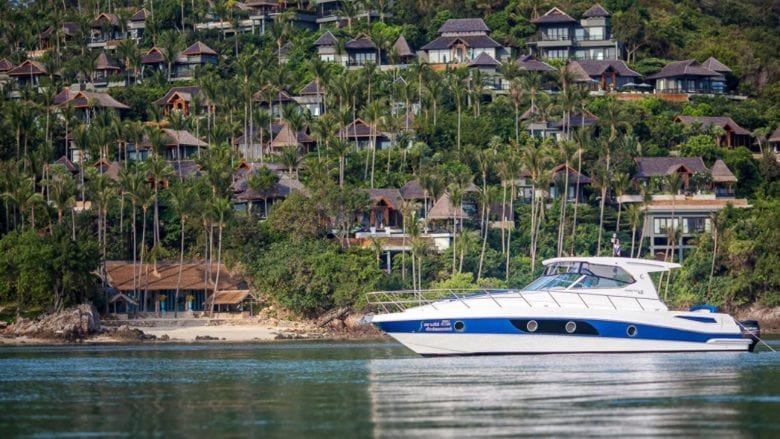 Do you know a control freak? Then channel your inner Disney powers and "Let it Go, Let it Go". This place teaches you how. We meet our live-in butler, Mr Joe,who is presiding over our stay of a wondrous 3 bedroom retreat. It's more like a complex than villa with a 15 metre pool looking out onto the ocean and and second pool by the master bedroom. Mr Joe has a spidy sense for happiness – thongs are at the ready (to save burning our feet), towels are offered as we emerge from the pool, glasses of iced water, cold beers and snacks magically arrive. Mum actually says these words "I would like to take you home with me" (not quite sure how this would go down with dad?). If you simply cannot be arsed to slice your own mango, this place is for you.
This is no ordinary resort. Designed by famed architect Bill Bensley, he has his signature everywhere from the cheeky monkeys at the end of the pool who look like they couldn't make it to the bathroom, dark wooden beams wrapped in swathes of rope to his oversize 'everything' making adults feel like children in an Alice and Wonderland way. Don't get us wrong this is a serious adults resort.
We check out the beachside activities, dine at Pla Pla's magentic beachside location, we are guided into the rum vault (pure research I promise). They know us by name, mum's cappuccino order (no chocolate on top) is placed before she blinks and there is a quiet, assured hand to every experience. At Koh Thai I ask if we can have the crab fried rice because it was so awesome at lunch? Done. The ceiling fans are touch too cold, could they stop them? Yep, no problem. Each request thoughtfully, expertly executed. And when we get home? Slippers are laid, night lights shine your pathway, bubble baths at the ready – you really don't need to do anything at all. The art of 'Let it go', is the only thing you actually have to do.

Best for Contemporary Design and Privacy – Conrad Koh Samui
Situated in the South West of the island this is the perfect roost for those who love their sunsets, sunshine and skinny dipping! It's the cool contemporary kid on the block with villas cascading down a private hillside. We enter at buggy street level into a 2 story affair. Pulling back the doors we enjoy our own trilogy of ocean, infinity pool and sky with 5 limestone islands in the distance our only page break. I may not even need 'Becoming' by Michelle Obama as my holiday reading the view is a page turner.
This is the ultimate Hugh Hefner playboy bunny paradise! Its beautifully, madly extravagant from the sumptuous marble lounge, to the fabulous round king-size bed which may have you wondering what side to sleep (when it doesn't have sides). It's a palace which over the days really feels more like home than villa.
Days merge together as we enjoy long breakfasts at Zest, a spot of paddle boarding, snorkeling on the beach, a massage at their spa and fine dining at Jahn perched on the hillside. Mum (normally a non drinker) discovers mocktails for the first time as our waiters creatively suggest new inspiring tastes. Dishes like hay smoked chicken are finished at the table with a flourish of blowtorch and piff puff poof! magic. Cocktail hour at Koh Bar is a must especially as mum gets serenaded unexpectedly by a band and presented with a fabulous birthday cake! Expeditions out are easy. We jump on the hotel courtesy bus and head into Lamai. Its stunning beach, packed with human walruses, lounging, flapping and turning over in the sun like a good kebab! The main street is packed with restaurants from Indian to Italian, with the odd spa displaying tanks of foot-flesh-eating-fish – Surely no fish would ever aspire to a diet consisting of that type of 'corns'? Taxi's here are expensive, after some bartering a $35 journey back to the hotel is negotiated. Our female driver expertly navigating dogs, rogue tourists and creative driving by other cars. On our beds are a surprise! Dumbo the elephant and two kissing swans! These new house guests are made from towels, clearly balloons are so 2.0. That's the thing with Conrad, they like keeping you inspired whether its for an hour or 5, you're never quite sure what experience might put a smile on your face next.

Best luxury beachfront and eco resort – Banyan Tree Samui
If Conrad has sunsets, then Banyan Tree (BT) has the sunrise. Oh boy! What a view to wake up to. Our two bed Hillcrest Horizon Villa is situated high above an impossibly pretty coconut tree lined bay with the jewel at the centre – an instagramable stretch of white sandy beach. This place is going to be hard to say goodbye. You can't help but feel good staying here. We have already navigated our personalised induction program of scents for oil lamps, incense sticks and pillow types. BT has a big heart beyond the things you see with a comprehensive CSR program which spans education, training, recycling and driving change for the environment. Having said that what you do see is a beauty.
The main villa is stunning; floor to ceiling glass along one wall, infinity pool, rainshower through to lounge with and contemporary thai touches. Care is everywhere from a surprise afternoon tea, presents to unwrap along with a mighty fine swan birthday cake!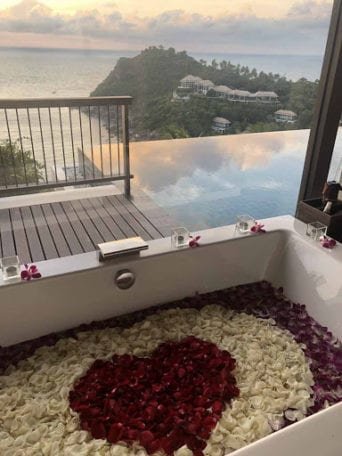 One night we return to find the villa cocooned in romance from candles to petals on the bed and a bath filled with hundreds of rose petals in the shape of of heart. Mum and I opt not to share the bathing opportunity.
Down on the beach, we snorkel out to the small reef, no Nemo to be found but mum discovers her new sea legs as we enjoy afternoon being taught how to sail a catamaran. At Saffron restaurant even things like selfies are not necessary as the staff become professional photographers. Soon we have an iphone of great pictures including dishes like prawns wrapped in betel leaves and a superb eggnet pad thai.
Next day mum is ready to don her khakis and bug spray ready for the 'Rainforest Experience', till I explain its actually a spa. After rotating through a watery assault course of different stations an hour later she'is still crying with laughter with the memory of trying to maintain any dignity in a man made tsunami following wimping out of things like the ice bucket challenge and final pebble walk.

I did say that goodbyes are hard to do at Banyan Tree. If I needed proof of then the fact I wake up to find my mum gone, absconded, bedroom cleared must be it. As I race down the hillside in the buggy equivalent of a Thelma and Louise car chase I think that says it all.

Seriously parents… what do you do with them? Answers on a very nice palm fringed postcard please.
The Carousel would like to thank Karen Lawson for her article.